By Anonymous Paul on 25 April, 2014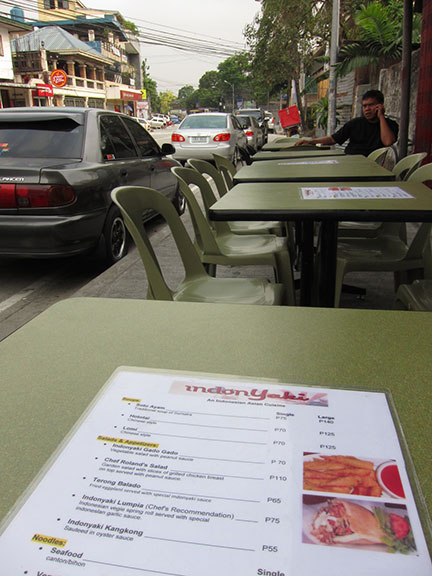 I had gotten word of this fried chicken dish available in the Maginhawa area recently and, being a slow Holy Wednesday, called Kitchyart if she wanted to do a no-frills late lunch. And so off we went to check out Indonyaki. A sidewalk eatery specializing in Indonesian dishes along Maginhawa Street. With it's tables and chairs literally on the sidewalk.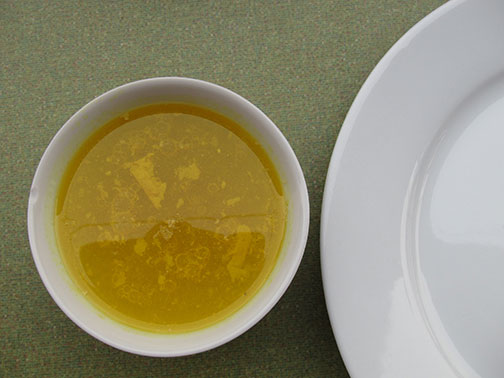 Chef/owner Roland suggested we sample the Indonyaki lumpia as starter so we obliged. Also getting a half ayam goreng (Indonesian fried chicken, the purpose of this visit), beef rendang and Indonyaki fried rice. A "light" lunch for two I should say.
Complimentary soto ayam (chicken soup with turmeric) was served as we waited for our orders. It was flavourful enough but had this thick layer of cooking oil on top so we had a spoonful each and that was that.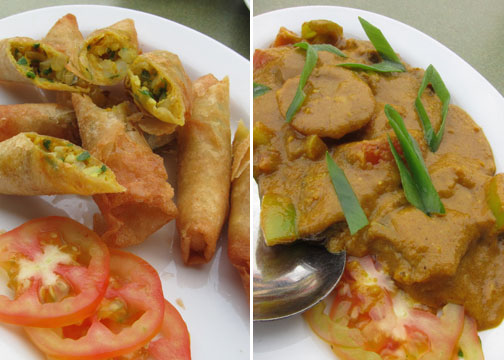 The lumpia came and was not bad. Fried properly to a crisp, the vegetable filling was hinted with some Indonesian spices. It came with a garlic dipping sauce with similar consistency as tahini.
The beef rendang came next and, well, it didn't quite look like rendang. Simmered beef slices blanketed with a thickish gravy made with maybe store bought curry powder and mixed in with sambal paste. In all fairness, and technicalities on what rendang is put aside, the beef was very tender and the sauce was delicious.
Indonyaki rice was basically fried rice tossed with some kecap manis (a thick, syrupy soy sauce) and was a little on the sweet side.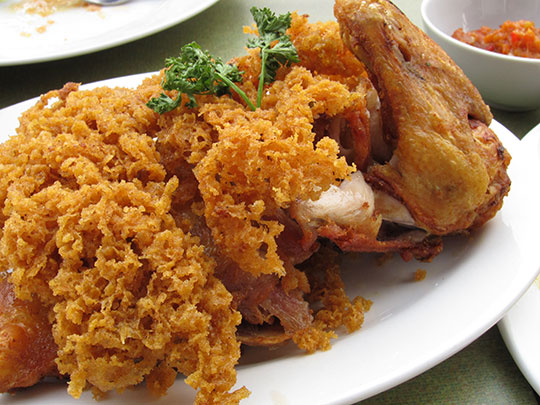 The ayam goreng was quite good. A half spring chicken simmered in a marinade then deep fried till brown. It's crowned with a crumbly topping called kremes; made with mixing the marinating liquid with rice flour and then deep fried. The dish, though simple, was quite satisfying. More akin to Max's than breaded and battered western versions. I would also smash some of the kremes with rice and some gravy from the beef and that was quite good as well. Spicy sambal sauce was served on the side.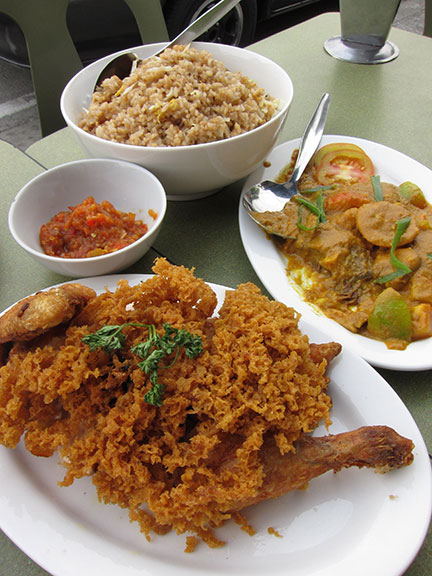 So on this visit we find out that calling Indonyaki an authentic warung might be pushing it a bit. It is heavily inspired, though. The owner spent some time in Indonesia and Malaysia and is very familiar with the flavors of the cuisine. But I guess spices and spiciness were tempered for local tastes. There was also a general sweetness in the dishes. Not to say it wasn't good. In fact Kitchyart and I practically wiped out everything on the table. Prices are very reasonable as the area caters to mostly students. And all I can say is we never had these great eating options when I was in university.
Indonyaki
54 Maginhawa Street,
Quezon City
Tel. (+632) 560.8521
LABELS: Anonymous Paul, ayam goreng, indonesian, Indonyaki, maginhawa, on the cheap