By Kitchyart on 7 April, 2014
We were lucky to experience very cool weather at the beginning of the year. Come April and it feels like we live in one big oven. As a former Bikram yoga practitioner, the heat didn't normally bother me… until now. I've been making excuses to run errands at the mall, just to get a blast of fake cool air for a couple of hours.
I found myself walking aimlessly towards one of the Japanese home stores that sell items for P88. I love to marvel at all sorts of little trinkets for the house and I came across a whole shelf of popsicle molds. I purchased the cute set of four that has a built in straw at the bottom to catch any of the popsicle liquid that melts.
There are probably a million ways to create a good popsicle but I wanted a quick and easy (or lazy) way to cool down. I got myself a bottle of Stanford x Shaw's Ginger Ale, a delicious home brew that has the right amount of ginger and lemon to perk you up on a hot, summer day.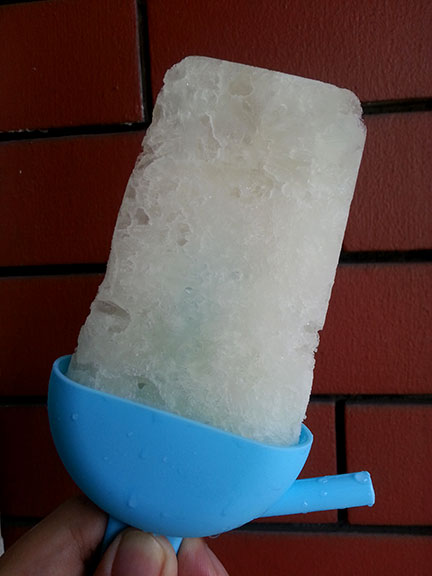 I gave the popsicles a good freeze overnight. I used half of the ginger ale for the popsicles and I chugged the rest. I got a 10 second buzz from the spicy ginger and the light fermentation, no complaints here!
I raise my frozen treat to the great inventor, Frank Epperson, for accidentally leaving his soft drink on a porch overnight and discovering the frozen treat the next morning. The world would not be complete without the popsicle.

Stanford x Shaw Brewing
Available at:
Salcedo Saturday Market (6am-2pm)
Legazpi Sunday Market (7am-2pm)
Greenfield Saturday Market (3pm-10pm)
LABELS: ginger ale, Kitchyart, popsicle, sanford x shaw brewing, summer