By Anonymous Paul on 21 March, 2014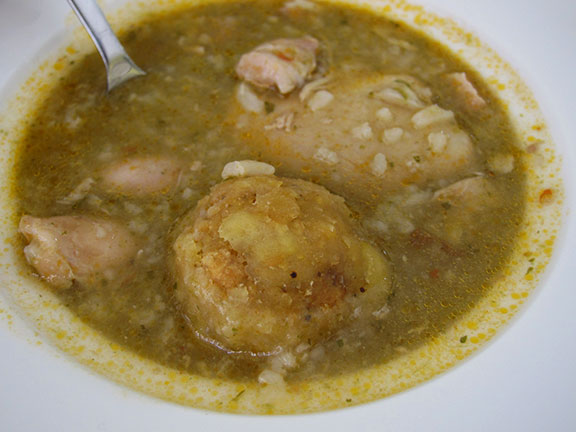 I don't think I've ever had Puerto Rican food per se. But a hole in the wall had opened recently in one of the backstreets of Salcedo Village that serves up some sampling of it's hearty homestyle cooking. Puerto Rican cook/owner Millie is clearly very proud of her edited menu.
Things generally read as simple fare. There are only four mains, consisting of items like Rellenos de Papa (meat croquette), and Pastelon (like a lasagne made with plantain sheets instead of pasta). And maybe some specials now and again. I had ordered the Asopao de Pollo (chicken soup) as I had just wanted something light.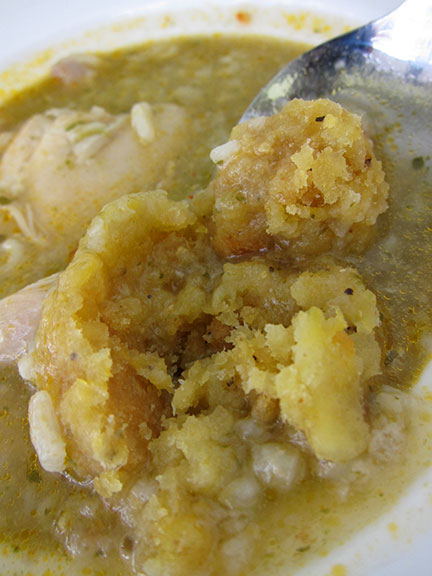 And it was lovely. Like something made in your grandmother's house. (Don't expect anything cheffy.) The broth was thick and chunky. With generous morsels of chicken that yielded into shreds when prodded with a spoon. But sitting in the bowl, probably like a crouton, was a ball of mashed plantain. What they call a mofongo. And what's special about it is that it's made by smashing chicharron with it as well. It was so good I asked for another piece on the side; and dissected it.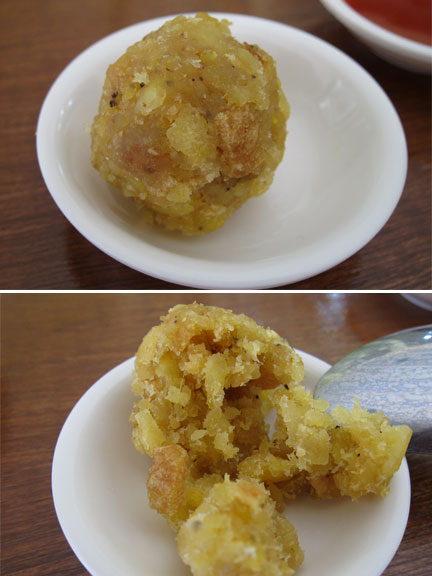 They only make these to order. Mashing green plantains with a specially ordered thick chicharron (they can't use store bought ones as they don't hold up to the moisture). And after rolling the mash into balls they're quickly flash fried. Mofongo balls are served as an appetizer with garlic sauce, as well as a base like mashed potatoes for either shrimp, carnitas or chicken. Mofongo good. Very good. But quite heavy.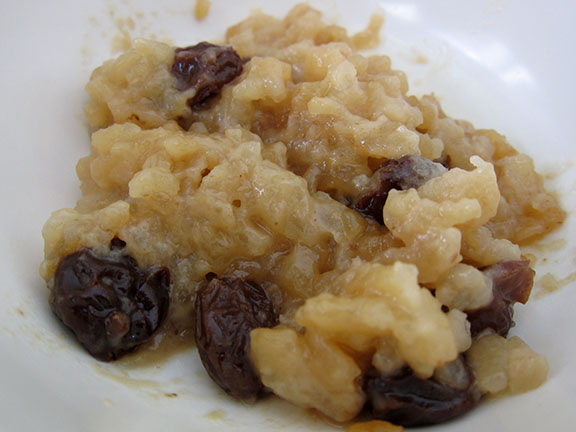 Millie was kind enough to let me try her coconut rice as well for dessert. A thick rice pudding served warm, scented with a lot of cinnamon and dotted with plumped raisins. Delicious. But could've been even better if the raisins were soaked in rum. Which she says she normally does but some diners make a big fuss about alcohol in their desserts.
But anyway, yet another addition to the hole-in-the-wall-of-note list. Solid unfussy food, warm host. Just like home. Or at least an idealized image thereof. Can't wait to try the other items on the menu.
Sofrito
LPL Mansion, Street Level,
122 San Agustin Street,
Salcedo Village, Makati
Tel. (+63.917) 800.9570
LABELS: Anonymous Paul, Mofongo, Puerto Rican, Sofrito