By Kitchyart on 13 March, 2014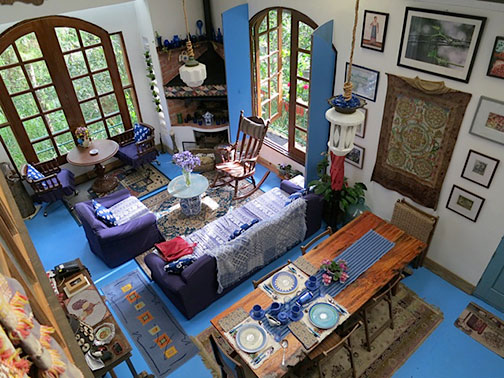 I arrived a little late in the game for Baguio. It was supposed to be a weekend in Baguio; turned out that we spent most of our trip on the road due to traffic. In totality, my friends and I had one full day to explore and funnily enough, we all spent it differently. Some slept in to recharge and some went for a hike and be one with nature.
I woke up early to meet my Tito B and Tita C for breakfast at their French Bed & Breakfast called Le Coq Bleu. It's a quaint little place that's a great escape from the hustle and bustle of Baguio City; even if it's just off Marcos Highway. They have 2 available rooms that can each fit a small family.
Tito B and Tita C prepared a breakfast of oatmeal pancakes and fresh fruit salad. I am ashamed to admit this, but I ate too fast that I forgot to take photos. Good thing Tito B gave me a pound cake to take back home and my EQ was high enough to resist eating it straight away.
If you already have a place to stay but looking for something new to try, you may book a table in Le Coq Bleu at least 2 days advance. Le Coq Bleu can create a set menu for up to groups of 10.
Le Coq Bleu
Suello Village, Marcos Highway
Contact Chantal Pangilinan (+63.917) 501.7355, (+6374) 420.9166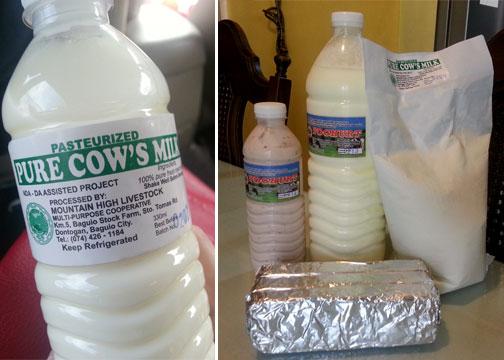 Over breakfast, Tita C mentioned a Baguio Dairy Farm not too far away from Marcos Highway as well. I must've been cooped up in the city for too long because the idea of accessible fresh milk, cheese and yogurt every morning just filled me with so much excitement I had to beg Tita C to take me there.
We visited the dairy farm a little before 10am and hoarded the milk, cheese and assorted yogurt flavors. I had to get a taste of the milk and it was so good that it had a hint of sweetness that you won't get from milk in a carton. The white cheese is crumbly like feta and goes great in salads. The yogurt whether plain or flavored, is thick and creamy. The plain yogurt is unsweetened and I was pleasantly surprised by the sweetened ube yogurt, it tasted like soft serve ice cream.
If you wake up early enough, you may visit the dairy farm as early as 5am to get the unpasteurized milk. Tita C said that she gets the milk to heat up at home and scrapes off the milk fat for Tito B, he puts it over hot rice! Do any of our readers out there do this?
Baguio Dairy Farm
Mt. High Dairy Cooperative
Km. 5 Baguio Stock Farm
Sto. Tomas Road
Tel (+6374) 426.1184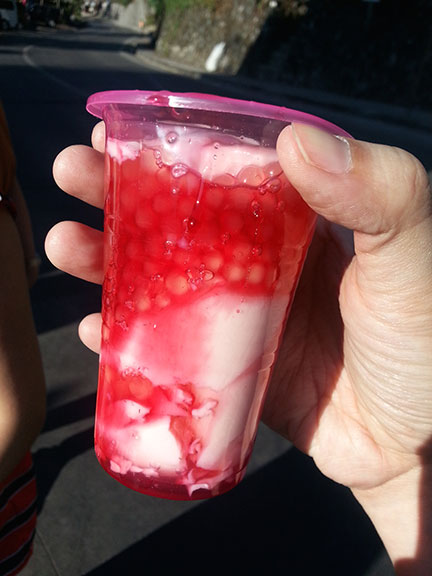 And if you find yourself driving around Baguio or stuck in traffic, be sure to grab a cup of some strawberry taho on the street. It's loaded with strawberry chunks and sticky, sweet pink strawberry flavored syrup; with almost a jam-like consistency. If you're a strawberry flavored anything fan, it's worth a try.
LABELS: Baguio, Food and Travel, Kitchyart, milk, strawberry taho, The Travelling Table