By Anonymous Paul on 17 February, 2014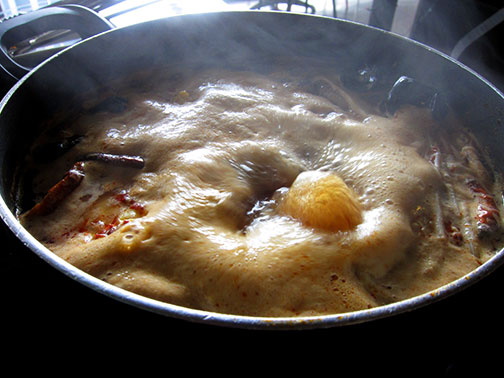 Typhoon turns two years old this month. But I had only noticed it's existence by chance when I had dropped by A. Venue several months ago and decided to have felafel instead at Beni's; I had made a mental note to return since.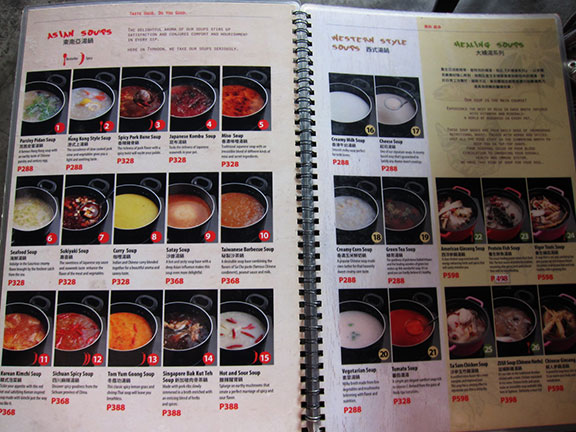 It's a strange animal this place. It has to be said that it's located in Makati's red light district. A stone's throw away from prurient night life. Which probably explains the staff uniform. Tight tank tops and butt cheek exposing short-shorts. Or maybe because it's located across a Hooter's and they thought that would get them more business as well. "Aesthetics" aside, what this hotpot place takes seriously is its broth. 27 variants to be more precise. And that is what keeps Chinese expats packing this place night after night till the wee hours. Ok, maybe the shorts too.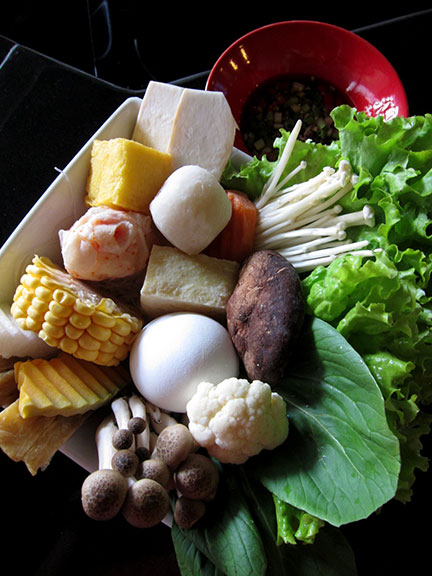 The usual shabu-shabu places locally only have a couple options (satay, a mild chicken stock or the occasional weak Sichuan) for the broth and tons of the sides for dunking. At Typhoon, the soups take center stage. Honestly most, if not all, their 27 soup bases sound so interesting. Taiwanese style barbecue soup, green tea soup, Korean kimchi soup, miso soup, kombu soup, and even a cheese soup.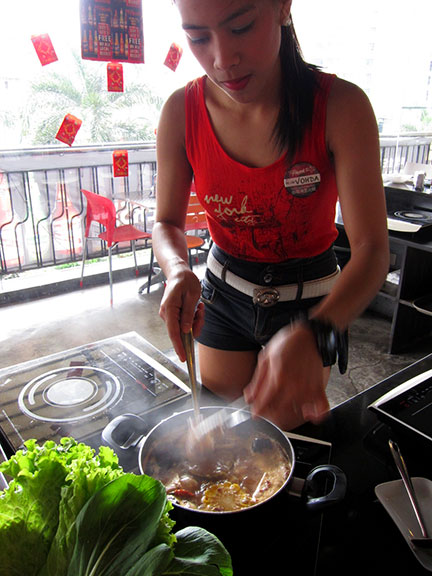 As for sides, portions aren't so large for two persons. But makes it up for quality. Good beef, greens, tofu, lobster balls, mushrooms; all fresh. And their attentive staff will gladly cook everything for you; dunking and swishing the meat in the boiling pot for a few seconds and serving it on your plate with perfect (rare-ish) doneness. While one naturally gets distracted as to how dangerous it would be if they spilled gurgling broth on their laps given their skimpy clothing.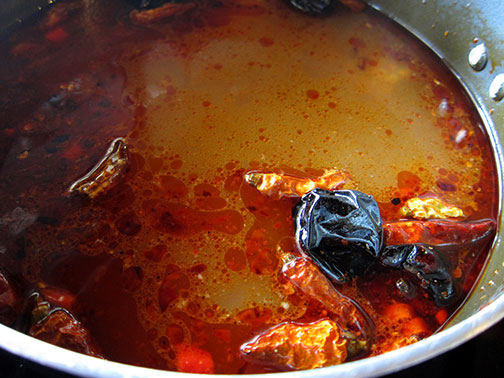 We had ordered the Spicy Pork Bone soup as base and it was very good. Deeply flavoured, complex and sweet from the pork bones. There are even ribs inside with meat falling off the bone. And atop was a red film of chilli oil and a mix of dried peppers. We requested bowls of plain rice as a side but the vermicelli that comes with the set noticeably absorbs and conveys the broth better.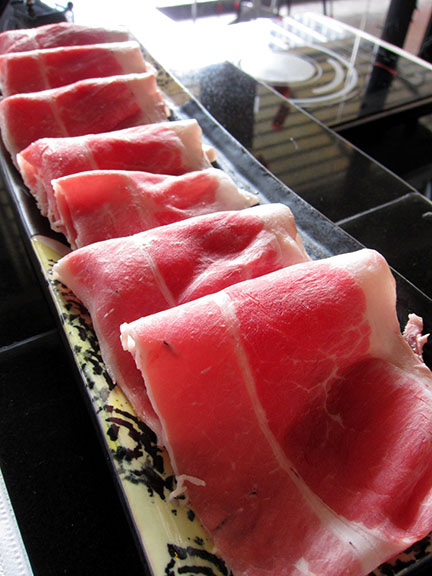 A more specialized selection of bases called Healing Soups, making use of different Chinese herbs and spices for different benefits, present enticing propositions as well. On another visit we had tried the Zuiji chicken broth: flavored with rice wine, sweetened with dates, longan and goji berries and scented with a combination of traditional roots and barks. The broth itself was superb; so flavorful and balanced. And tasted like it was actually good for you.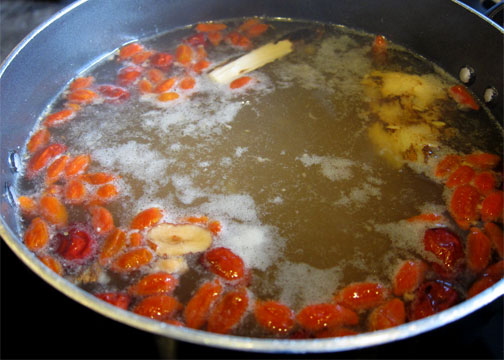 Along with the usual beef set we had tried the Hong Kong style shrimp bamboo slides. A mince made of fresh prawns that you cut and drop into the broth. A very different taste from packaged shrimp balls; very pronounced brininess from the shrimp. But tends to get rubbery when left cooking too long; as fresh seafood would.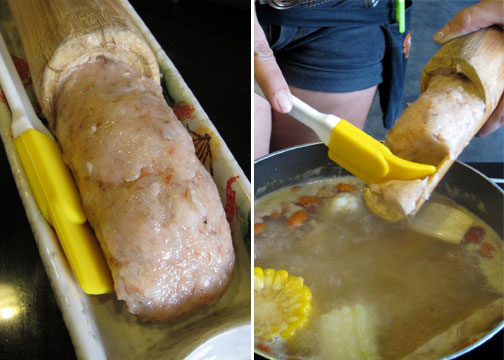 If there's something I prefer more than their hotpot, it's their 2-way dry pot. A Szechuan-style stir fry in a large enamel pot. I had ordered the chicken dry pot and it was excellent. Morsels of crispy deep fried chicken tossed in all these aromatics. Packed with Sichuan peppercorns, several kinds of dried chilies, garlic, scallions and ginger. Bold and brash yet sophisticated at the same time. The Sichuan peppercorns numb the mouth with a radiating heat and cold, like someone swabbed the brain with Bengay. In a good way. It was very spicy (as I requested), with my scalp drenched in sweat; still I couldn't help but to keep eating. And when one consumes most of the protein, a soup stock can then be poured in the pot for a different kind of pain/pleasure. You can also opt to have shrimp, crab or snails instead of chicken. And they do sound like wonderful combinations as well.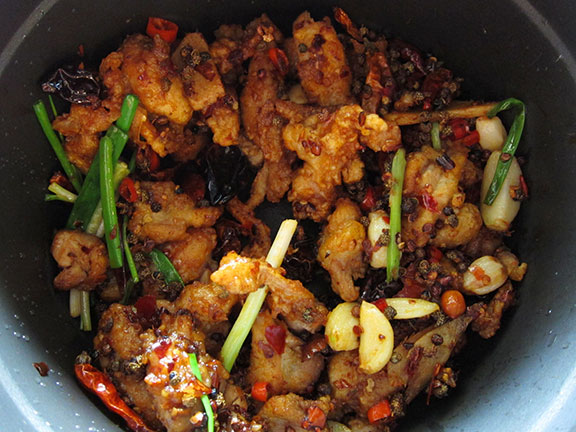 What a find. Take note, not all things on the menu are spicy and levels of spiciness can be modified. Heat is really just one aspect of their savory soups. But for chilli heads (like me), it's nice to know that if you request to make it spicy, they make it properly so. If I get a beating with every spoonful and keep coming back for more, then what I'm eating must be good; as the case for the dry-pot. However, there are also some grill items on the menu and, of course, so many other soup bases to try.
Typhoon Restaurant & Bar
2/F A.Venue
Makati Ave, Makati
Tel. (+632) 919.6763
LABELS: Anonymous Paul, hotpot, Restaurants, sichuan peppercorns, Typhoon