By sanju on 26 February, 2014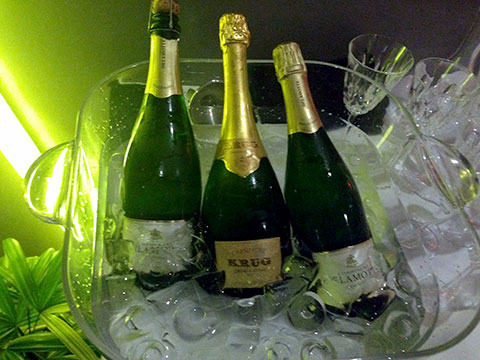 A few months ago, Noel Ermitaño, who writes one of the best blogs on wine called Eye On Wine, broached the subject online of whether it would be possible to do a recreation of the grand meal depicted in the 1987 movie, Babette's Feast.  Within minutes he got a reply from Chef Cyrille Soenen (of Impressions and Brasserie Ciçou) that he was up to the challenge.  The gauntlet was then thrown.  Wines and ingredients were sourced from all corners of the globe, the menu was finalized, and the date and venue were set, culminating into an epic evening at Brasserie Ciçou.  An evening that I will never forget.
Babette's Feast is a Danish movie set in a coastal village in the Jutland region of Denmark during the 19th Century.  It won the Oscar for best foreign film and is touted to be one of the best movies that had a food theme.  If you have not watched it yet, I suggest you do so at once.  As I told Noel, I have a certain attachment to the movie as I did a paper on it back in college.  I for one was very excited and could not wait for the day to come.  So excited was I, I forgot to bring my camera and had to make do with my iPhone.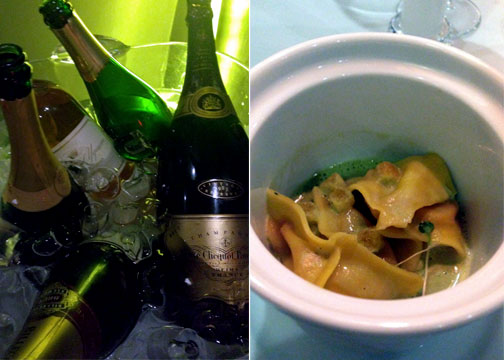 When the appointed day finally arrived, C and I were greeted with a wonderfully set table with personalized menus.   After some cocktails, we sat down and began our meal.  For our first Course, we had Prawn Ravioli in a Double Prawn Consommé with Green Tea Foam paired with a 2005 Champagne Mailly L'Air Grand Cru. This was not technically part of the original feast but Chef Cyrille deemed this dish worthy to be included.  And he was right.  Delicate and flavorful, he described it as a "French Xiao Long Bao".  I concur.  The meld between east and west was evident in every bite.  We were definitely off to a great start.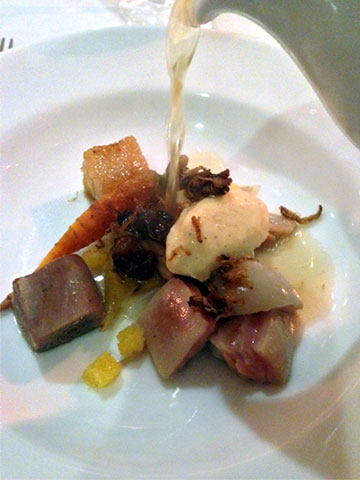 For our soup course we had a Mock Turtle Consommé.  In the movie, Babette actually slaughtered a live Sea Turtle for this soup.  We however had to make do with a mock turtle soup lest we be thrown in jail for killing an endangered species.  According to Chef Cyrille, he used Tete de Veau or Calf's head since historically, this particular ingredient was found to be similar in texture to Turtle meat.  Our Veal Consommé also had a Quenelle of Chicken (finely mashed and slightly creamed chicken) and some veggies.  Honestly, I much prefer this version as from what I hear, actual turtle soup is quite an acquired taste.  As in the movie, an Amontillado or Sherry from Lustau Almacenista was paired with the soup.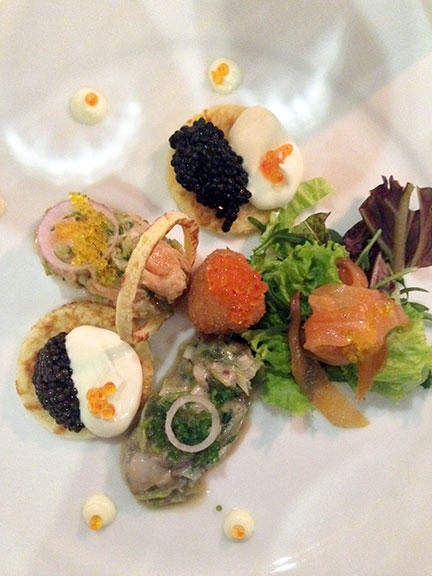 For our caviar course, Chef Cyrille served Caviar Sturia Vintage and herring Caviar on Blinis with Sour Cream.  Together with this were an Oyster and Salmon Tartare, plus a crispy quail egg croquette topped with some trout roe.  This was paired with excellent 1985 Veuve Clicquot Ponsardan Gold Label Reserve Brut Champagne.  Hands down my favorite dish of the night.  Apparently, Caviar Sturia comes from Imported Russian Sturgeon farmed near Bordeaux.  The vintage version was subtle and understated. It paired perfectly with the champagne.  The Oyster Tartare was a revelation in itself, full of flavors of the sea, while the crispy quail egg added some texture.  Bravo!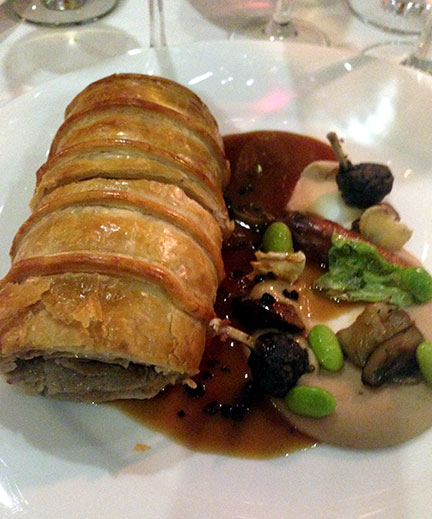 After having a refreshing Green Apple Sorbet with Calvados, we proceeded to our main course:  Roasted Quail Stuffed with Foie Gras and Truffle served en Sarcophage (housed in puff pastry) with some Chestnut Puree, Mushrooms ala Bordelaise, Glazed Baby Carrots and Edamame, Cabbage Chips, topped with a Truffle Quail Jus.  Whew, at first glance it seems like there is a lot going on, but fortunately there was synergy.  The quail was completely deboned and had the right amount of gaminess that was not overshadowed by the flavors of the foie and the truffle.  The Jus added depth while the accompanying vegetables were a play on textures.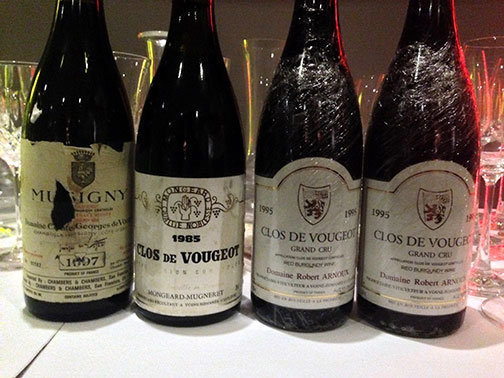 As in the movie, Noel was able to find a couple of bottles of 1995 Vintage Robert Arnoux Clos De Vougeot Grand Crus, and he added a 1985 Vintage from his personal collection.  There were other reds that we were able to sample like a 1996 Chateau Giscours and a magnum of a 1996 Alberic Simounin Savigny Les Beaune. I will leave the detailed annotations to Noel as he is obviously better equipped to do so.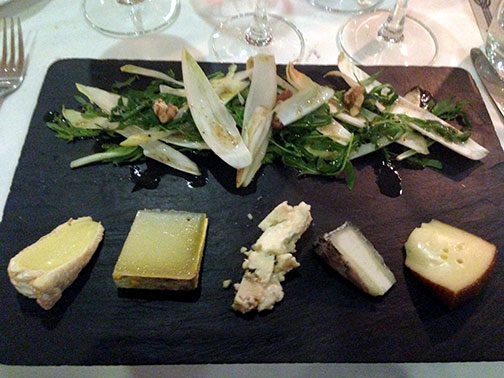 For our salad and cheese course, yes, salad was indeed served after the main course as per how they do it historically in Europe; we had an Endive and Arugula Salad with toasted walnuts.  Plus some French cheeses that ran the gamut from hard to soft.  We washed this down with a 1989 Couly-Dutheil Chinon La Baronnie Madeleine.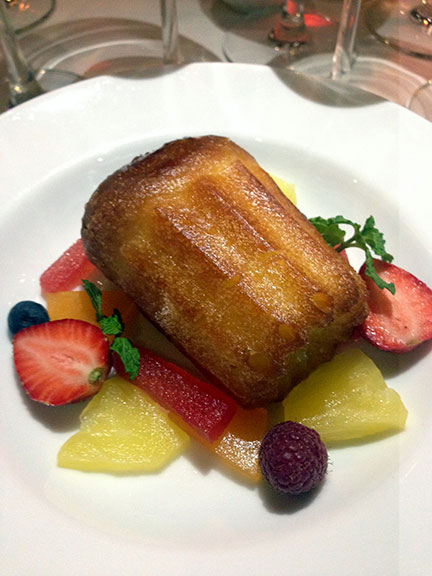 At this point, I was quite full but I could not say no to dessert.  Baba Au Rhum soaked with an Orange and Vanilla Bean infused Rum Syrup and Tanduay 15 year old Rum, with Fresh Fruits and a Light Cream Topping.  Incredibly tasty and moist this dessert was paired with a grappa like Billecart-Salmon Marc de Champagne Reserve des Caves just like the movie.  As an added bonus, a huge bonus in fact, we were also able to sample a 1997 Chateau d' Yquem Sauterne.  Personally, this wine has always been on my bucket list, as I have read quite a bit about its history.  I have never had the chance to sample it until now.  It had subtle sweet fruity notes that paired quite well with the bolder flavors of the dessert.  Of course no meal at Cicou can be complete without a serving of its legendary Kouign Amann.  We had some mini ones together with some Macarons and Canelles that were paired with much needed espressos.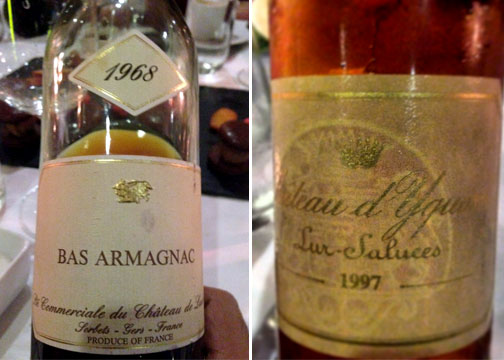 It was quite a privilege to be part of something as excellent as this.  Again, Chef Cyrille shows us why he is considered one of the best chefs in the country.  We are quite fortunate to have someone so talented in our midst.  I was quite awed and touched by a gesture that Chef Cyrille made.  He brought out a bottle of 1968 Bas Armagnac that he received fifteen years ago on his 30th birthday. 1968 being his (and mine) birth year, he was saving the bottle for a special occasion and I guess he deemed this night to be that.
**P.S.  For more detailed wine annotations, please check out the following blog posts:
http://eyeonwine.blogspot.com/2014/02/babettes-feast-recreation-by-brasserie.html
http://www.thehappylab.com.ph/latest-post/babettes-feast/
LABELS: babette's feast, Cicou, Cyrille Soenen, Noel Ermitano, Sanju