By sanju on 12 February, 2014
On a recent Trip to Taipei, C and I were taken to the Ximending Area by one of my business principals JC and her daughter N.  The Ximending area is similar to the Harajuku area in Tokyo. It caters mostly to the younger set, with lots of retail establishments, street performers and of course food stalls. N took us to a few of the well-known food stalls in the area; we were unanimous though about Ay-Chung being our favorite of the evening.
The stall only serves Ah Zong Mian Xian (Ah Zong's Line Noodles). Simply put a bowl of viscous soup, with pig intestines, thin vermicelli noodles, seasoned with bonito, parsley and bamboo shoots. Nothing fancy in terms of flavor but oh so good.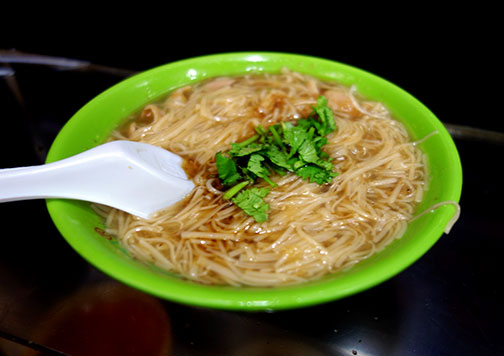 One must always expect a line anytime of the day at this popular establishment. We waited in line for about fifteen minutes and when we finally got to the counter we ordered a couple of small bowls (NT$45 about P65) to share. They also have a large bowl available for NT$65.  After getting our order we proceeded to a makeshift sauce station where we further seasoned our noodle soup with garlic, black vinegar and a delicious but fiery chili sauce. Since there were no tables we just stood by the sidewalk and slurped away.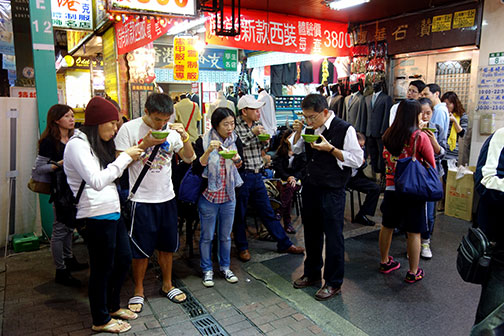 I enjoyed my bowl, as it reminded me of a less starchy version of one of my local Chinatown favorites: Maki-mi. The intestines had just the right amount of chewiness and served as a flavor and texture foil to the silky noodles.  While the chili sauce added another dimension to the already flavorful broth.  A perfect snack for a cool autumn Taipei evening.
Next time you visit Taipei and happen to be in the Ximending area, don't miss Ay-Chung's for that ultimate Taiwan street food experience.
Ay-Chung Flour Rice Noodles
8-1 Emei Street, Ximending
Taipei, Taiwan
Tel +886 2 23888808
Web: ay-chung.com
Open Daily, 1030-2230