By Anonymous Paul on 6 January, 2014
When we go out to eat, I'd like to think I'm more on the adventurous side when picking out things on the menu. More often than not I try to stay away from the "best sellers" (whatever that's supposed to mean) as it may be popular choices but not exactly what a restaurant or chef wants to highlight in their establishment. So many restaurants have opened of late and still so many different things to try. I've actually been experiencing eating fatigue coming from the non-stop dinners over the holidays. I struggle to write this entry. And I now stray from my point. That being however I try to order different things every time in restaurants, I always order these same things whenever I'm in Suzhou.
Suzhou is not new. It's always been low key and a little dive-y, especially the Mandaluyong and Binondo branches; but happy to report that even their "posh" branch in Bonifacio Global City also serves food faithful to the original recipes. And I've eaten at Suzhou many times over the years to keep coming back for what I now consider comfort food.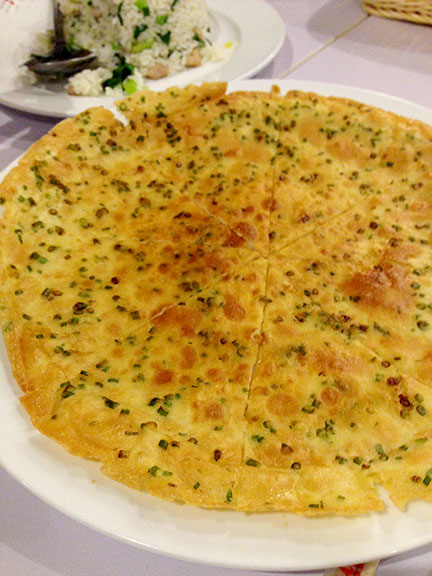 First off: the Pancake with Spring Onions. Not quite the flaky pastry type; more like a crispy crepe studded with scallions. I always order this cooked till a little brown so that it's extra crispy. With black vinegar on the side makes a great appetizer.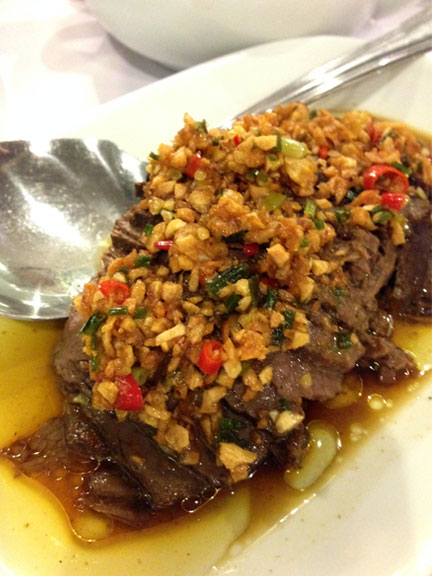 The Steamed Beef in Garlic. Thin slices of fall-apart-tender beef bathed in aromatic garlic and chilli oil. It's a little spicy and on the salty/savory side. It comes with oyster sauce for dipping but find that makes things even more salty. So rice is a necessity for this.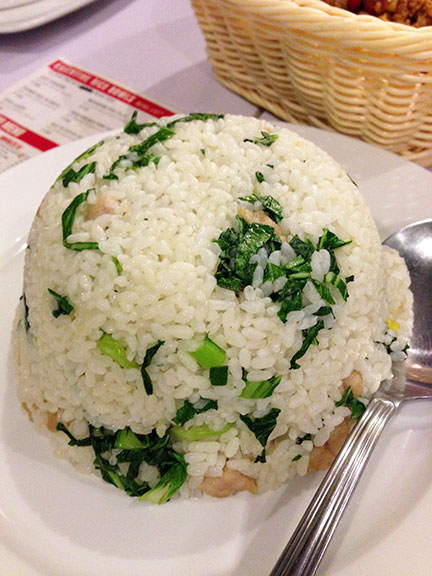 The Pork and Vegetable Fried Rice in particular. Salted mustard greens and pork tossed with properly fried rice. With grains plump and a little moist. It is simple yet satisfying.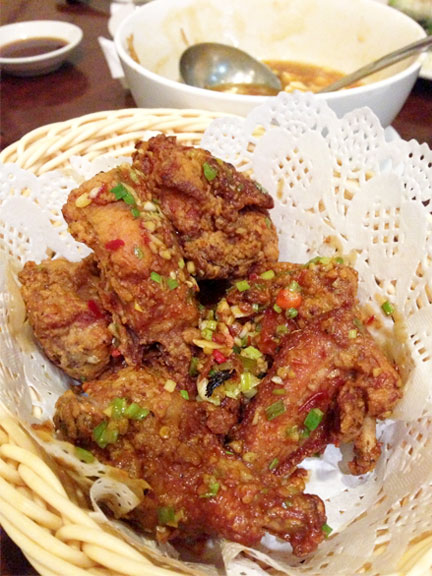 A toss up for top dish would be between the steamed beef and the Spicy Fried Chicken. The chicken per se is fried perfectly with a crunchy coating. Seasoned well and succulent on the insides, yes even the white meat. But they also toss this in a garlic and chili oil afterwards. It's deliciously spicy and will make your scalp sweat a little bit. But I've witnessed chili-averse eaters keep eating because it is just so full of flavor. One of my top fried chickens in the Metro.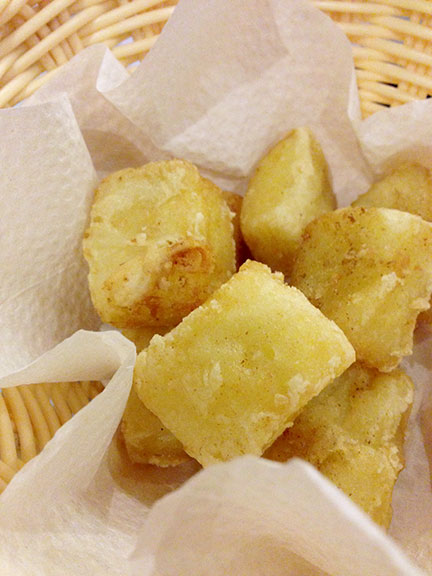 For dessert I like the Sesame Tang Yuan, or a glutinous rice ball filled with black sesame paste in a hot sweet soup. But I lean towards the Fried Banana Nuggets more. Essentially like fried milk. Or fried cubes of banana scented custard to be more precise. Soft and milky. Warm bananas. Sooo comforting. All in all nothing really fancy in this place. Nothing earth shattering. Just reliable, consistent, reasonably priced food. Which if you think about is becoming a rarity these days.
Ok…so as I reset my tastebuds, I think I'm now ready for 2014. Here's to a new year of eating well!
Suzhou Eastern Chinese Cuisine
2/F Crossroads Complex,
32nd St. Bonifacio Global City
Tel. (+632).551.1680
Suzhou Dimsum
With several locations in Metro Manila
LABELS: Anonymous Paul, BGC, Chinese, Restaurants, Spicy Fried Chicken, Suzhou