By sanju on 23 January, 2014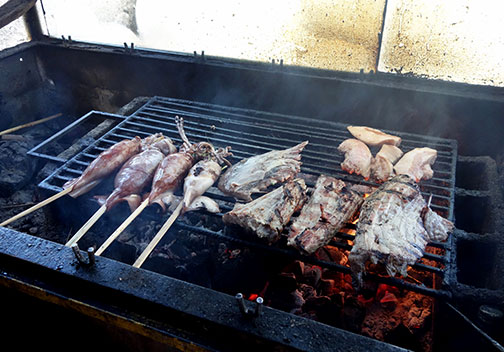 I spent a large part of the recent holidays in Davao with family.   Aside from visiting the usual haunts, I was lucky enough to find a couple of hours to have an early lunch at Dods Ihaw Ihaw & Grill.   My partner in crime for this excursion was my client J.  J was game enough to have lunch with me at this not-so-apt-to-take-a-client venue, instead of the usual restaurant.
I heard about Dods from Chef Gene Gonzalez, who as usual, never runs out of new places to try.   Chef Gene warned me though not to go later than 11 AM, otherwise risk all the good stuff running out.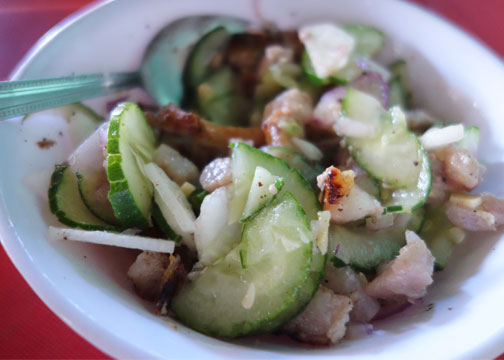 True enough, J and I get there a little before noon on an extremely hot and humid day, to be faced by a throng of diners, most of who were halfway through their meals.  Most everyone was having Grilled Tuna Jaw (Panga) P350 and Tail (Buntot) P350.  There were also a few other items on the grill like squid and other parts of tuna.  In true carinderia fashion, there were some dishes lined up in the counter for one to choose from.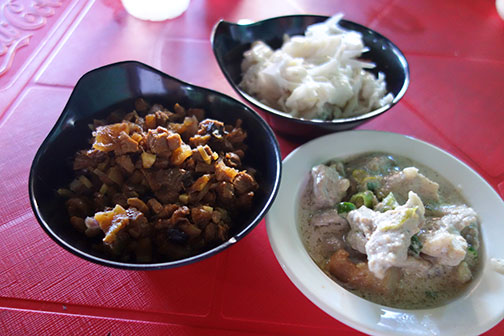 After having met the amiable Dods and his lovely wife who helps him run the place, we ordered some panga, and a few other dishes that looked interesting: Kilawing Kambing, (grilled goat meat, skin, liver cooked in vinegar and topped with brain), Pork with Gata, (coconut milk), Ginataang Langka (unripe Jackfruit cooked in coconut milk) and Sinuglaw (Grilled pork belly mixed with Tuna Ceviche).  All of these dishes were in the P60-P80 range.
Most of what we ordered was tasty enough, but the Panga blew J and me away.   It was grilled to tender perfection, with a secret basting sauce that was excellent.  The end result was a sweet, smoky, slightly spicy piece of heaven.  After tasting the tuna, the heat was forgotten and we attacked with abandon with some hot steaming rice serving as a foil.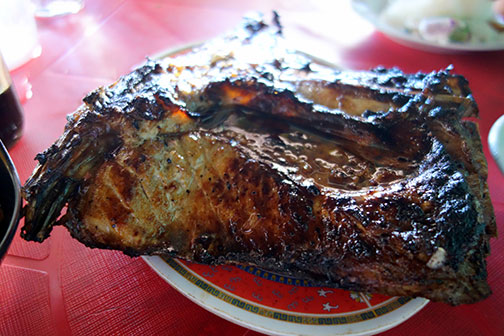 The only unfortunate part, of this great meal was that we were not able to try some of the other interesting things on the grill that day, since they were all sold out by the time we got there. Next time, I will heed Chef Gene and arrive for a late breakfast / early brunch. I suggest that you do the same if you are planning to visit Davao soon.
Dods Ihaw Ihaw and Grill
Ponciano Corner Roxas Avenue
Davao City, Philippines
Tel (+63.909) 200.2893
LABELS: carinderia, Davao, Sanju, tuna