By Anonymous Paul on 13 January, 2014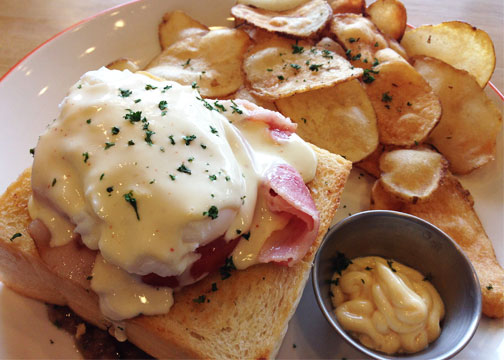 A meal at Cafe Shibuya spells death for someone on Cohen diet. We had set to meet with friends for lunch one Saturday and decided to give Cafe Shibuya a shot. It's menu is about 75% dessert. And even most of the savory items make use of their signature toast. Which is a massive 2.5 inch thick block of brioche (equivalent to about  4 or 5 slices of your typical sliced bread).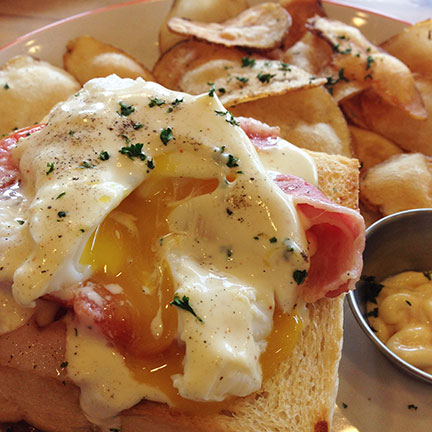 I had opted to get the Eggs Hussarde, a creole take on the eggs-ben, with some hollandaise on top of the poached egg and a red wine sauce at the bottom of the bread. The plate was huge. But I noticed a couple things. That being the hollandaise was a tad pale; an indication of lack of butter or egg yolks or both. And that the red wine sauce at the bottom was hardly visible. Taste-wise, the sauces were pretty good; seasoned well, great consistency. The poached egg cooked perfectly runny. The Canadian bacon soft and pliable. And the potato chips that came as a side were also excellent; thickish but properly fried a few times to make it extremely crispy. If there was a quibble it would have to be with proportion. There needs to be more sauce on the damn thing (as in swimming, blanketed and enveloped) as the toast is just too big. And an extra egg wouldn't hurt. The bites were getting a bit dry towards the end. Otherwise, I finished my plate. Happily.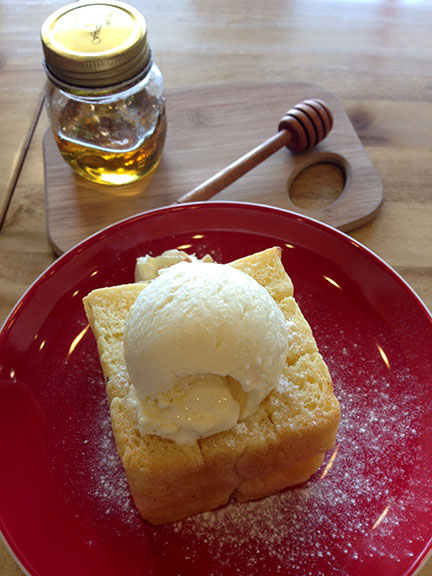 For dessert, we decided to give the Original Shibuya Honey Toast a go just as a basis for future comparisons. What this place does great is bread. The brick of house brioche is toasted and creates a great crust on the outsides and the insides fluffy. If the brioche weren't rich enough, several tablespoons of melted butter is poured over it and then topped with a scoop of vanilla ice cream. To finish, you drizzle some honey flavored syrup over it at the table. Who knew a four ingredient thing could be so delicious and decadent in it's simplicity?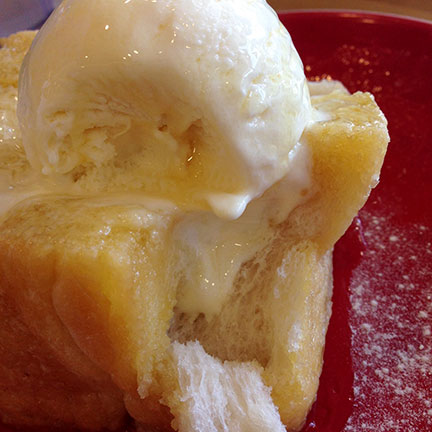 So how many equivalent slices of bread did I consume over lunch. Maybe 6 or 7. On top of the potatoes and ice cream and syrup. Pass the insulin shot, please.
Café Shibuya
G/F UP Town Center, Katipunan Ave
Loyola Heights, Quezon City
Tel. (+632) 722.2237
LABELS: Anonymous Paul, cafe shibuya, toast, up town center