By Anonymous Paul on 13 December, 2013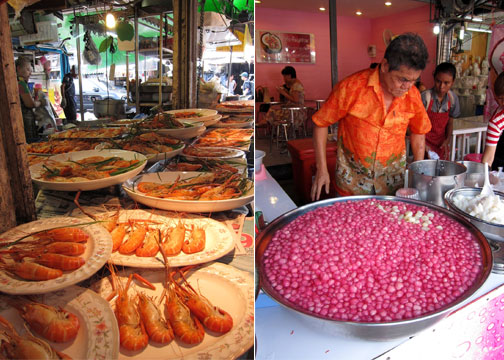 Touchdown Bangkok. It had been years since I've been back without any work involved and was quite excited to finally have time to visit places, old and new.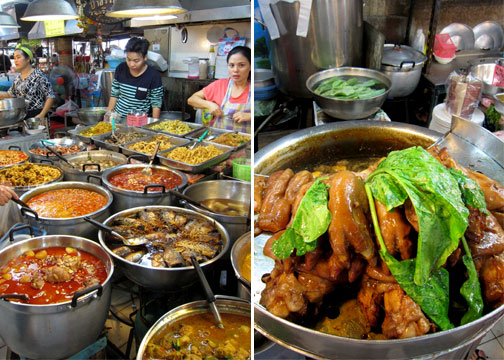 We had arrived on a weekend so might as well get Chatuckak (MRT Exit: Kampheng Phet) out of the way. Our very first destination. Bangkok is pretty much a shopping city, and JJ is a place where you not only get to see kitchy souvenirs but also amazing independent brands and handcrafted goods. Great for gifts! There are also lots of food stalls around for weary consumers. But for more serious eating, we head on over to Or Tor Kor Market, just adjacent to Chatuchak.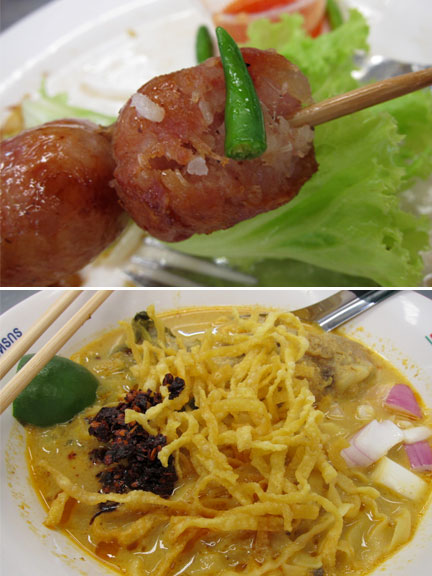 It's a "wet market" full of high quality meat and produce. Gigantic sugary sweet fruits, unusual herbs and vegetables, spices and curry pastes. All there. But they also have a lovely food court where you can sample a lot of local dishes at inexpensive prices. I was just planning on getting a rice and viand kind of thing but ended up eating so much! I hadn't had these things in a while so along with my plate of oyster pancake (hoy tod), I also picked up several sticks of pork sausages (sai krog) and a bowl of khao soi gai. For dessert, a kilo of mangosteen. No diets this trip.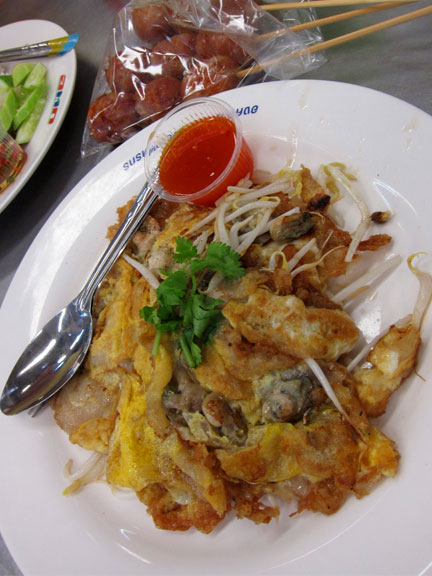 And if you've never had Thai style oyster pancakes, I suggest you do. It's lighter and crisper (and greasier) than what you would find in, say, Singapore. Delicious.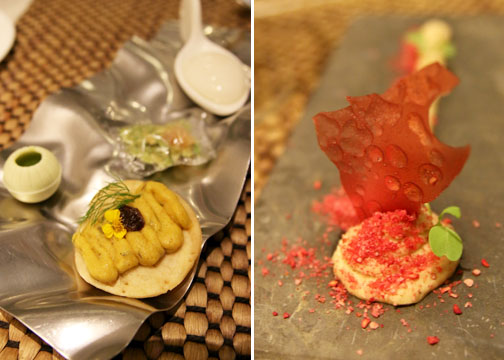 For dinner on our first night, we had decided to go Indian. Molecular Indian, that is. How unusual, no? Gaggan (68/1 Soi Langsuan) is located in a renovated colonial house in a quiet neighborhood of Bangkok. As for the meal… as far as Indian cooking goes, really great hand with flavors and spices. But for me the entire experience (service, portions, et al.), plus the fact that in my mind I should be eating family style with my hands, did not translate well with it's fancy setting. Some may like it more than I, but for me this visit was enough. Spherification and foams are novel, but I'm still partial to real food.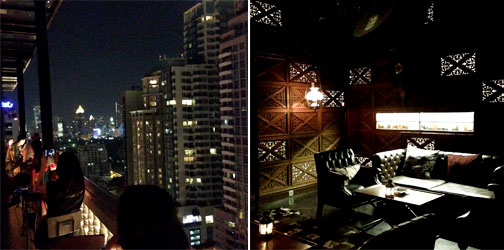 For drinks we headed out to nearby Hotel Muse. An incredibly chic and extensively designed place. It's otherworldly. The basement houses the Medici Kitchen & Bar; a cavernous leather, wood and stone swathed Italian-leaning tapas style eatery. But on the 24th and 25th floors is their rooftop bar called The Speakeasy and an equally handsome cigar and spirits room called the Blind Pig. There have been craft cocktail places opening in Bangkok of late but over the past several years rooftop bars have been the thing. Great atmosphere here at Muse but the cocktails could use some work.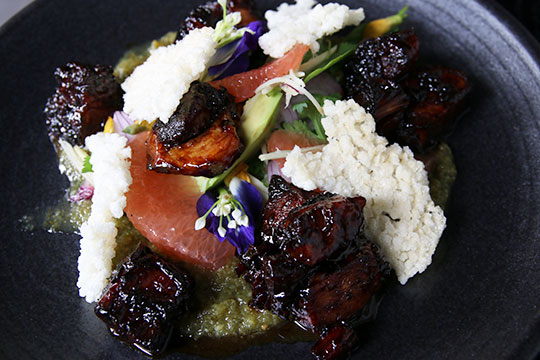 Next day, I was excited to go to this particular restaurant called Paste (Sukhumvit Soi 49). In that it's an independent run by a husband and wife team in the kitchen. I wouldn't say it's "fusion" or anything like that but what they do serve are highly creative dishes without sacrificing heartiness of good old fashioned bowls-of-rice kind of eating. Still very grounded in Sino-Thai flavors.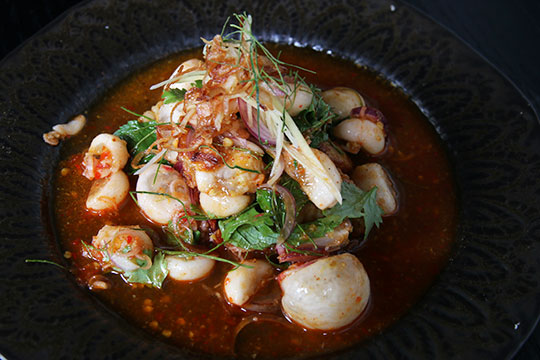 We had this fabulous caramelized pork belly with red okra, basil, green mango and green chilli puree plated beautifully with puffed rice crackers and edible flowers on black plates. Also this explosive mangosteen salad with seared scallops and roasted chilli jam.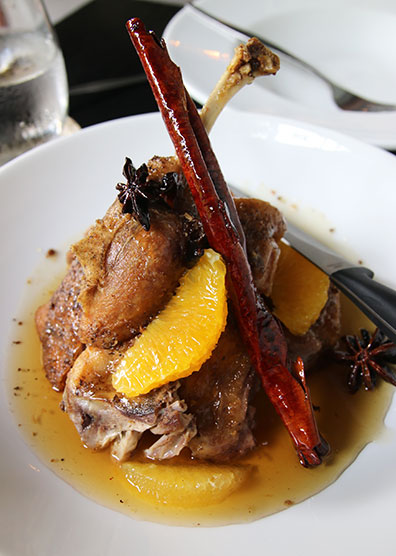 And a tender, slow cooked (brined, steamed, pan-fried) duck with a syrupy sauce made with orange, fish sauce and anise. Among others. With quite an apt wine list. My goodness, what a lunch.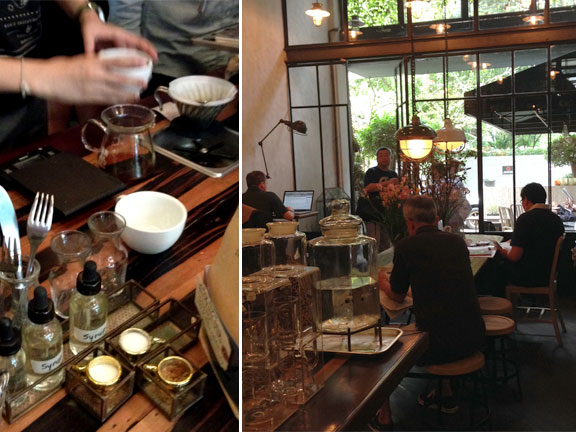 An excellent third wave coffee shop can be found a few doors down Paste. Called Casa Lapin and produces one of Bangkok's best cups. They have all the coffee gadgets and play vinyl throughout the day. Totally hip(sterish)? But you can't argue with the quality of the brew.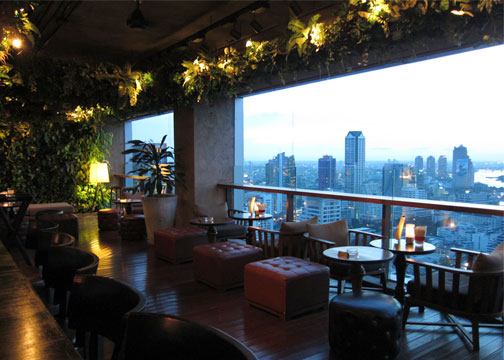 After an afternoon of shopping, yet again, we head out for drinks at another rooftop place called Scarlett Wine Bar & Restaurant (37/F Pullman Bangkok Hotel G, Silom Rd.). Another striking establishment with chesterfield sofas and bricks and plants all around. But what we went for in particular was the huge terrace, seemingly straddling indoors and out; and it's arresting sunset view of Bangkok (glimpses of the Chao Phraya river as well).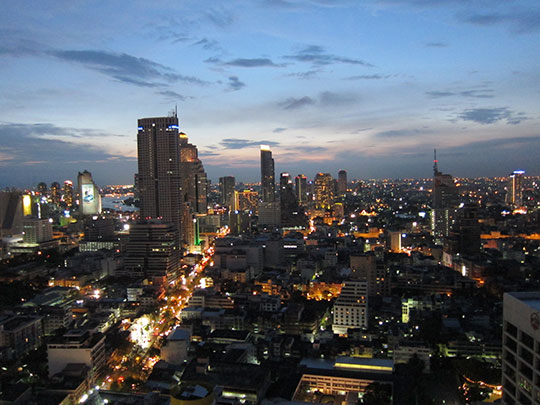 With some charcuterie, cheeses and fantastic crusty bread ordered off the menu board and a couple glasses of bubblies, it was a moment one dreams to just keep on going.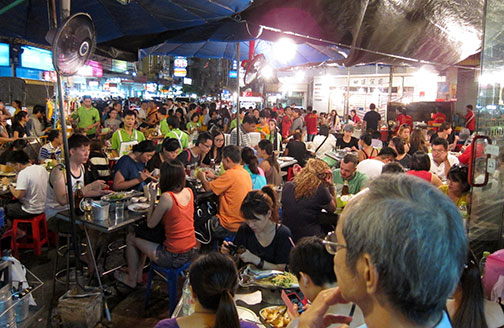 But we had more places to cover. As Yaowarat Rd located in Chinatown. A place where people eat on the gutters but eat well. It's famed for the many seafood stalls/ambulant kitchens. With fresh seafood you point out to and they cook on the spot. We had a decent seafood dinner consisting of tom yum ruam mit (mixed seafood), stir fried squid and prawn fried rice. But I've had better at Raan Jay Fai. If one does find one's self on Yaowarat Rd, I would suggest heading out to either T&K or Lek & Rut . Two establishments right across each other and ALWAYS packed with locals and tourists. But don't be turned off. These places have this uncannily efficient system of feeding droves. Service is quick. They have plenty more cooks so you'll be seated and noshing in no time. I suggest one goes simple; palm sized oysters, scallops or gigantic river prawn or squid or cuttlefish just grilled. They do it perfectly; leaving flesh tender and sweet with a hint of charcoal aroma. Their spicy seafood sauce (nam jim talae) will have you ordering extra plates of crab fried rice (kao pad poo) for sure.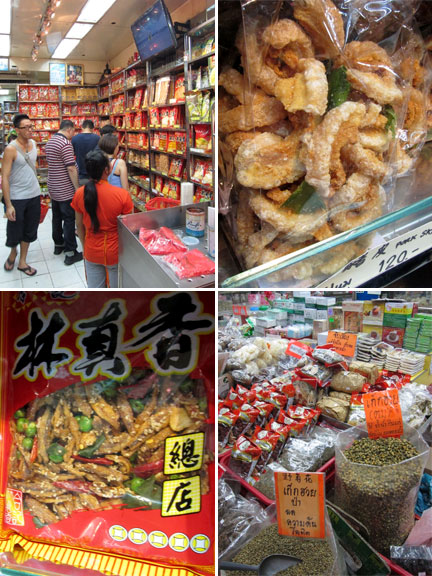 But another good thing to buy in Chinatown is pasalubong. Lime leaf infused chicharon (kep moo) or spicy tom yam anchovies at about half the price you'd get at MBK. And many more. Though qualities would be a little different.
Next day we head on over to Taling Pling (60 Thanon Pun, Silom) to meet with an old friend. It's a Bangkok institution that's been around for decades. Tested by time, serves some great versions of Thai classics. All reasonably priced. Try the pad thai wunsen (using vermicelli) and their lovely curries. They also have a branch at Siam Paragon.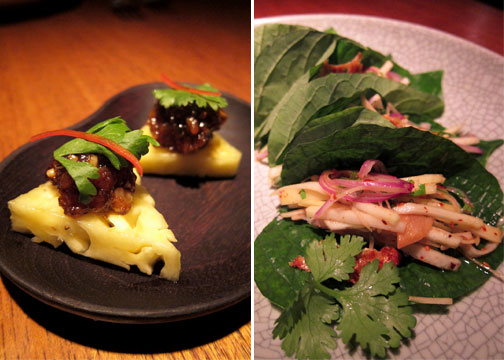 We had saved our last dinner for Nahm (Metropolitan Hotel, South Sathorn Rd). A place I've had reservations of going to for the past couple years. As you know, eating upscale in Thailand doesn't really equate to better eating. Some things get lost along the way. But we finally decided to give Nahm a shot as I do admire David Thompson and his advocacy; which is reviving long lost traditional recipes and reproducing them in a most legitimate manner.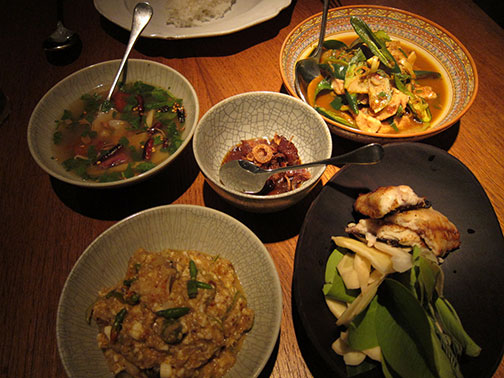 If you've ever read one of his cookbooks, you'll be floored with the detail and passion put into it. Thai Food is regarded as the bible of Thai cooking; if you can't find a Thai grandmother to teach you. Which is how Thompson learned Thai cooking in the first place.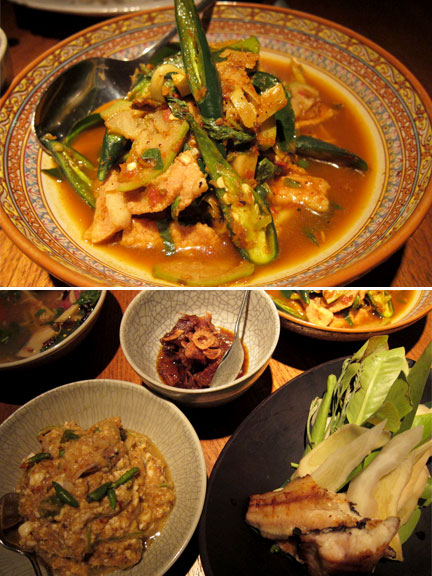 In any case, Nahm did not disappoint. Standouts were the salted egg and prawn relish with grilled catfish. Served with shaved white turmeric and an antiseptic herb and sweet stewed pork which balanced out the spiciness. Also the jungle curry of pork with wild cardamon and bananas. So unusual as it's made without coconut milk/cream. But is nonetheless hearty and so aromatic, almost floral, with all the fresh spices. The hot and sour beef, tripe and coriander soup was also very nice.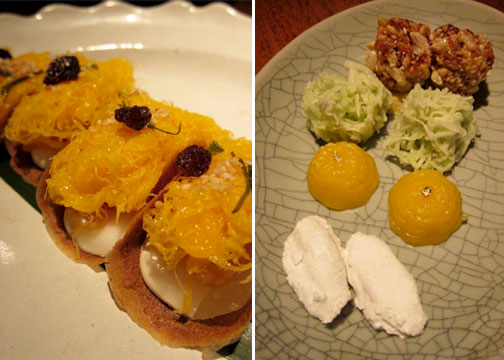 All dishes are served with their intended intensity of heat. Which even for my high tolerance was a challenge. (They do serve something to magically temper the heat on the side). But its amazing how everything was so balanced. Flavors were explosive. So clean. I've had many meals all over Thailand and this would have to be one of the most "authentic" experiences I've had. I will definitely return for the tasting menu.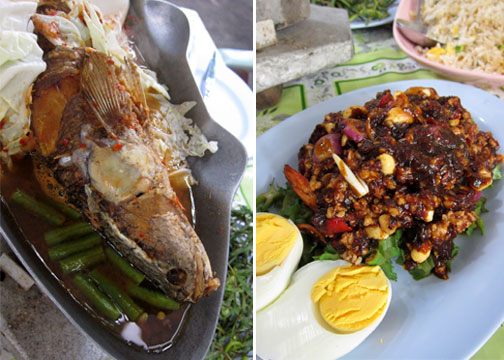 Last day. And our last Thai meal would be at this hole in the wall. Ordering a spicy wing bean salad and a whole snakehead fish in tamarind soup. Yum. And again, as always, to cap things off, a cup of coconut ice cream topped with roasted peanuts. I had opted out of the coconut shell cup though. But off to the airport we went after.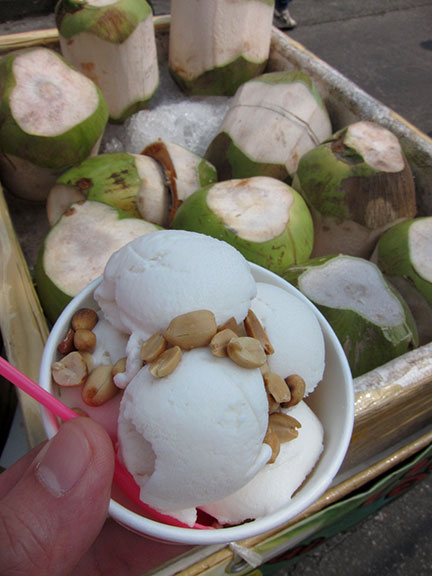 Despite all the eating (some shophouses and alleys I have even omitted in this entry), one word describes this trip: bitin.
LABELS: Anonymous Paul, Bangkok, nahm, paste bangkok