By Kitchyart on 19 December, 2013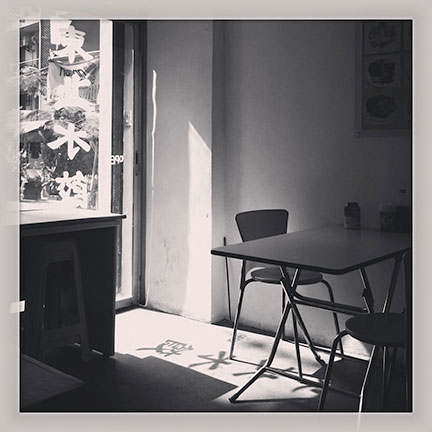 With just a few days before it's officially Christmas, we are all busy getting ready for the holidays.  Just weeks before work started piling up for me, I took a quick escape to Chinatown for some downtime. It's an odd place to find serenity, since it's usually one of the most chaotic places in the metro.
On the day we decide to visit, it was a holiday so there was no trouble getting there and it was nice to take a leisurely walk. And so we found a couple of interesting spots…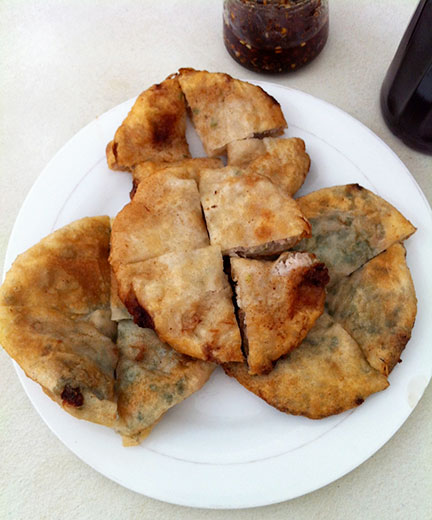 Dong Bei has been around for a few years now and we finally got the chance to see this place. It's a tiny joint, with the staff constantly making fresh Beijing Style dumplings. We opted for the pancakes, which are also made from the same dough and filling as the dumplings but rolled out flat and fried. The dipping sauce is a mix of soy sauce and vinegar with some chili. It's a bit on the subtle side but the pancakes were well seasoned; it didn't need much sauce. We wanted to bring the pancakes home but the staff said that they only sell the frozen dumplings for take out. The pancakes were very tasty and I can imagine them to be just as good in dumpling form. It's a great alternative to the dimsum we're familiar with, and you may pick your fillings: chives, celery, cabbage, pork, shrimps and vegetarian.

Dong Bei Dumpling Restaurant, 642 Yuchengo (Nueva) Street, Binondo, Manila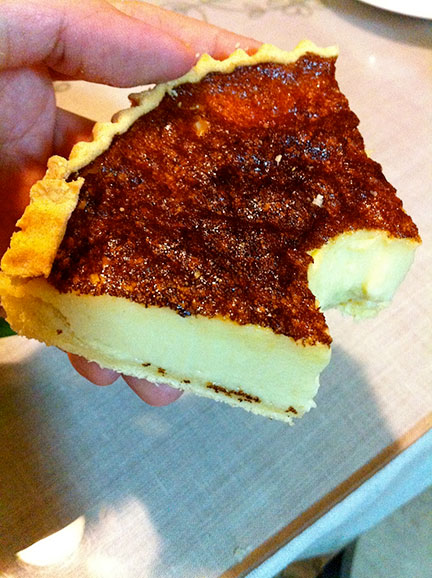 A few months ago I posted an entry in search of a good slice of egg pie. We walked into Wan Kee Bakery on Benavides Street and with the smell of fresh-baked goodness, I knew we struck gold when we saw egg pies on display. They didn't sell them by the slice so I purchased a whole pie. I am happy to report that after consuming half the pie in one sitting, this truly satisfied my craving. The filling was smooth and not too eggy, not cloying and tasted like custard. The crust was thin yet strong enough to hold the thick filling and had no trace of any clay-like taste. This place looks like one of the longest standing bakeries in Chinatown, I've heard good things about their siopao and hopia as well.

Wan Kee Bakery 828 Benavides St., (off Salazar) Binondo, Manila
These are just a couple of examples of places that are open during holidays and they are most likely to be open on Christmas or New Year's if you're fond of just driving around the city looking for something to eat.
From Table for Three, Please, we wish you all a Merry Christmas!