By Kitchyart on 8 November, 2013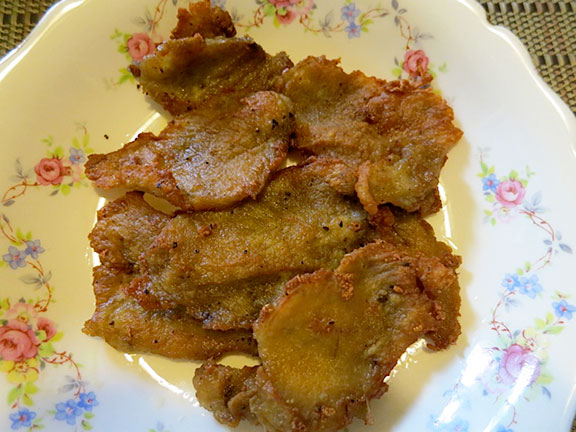 In our home, my Ibanag mom calls cow udders as "Pukal" but in Tagalog it's called "Sinuso". I thought of writing about this because it's been years since my family encountered this dish again and I learned that's this is not quite a common part to eat today. I've done a bit of reading online and the mammary glands of cattle were used in Old World cuisine. Because of its high fat content, they were usually salted and made into cold cuts in the wintertime. In Germany, breaded then fried like a schnitzel. I didn't see too many Asian dishes that use them, except for India and Pakistan where they use a spice mix and grill them. To be honest, I don't think I've seen them in today's menus.
The only way I know how to eat it is the way we prepare it at home. Sadly, I have no photographs of the whole udder. I know that a lot of fat needs to be trimmed off to get to the meatier part of the gland. We usually boil it to soften and marinade it in vinegar to taste. To cook, it's best to pan fry to render the fat and let it turn crispy on the sides. Perhaps grilling them would be a good idea as well. Some homes add this part to Kare Kare but I'm not sure one can taste it in the rich peanut sauce.
I guess at home we cook it tapa tostado style. The texture is sometimes chewy and sometimes fatty, the taste is buttery and almost milky. The texture might be off putting to others when they realize what they're eating but it can really pass off as a chewy piece of tapa cooked in butter… but better! This is the best way I can describe this dish, but don't knock it 'til you try it.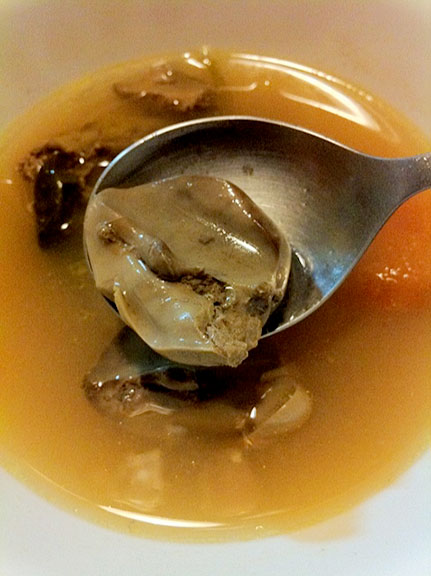 Another dish we have occasionally at home are fish livers. My dad is from Malabon and he insists that the Bangus (Milkfish) liver is just like a pâté. He is right about that, but we don't really prepare the fish livers in a terrine. We usually serve it with our sinigang. I actually just had some tonight and I thought it deserved an honorable mention as well.
I write about these two dishes because they are not widely known by the public today and they are not easily bought in a supermarket. A lot of the markets we see today sell mostly prepared food and not much of the fresh meat or catch of the day. Perhaps we need to make friends with butchers or fishmongers so we can get these prime cuts to our dining tables.
LABELS: bangus liver, Kitchyart, pukal, sinuso, ugly food