By Anonymous Paul on 12 November, 2013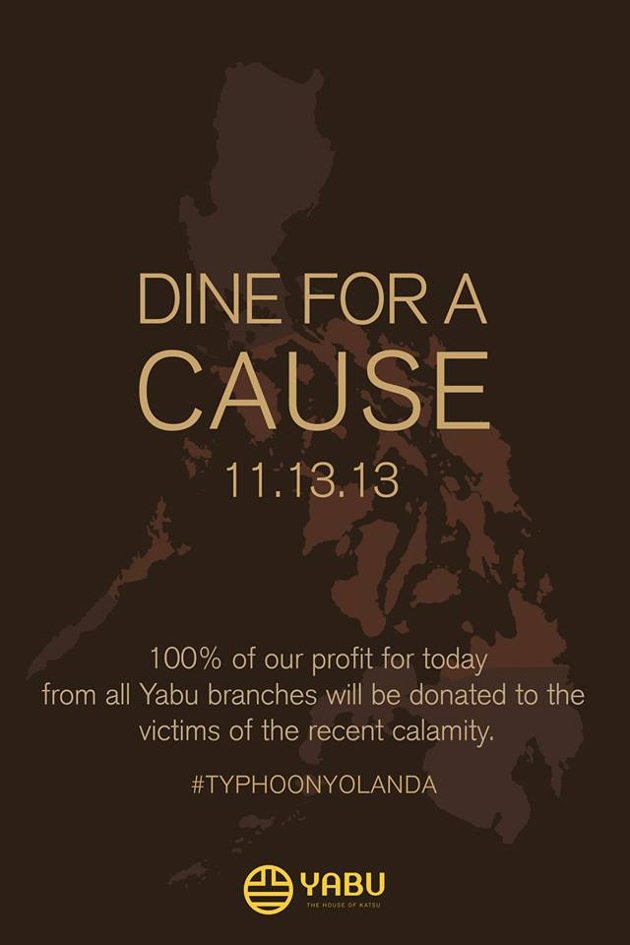 Yolanda; both it's power and it's effects have been totally devastating. I need not explain the damage done. But Filipinos will always be resilient and it's amazing how quickly everyone has come together to help in their own way. Below as compiled from social media feeds (thank you JJ Yulo!), as of today, is a partial list of generous efforts from the food community wherein restaurant profits will be partially or totally donated from proceeds of sales. So that those of us who are lucky and fortunate enough to eat at this time can still help. I suggest you book your reservations now. And if you know of any more similar efforts, please add them in the comments section.
TODAY, November 12, Sarsa Kitchen and Bar in Bonifacio Global City will launch Eat for a Cause. All proceeds from today's sales will go directly to Yolanda survivors.
On November 13, Yabu will be donating 100% of the day's profits from all seven of it's branches to Yolanda survivors.

From XO46 Heritage Bistro:
Tulong Tulong Para Sa Pilipinas!
Time to thin out some wallets and fill some tummies! We are hosting a fundraiser on Monday, November 18 at the Visayan Room ( beside XO46 Heritage Bistro along Valero St. in Makati)…featuring a four course dinner (with wine) by Chef Ramon Antonio and XO's own Chef Tanya. We're charging Php1,500 a head for this delicious Visayan inspired dinner with a special dessert from Baby Pat. All proceeds go to typhoon Yolanda's victims.
We have limited seats available so please call or send us a private message to reserve a place 5536635 & 32.
From Chef Him Uy de Baron of Nomama:
For the week of November 18 to 30 Nomama will give Php 50.00 for every Nomama Ramen and Php 100.00 for every Wagyu Beef Cheeks ordered to Habitat for Humanity to aide in the rebuilding of homes in Tacloban.
Nomama will also pledge 20% of its total sales for the weekend of November 16 and 17 for the typhoon victims.
From Chef Edward Bugia:
All my restaurants and all of their branches, namely Pino Resto Bar, Pipino Vegetarian, Brgr Burger-Project, Brgy Bagnet and Pi Breakfast and Pies are donating 100% of its profits on sales this WEDNESDAY, Nov. 13, 2013.
The following restaurants and vendors support the relief efforts from Typhoon Yolanda by donating 20% of our gross sales from Nov. 16- Nov. 17 to the Philippine Red Cross. Thank you Mr.  Jeremy Slagle for spearheading this project.
8 Cuts Burger Blends
Abe's
Homestead
Aeta Organics
Bono Artisanal Gelato
Bucky's
Burger Bar
Burger Project
Carmen's Best Ice Cream/Holly's Milk
Chez Karine
'Cue
Down to Earth
Edgy Vedgy
Everybody's Cafe
Focaccia Restaurant
Fog City Creamery
Food Lab Inc.
Global Beer Exchange
Good Karma Trading Co.
Homemade Treasures
Joshua Tree
Kape Maria
Kasbah Restaurant
Katipunan Craft Ale
Kitayama Meatshop
Manilabake
Merry Moo
Meshwe
Mexijunction
Mochiko
Mr. Delicious
My Big Fat Greek Kouzina
Namnam
Nomama Artisanal Ramen
Old Swiss Inn
Pi Breakfast and Pies
Pinkerton Ice Cream
Pino Restobar
Pipino Vegetarian Food
Risa Chocolates
Ritual
Rockin' Chef
Sebastian's Ice Cream
Sensei Sushi
Songkran
Spring By Ha Yuan
Sunshine Kitchen
The Superfood Grocer Philippines
Tommy's Coffee
Tramezzino
Trigo
Umami Hambaagu House
VL Farms
Wrong Ramen
For a comprehensive list of donation and relief efforts click here.
*Image from Yabu: House of Katsu's Facebook Page.
LABELS: Anonymous Paul, relief efforts, Typhoon, Yolanda