By Kitchyart on 18 October, 2013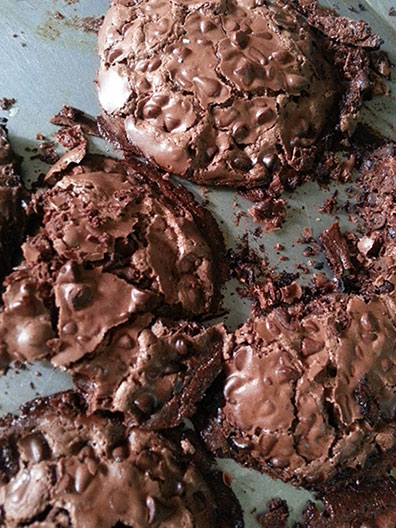 Maybe not all of you believe it but when Mercury is in retrograde, a lot of strange things happen. It usually affects all forms of communication; not just gadget related but even human contact. I had a number of photos and notes saved in my phone for new topics to write about but my phone decided to act up and all my data got wiped out without getting the chance to back up.
Not wanting to get affected by the loss, I went into the kitchen to try out a recipe online, a flourless chocolate cookie. Sounded simple to do. Lots of people seem to rave about how rich and fudgy it tastes and, most importantly,  how pretty it looked.
Oh, I forgot to mention that it's a gluten-free recipe. It should be healthy, right? The recipe calls for powdered sugar… a tantamount to replace the flour. I tweaked my version by replacing the vanilla extract with bourbon to amp up the chocolate flavor.
I then placed one batch in the oven sans the parchment paper on the cookie sheet. Big mistake! The cookies were a chore to scrape off the tray and I scratched them up pretty badly. Although the parchment lined ones were just as difficult to remove since there were streaks of paper stuck at the bottom. Out of 18 large cookies, only 6-8 pieces made it out alive.
The taste verdict? If you like meringue, this is the chocolate version of it. It didn't really taste like a cookie and it was way too sweet for my liking. I was expecting this cookie to taste as good as those flourless chocolate cakes that you see in almost every dessert menu.
Maybe it's Mercury in retrograde, maybe it's hype. If you dare, here's the recipe.
LABELS: cookies, fail, Kitchyart, mercury retrograde