By Anonymous Paul on 1 October, 2013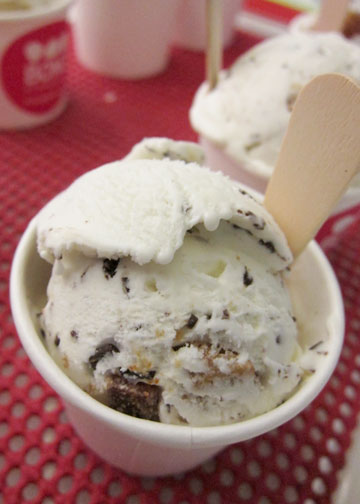 The Three had been invited by Rea Harrow, one of BONO Gelato's partners, for a "play date" a couple of weeks back and it turned out to be epic. So together with a few of our friends-in-food we had brought along some add-ons/toppings we thought would go well with the gelatos: dulce con crema, a deep dark chocolate paste made from tablea, a box of Valrhona chocolates and a crateful of freshly baked cookies.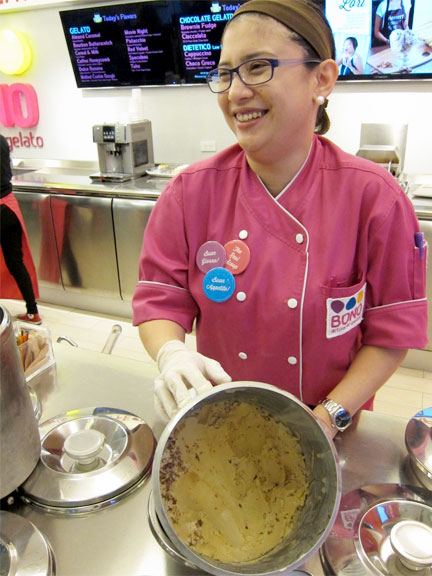 Yet these just played second fiddle to the lovely flavors concocted at BONO. Throughout the afternoon we were served cup after cup, scoop after scoop of the good stuff. A stunningly dense and creamy 70% Cioccolato that's 100% non-dairy, a decadent Dulce Banana which is also the base for the Lori sundae, the cavity inducing sweet Cereal Milk, the potato chip studded Movie Time, the rich Pistacchio so generous with nuts that it tastes like turrones, and more…practically everything on the menu that particular day. (They make fresh batches daily so the options will be different every time.)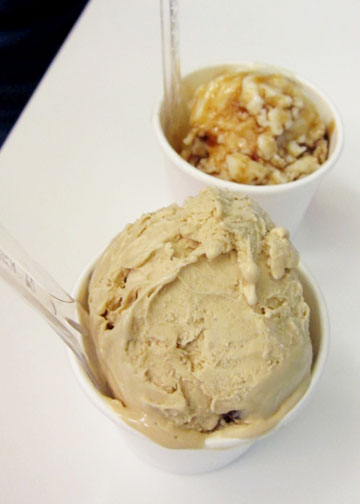 Cappuccino and Taho
We got to witness the churning of the Speculoos flavor and literally had spoonfuls off the mixing paddle. To tell you the truth, I like the cookie but I don't really get the Speculoos spread (*gasp*). But with the deft hands of the people over at BONO, it's spiced character worked pretty well in gelato form.
Soon enough Rea started bringing out the "specials". Of which were a couple experiments using a butter pecan and toffee base but spiked with different kinds of rum; one using a Cuban Matusalem and another using local favorite Don Papa. Both good, but in the end the Don Papa edged out the other as it was more aromatic and more apparent in terms of rum flavor. It has to be said that a sampling of the key ingredient in liquid form was a necessity, though underhandedly.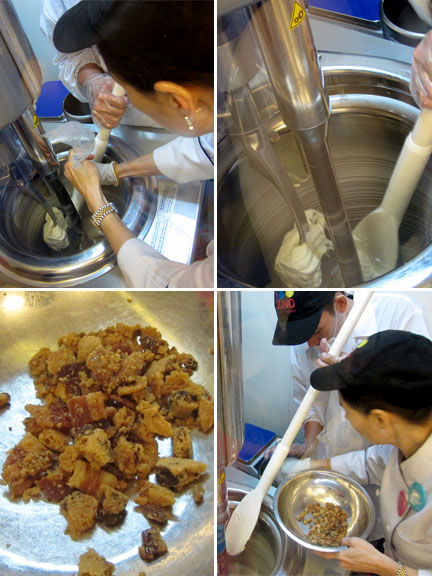 Top left: piping the chocolate chips in. Bottom left-right: beer glazed bacon and cookie bits thrown in the mix.
We were then led to the churn to see them make a special batch they've never done before; stracciatella (chocolate chip) base with beer glazed bacon bits and chocolate chip cookie pieces. Sweet, salty and loaded with generous chunks of good things. Very good.
I guess the rum started kicking in at this point and people just started making cookie sandwiches using Brownie Fudge gelato as filling.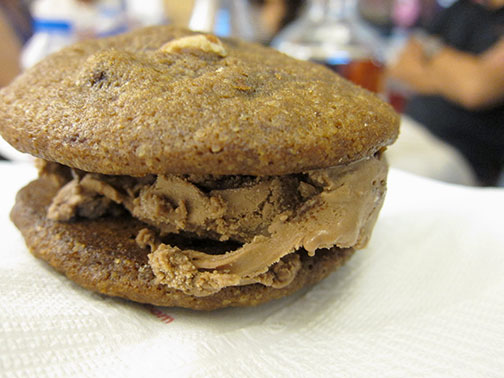 But to cap off everything–a dessert for dessert, of sorts–cups of Fior di Latte ("flower of milk") gelato were brought out. I liked most of the flavors I've tried at BONO but this was my new favorite. I've always been a vanilla lover but this was something else; extremely clean, only slightly sweet and tasted of creamy fresh milk. It's also used as a base for many of their flavors.
What I like about BONO is the texture of their product. A great silky, luxurious mouthfeel. Hardly any air in there as well so it's nice and dense. In fact it almost has a  chewy bite, if that makes sense. Of which Rea says they have a secret ingredient for all their products. And that's a calculator. Everything's painstakingly measured; fat percentages, sugar ratios…it's not as simple as throwing everything in the machine and hoping for the best.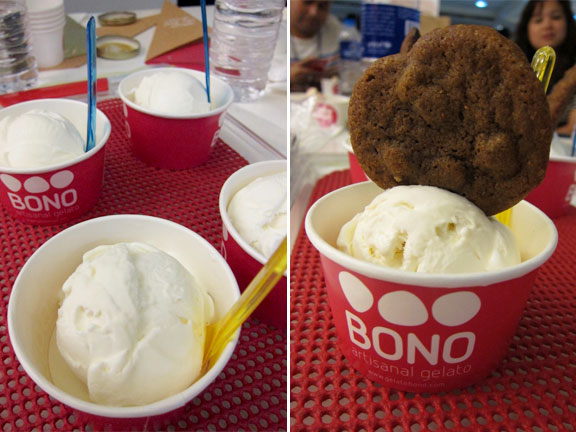 Fior di Latte
But I say their other secret ingredient is their refined palates. It takes something more than science to come up with flavors so balanced and polished, yet always kept simple. There is an understanding to use only a few ingredients, the best ingredients, and to highlight only those. Which is sooo Italian…like gelato.
BONO Artisanal Gelato
G/F The Podium
2/F SM Makati
LG/F Aura Premier
LABELS: Bono Gelato, cookies, don papa, Gelato, rum