By sanju on 9 October, 2013
I am so lucky.  C and I happened to spend an enchanting evening recently as guests of one of my idols, Renaissance man Juan Carlos de Terry and his gracious wife Mari.   The occasion was the closing dinner of Señor de Terry's homage to the La Rioja, Navarra and Aragon regions of Spain.
A few weeks ago, I happened to meet JC as everyone is fond of calling him, at another event and he could not contain his excitement as he recounted his recent trip to these regions.  He spent many days living in country homes, taking the whole experience in while doing his research.  This homage is the culmination of this trip and, of course, to celebrate Terry's 14th year anniversary.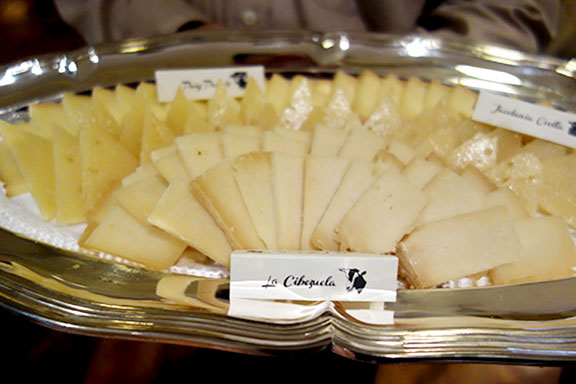 Our dinner started out with a few pass arounds, the highlights of which were a cheese platter (special mention must be given to the Le Cibezuela "beer soaked" Cheese); an exquisite Chorizo Alejandro "Pamplona" served on a bed of grated Jacetania Sheep's Milk Cheese and a Cocotte of Baby Lima Beans, Longaniza from Aragon and Idiazabal De Pastor Cheese. All of these we washed down with an Ondarre Millennium Kir Royal.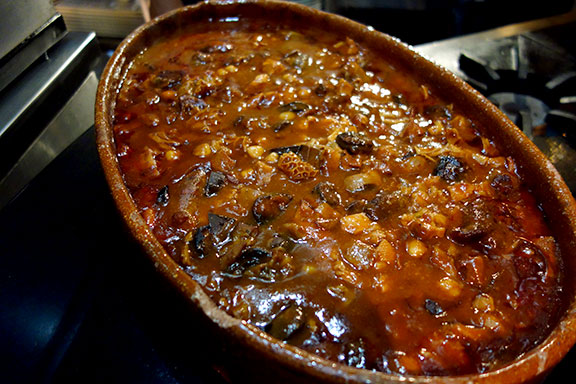 Once we were seated at our table, we were served a trio of small plates:  Lodosa Piquillo Pepper Stuffed with Kokotxas Pil-Pil Cream; Pocha Beans from Sanguesa with Fuet and Duck Confit and my favorite of the three, Lamb Patorrillo. Patorrillo is a lamb innards stew with all the lovely bits included. Its origins are from Rioja, and it is quite infamous for being very laborious and difficult to prepare, so much so that most places in the region do not bother serving it at all. (Served with Nekeas "El Chaparral De Vega Sindoa 2011)
JC's version was impeccable. Clean tasting yet full of nuance.  I feel quite fortunate to be able to taste this and consider it one of my culinary highlights.
A Menestra or a Rioja Vegetable Stew served with La Catedral White Asparagus and Artichokes, Escargot and Ham came next.  One of JC's favorite times during his recent trip was to go fresh asparagus picking.  This dish highlights this experience while giving us a taste of earthy, country cooking. (Served with Propiedad 2008 Rioja D.O.C. by Alvaro Palacios)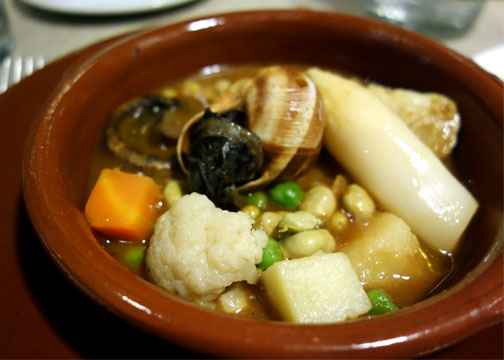 For our seafood course, we had Kokotxas and Bacalao loin Ajoarriero in Puff Pastry. Kokotxas is the gelatinous part of the cheek and upper throat of the cod.  This was served in a clear broth under a puff pastry blanket.  The richness of the Kokotxas was tempered by the leanness of the loin creating again a successful foil of textures. (Served with Bestue Cabernet-Tempranillo Finca Sata Sabina 2009)
Our last main course was a Chuleton Inspired by Meso Egues in Logroño, La Rioja. What can I say except I will let the pictures do the talking on this one.  I would like to mention though is that this particular Chuleton was done using the Confit method. (Served with Cerro Añon Gran Reserva 2005)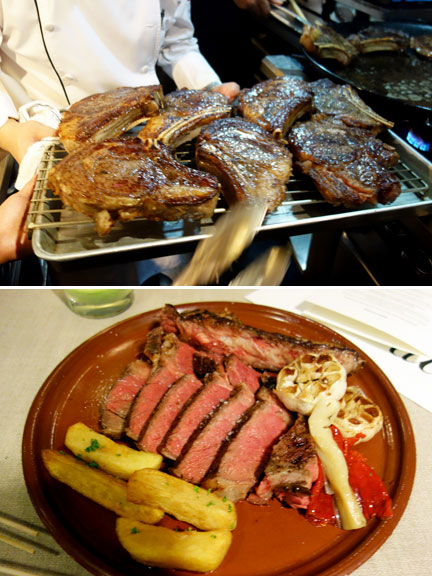 For Dessert, we had a Chaud-Froid (jellied sauce) of Calanda Prune Confit with Arbequina Olive oil Estrell Cheese Ice Cream and Alvaro Palacio's Placet Warm Sabayon.  Unfortunately, I was too full to fully enjoy this dessert with its cake-base and tart cheese ice cream. Judging from the reactions of the others though, I think it was a winner. (Served with Marques De Caceres Gran Reserva 2001)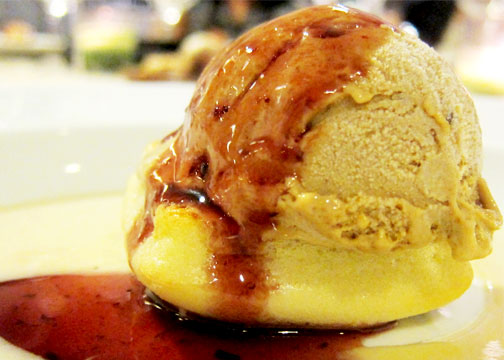 We ended our night with Espressos and a few shots of Patxaran; an anise and berry flavored digestif that really hit the spot.  Among good friends and basking in the glory of another successful dinner I asked JC what he had in store for next year, he just said, "We will see…" But judging from the twinkle in his eye though, I think that the future holds great things.
Many thanks to Cyrene De La Rosa for the photo of the dessert.

Terry's Segundo Piso
Unit 2, Karrivin Plaza
Pasong Tamo Extension
Makati, Philippines
Tel: (+632) 844.1816
LABELS: Juan Carlos de Terry, Sanju, Spanish, Terry's Selection