By Anonymous Paul on 4 October, 2013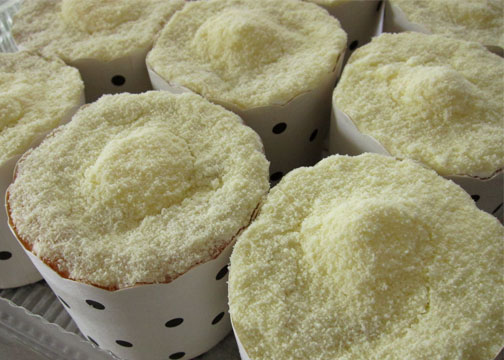 I have a fondness for all things Japanese. Except maybe nude communal bathing. But it's a fact I have this current obsession to go back to Japan. Hokkaido in particular; Japan's food base. Where they have excellent agricultural produce and seafood as king crab, scallops and uni; with no less than 10 wineries producing unique fine wines. It's also Japan's leading producer of raw milk (and it's other tasty by-products as cream, yoghurt, butter and artisanal cheese). A dairy lovers' heaven.
So I got a bit excited when I found a Hokkaido style cupcake purveyor, aka Milk Box, on my Instagram feed. These type of cupcakes come in a signature printed paper cup and is basically a chiffon cake filled with either a light whipped cream or a heavier pastry cream then dusted with powdered sugar on top (to resemble snow, I guess, which Hokkaido has a lot of). Milk Box makes use of a light custard filling and dusts the top with icing sugar and another secret ingredient that kicks things up one notch. They do not, however, use actual Hokkaido milk. But it doesn't dull experience in any way.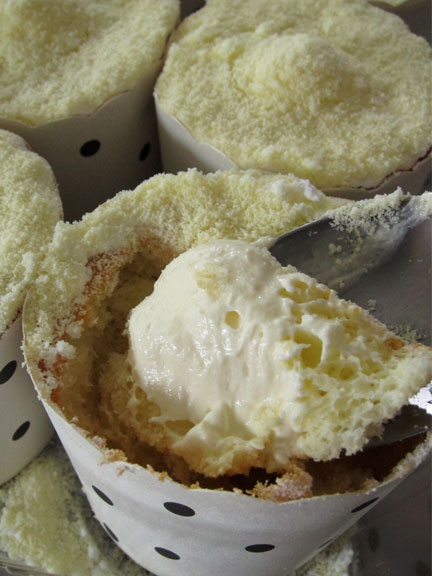 You have to eat this with a spoon. As you dig in you'll notice how fluffy and light the chiffon is. And how delicious it pairs with the rich cream. The special topping melts in the mouth, though makes a bit of a mess. Altogether it is not cloyingly sweet. Which makes it dangerous as it opens up the possibility of eating multiple servings.
I brought a few pieces to a party recently and everything was wiped out. And it's unusual appearance never fails to elicit a "wow, what's that!" Because it's probably so white and so….cute? The proof of the pudding though, as they say, is in the eating.
Milk Box
Tel. (+63.917) 899.9622
LABELS: Anonymous Paul, cupcakes, hokka cupcakes, hokkaido