By Anonymous Paul on 28 October, 2013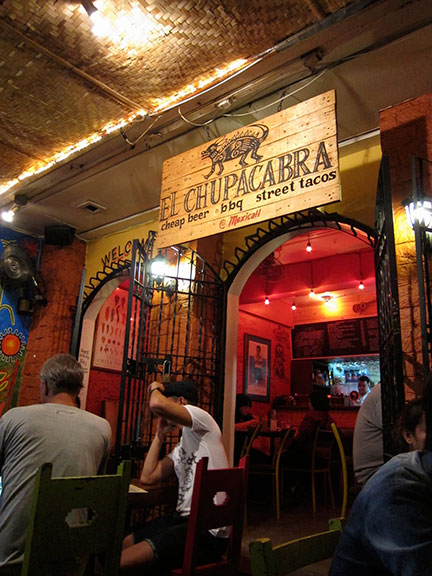 I guess it's a place where people hang out and just be themselves. No pretensions here. I mean you don't really go and dress up to eat on the sidewalk in the P. Burgos area (aka Makati's red light district). But if you do I don't think anybody here will care either. What you will get in this place is honest, simple, good tacos and ice cold beer.
I would have to say Manila is getting the hang of the Mexican thing and are going beyond the usual cheese overloaded interpretations. Here in El Chupacabra they apply some authentic touches. Slow marination for those deep flavors, fresh ingredients and two soft corn tortillas per taco; which is like "extra rice" Mexican style.
And on this night's visit I was able to try several variants; lengua, carne asada, carnitas, and a Pinoy inspired sisig taco.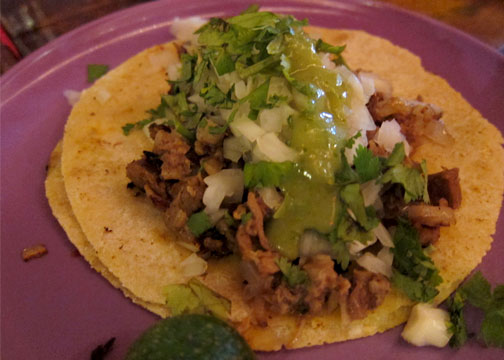 The meats were generally smoky and tender. I appreciated the softness of the lengua and how it was grilled and chopped in cubes (as opposed to the stewed down to shreds version in Orale, which is good too). The sisig was nice and lean. However I would've preferred more pronounced flavors of dried chilies for both.
So I think hands down the most flavourful that night was the al pastor. And I've only found this variety here in El Chupacabra locally. Essentially it traces it's roots back to the shawarma, but with the Mexican style using pork and marinated with chilies, spices and pineapple for a few days. Then it's similarly roasted on a vertical spit and sliced thinly. Very tasty. Topped with chopped onions, cilantro, salsa verde and a squeeze of calamansi. With most tacos going for P90.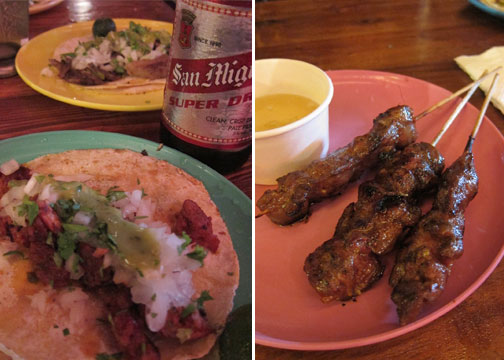 They also have Filipino style barbecues at P20 per stick. Sugary sweet meat. Much like Heaven's Barbecue to give you an image (if you're aware of it) but a little more sinewy. Good though.
I noticed their corn tortillas were quite thin but lacked pliability; which led to some cracking while eating. So I'm thinking if these were pressed in advance and were left out a tad too long, causing it to dry out in the process. Or could it just have been that night?
Nonetheless, the flavors I would say are very close to the real thing. And as my Mexican companion for the night pointed out, the setup and feel of the place only lacked people salsa dancing to the lively music.
For a joint that serves food perfect for after a night of drinking, you'd wish it'd open past 2AM on the weekends though. So probably best to make this your base for the night or your starting point so as not to miss out on the tacos.
El Chupacabra
5782 Felipe St cor Polaris St,
Makati City
Tel: (+632) 895.1919
LABELS: Anonymous Paul, el chupacabra, Makati, mexican