By Anonymous Paul on 9 September, 2013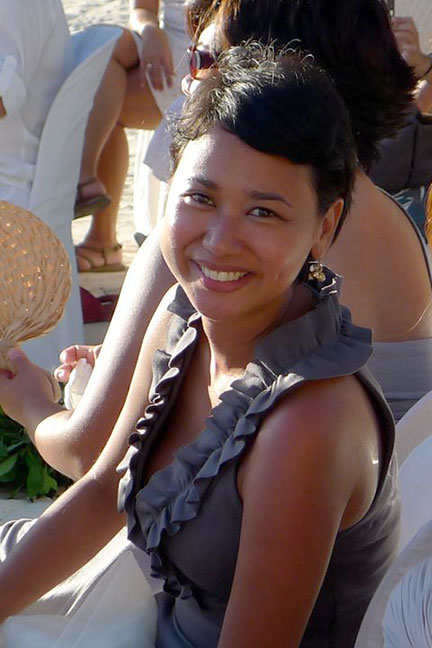 Jenny Pascual, through scenic location meals highlighting sustainable ingredients and producer-consumer meet and greets, aims to remind us city dwellers that food does not come prepared in restaurants and in boxes at the grocery aisles.
How did Moveable Feast come to be? And what is it all about?
After reading an article in 2007 about Jim Denevan, an artist, chef, and one of the founders of the wildly popular Slow Food movement in the US, I knew I wanted to do the very thing Jim and his contemporaries were doing. That article was a catalyst and I have kept that article clipping.
But the corporate life took priority and my desire to do something similar to Jim's initiative had to be placed in the back burner. Given the right time and circumstances last quarter of 2012, I decided to finally pursue passions and traded my high heels for a shovel.
Quickly, I met up with farmers and friends whom I met through introductions, people I've known while working in the industry, and those whom I crossed paths with. These people gladly came on board and the result of our first farm-to-table event last 27 January 2013 was a product of that collaboration.
Moveable Feast (also known as Move Feast) is an enterprise that advocates local and seasonal eating and sustainable agriculture through farm-to-table experiences and initiatives. With the principles of Slow Food in tow, Moveable Feast aims to re-connect food enthusiasts to the land and the origins of their food through our farm-to-table experiences.
We hope to be a connector and a change agent by supporting the transition to a sustainable food future by bringing together farmers, diners, buyers, distributors, retailers, businesses, and others along the value chain. We hope to create a venue to share ideas, develop partnerships, to increase everyone's stake in our local food system, and to educate consumers in making better food choices.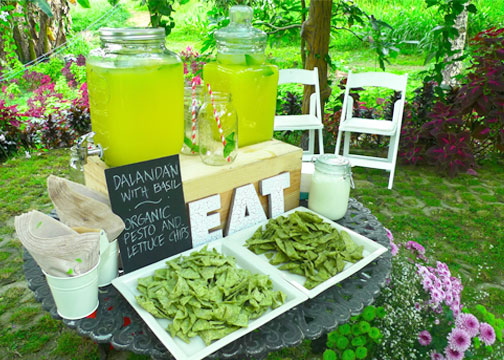 I know for a fact you were in a cushy corporate job prior to doing Moveable Feast full time. Was there any specific moment that made you decide to make food your profession?
Cushy jobs have expiration dates. I believe it ends when you're no longer passionate about it. Although, I do have my brand consultancy work. I will always love what I do in branding and marketing. This time I get to mold the environment where I can create, innovate, and develop brands. One of these passion projects is Moveable Feast.
There was no specific moment but more like a series of moments throughout my lifetime. I believe that all my experiences and life lessons are always in preparation for the next step or next stage in my life. These moments all came together when I came to a certain point in my life when I chose and try to live a more sustainable lifestyle. One of the areas that I'm trying to make a change is food.
Moveable Feast has all the components I personally like to do – travel, food, and entertaining. It was a good recipe to start something new and introduce to the market. The advocacy gave its purpose.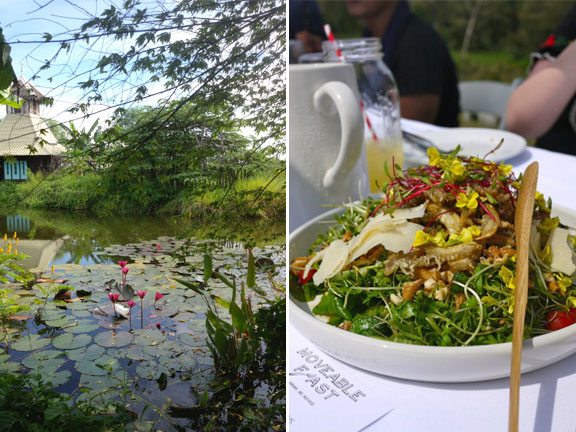 What's your favorite dish from one of the MF lunches you've had so far? Any ingredient and/or preparation in particular?
There's always a crowd favorite from each MF farm lunch. For example, our first event at Malipayon Farms, Chef Eugene Raymundo created a salad of organic greens with pili brittle and mushroom fritters in a calamansi vinaigrette (see photo above). The greens were harvested the morning of the event and just a few steps where the guests were dining. Until this day, people would still talk about that salad. It was fresh, simple, and highlighted the ingredients.
I like discovering new foods such as specialty produce. Gejo Jimenez of Malipayon Farms grows these cute and delicious "cucamelons" or Mexican Sour Gherkins. These mini 'watermelons' taste of pure cucumber with a tinge of lime. Great with salads or for pickling.
Judy Rodgers said, "Raw ingredients trump recipes every time; farmers and ranches who coax the best from the earth can make any of us appear to be a great cook."
How have city slickers been "moved" so far? How has the feedback been?
I've been overwhelmed by the response. It's only been 7 months since we introduced our first farm-to-table experience last January. The word-of-mouth is amazing. The number of fans have grown organically, no pun intended. Some are mere observers and others are engaged followers.
I think people are curious and are interested to learn. They're also willing to experience something new. I've had a lot of people signing up for our mailing list and sending us messages inquiring about where to get certain produce or information about CSAs (Community Supported Agriculture). Some local businesses and food start-ups want to get introduced to farmers to get their regular supply of produce. So far, we're achieving what we aim to do – connecting people in the food chain and open new routes to market – consumers find suppliers and suppliers find buyers.
Knowing where your food is from connects you to the people who raise and grow it. You develop smaller connections to more food sources and like-minded folks. I want the consumer to extend their food relationships beyond their supermarket. I want them to have multiple relationships with people who grow and make their food – the farmer, the butcher, the baker, the cheese maker, etc.
My goal at this point is to make every farm-to-table experience different. So, if someone has been to one, their next one will be a total different experience.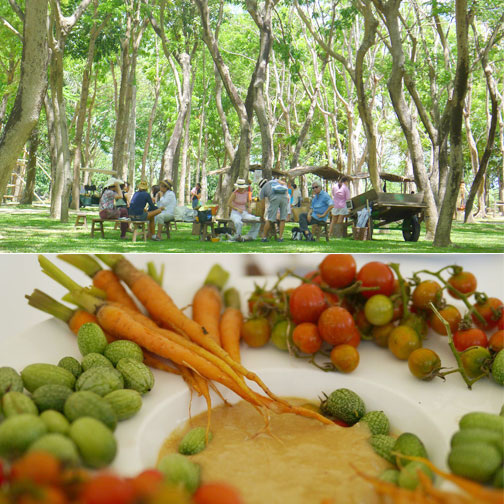 Locavorism, seasonal eating, slow food and farm-to-table seem to be buzzwords right now and are, quite frankly, "fashionable". Do you think it's just a passing fad?
The concept of farm-to-table is nothing new. The movement has been associated with organic farming initiatives, sustainable agriculture, and community-supported agriculture in the US and Europe for some time now, proving its longevity and growing number of supporters. For some, it's been a way of life. The philosophy of farm-to-table embraces the sustainable approach to agriculture and dining. The concept is simple: there is value in eating locally. Food is fresher and healthier (it did not have to travel long distances or be sprayed with life-extending chemicals). It is also less burdensome to the environment.
It may be labeled as one of the fastest growing dining trends, but it is more than a trend. It is a conscious act of sustainability when a community comes together–farmers, chefs, businesses, and consumers–to create a food experience like no other. Food production and its health-related issues are already a global concern. If we can do our part in transitioning to a more sustainable way of growing and raising our food and learn from the ways in which communities historically sourced and consumed food, and adapting those lessons to modern times, the philosophy provides a sustainable outlook for the future of food.
The farm-to-table movement does its part by ensuring that food stays in the area in which it was grown or made. Not only does this reduce the carbon footprint of restaurants and individuals who buy local, but it also has a positive impact on the local economy. Money spent with local farmers, CSAs, artisans and locally-owned purveyors all stays close to home. Since the food moves through fewer hands, more of the money you spend tends to get to the people growing it, which fuels the economy and promotes variety for consumers.
Moveable Feast is a local adaptation of what Jim Denevan and what others in the US and Europe have already been doing. It's just one of the many links in the chain.
How have you noticed any changes in the way you eat since setting up Moveable Feast?
Absolutely. Especially in the home where you can control what you eat. Eating out becomes more of a challenge unless the restaurants are quite transparent with their menu.
Therefore, I make a difference in what I eat and cook at home. My pantry has gone through a transition and is slowly evolving. I've replaced many of the products I that I used to more healthy alternatives – oils, sea salts, kitchen staples, organic vegetables, grass-fed beef, free range chicken, organic eggs, fruits, natural juices, honey, etc. If I can make things from scratch, then I'll do it.
I read more food labels now, which takes me a longer time to finish my grocery shopping. I try to be more conscious of what I buy and take advantage of what's in season for the benefits of nutrition and cost.I get my weekly harvest of organic veggies direct from farmers through their Community Supported Agriculture (CSA) programs, I order specialties from independent farms and food-makers, and I regularly (almost weekly) visit the weekend markets.
It's been a year since I created my own edible balcony. I used to be a black thumb and would successfully kill every plant, even cacti, that come my way. Surprisingly, I now have a thriving edible balcony in the heart of Makati with herbs and food producing plants, which I use for my home cooking.
What is your current food obsession?
I love foie gras – delicate, buttery, and melt-in-your-mouth goodness – whether its pan seared or as pate. It's not an obsession, more like a consistent favorite.
Thankfully, there are chefs and producers like Dan Barber, owner of Blue Hill Restaurant in New York, and farmer Eduardo Sousa are working to create sustainable models for producing free-range foie gras from the US and Europe.
What's your secret culinary guilty pleasure?
Good question! I actually had to think about this. There is no specific junk food that I crave for. I do like the occasional Twinkies, HoHos, and Ding Dongs – that will be my guilty pleasure.
When I learned about the deconstruction of the Twinkie, you can't help but think twice about what you feed your body. Author Steve Ettlinger spent years chronicling his findings in his book, "Twinkie, Deconstructed." Using a Twinkie label as a guide, he interviewed chemical engineers and industrial bakers and even traveled 1,600 feet below the surface of the Earth to see where Twinkie ingredients — the same ingredients used in plenty of processed foods — are mined.
When you find out what ingredients they put in our food, it's quite scary. I'm trying to steer away from processed foods. Like everyone who's changing their food habits, I must admit it's not going to be an easy process. I need to re-engineer my palate.
Any food you just cannot seem to enjoy?
I pretty much eat everything but there are a few things that I prefer not to eat. One of them is lengua. I can already hear the gasps of food aficionados.
*To participate in future Moveable Feast lunches and events, please visit their Facebook page for more details.
LABELS: farm to table, Interview, Jenny Pascual, Moveable Feast, On The Table, sustainable eating