By sanju on 6 September, 2013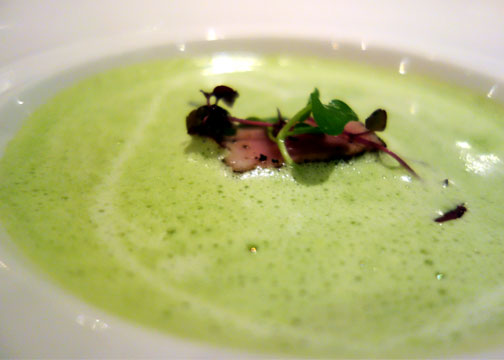 The Tivoli at the Mandarin Oriental has always been one of my favorite places to have a meal.  I admire the hospitable, yet unobtrusive service, and the dedication to always be the best.   The elegant and genteel setting also does a lot to elevate anyone's mood.
I took C on a dinner date recently to try The Tivoli's Degustation Menu. (P3100)  The degustation or tasting menu normally consists of six to eight courses and showcases the best dishes that the Chef, in this case Chef Remi Vercelli, has in his current arsenal.   The Tivoli normally tries to change their tasting menus thrice a year.  This particular menu featured seafood in most courses; something that I enjoy a lot.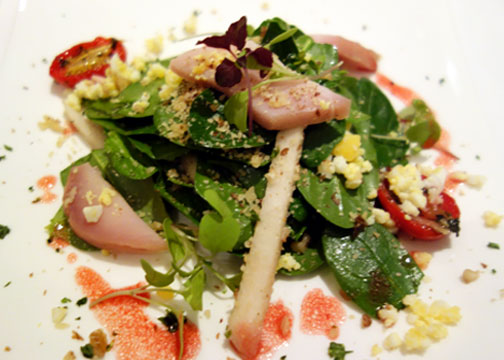 After the standard complimentary bread basket and amuse Bouche was served, we started with a Baby Spinach Salad with Home Smoked Tanguigue, Walnut, Pear and Egg.   I enjoyed the salad as the greens crisp and fresh as it should be.  The Tanguigue was well smoked, while the accompaniments added texture.  My only qualm was that the salad was a tad underdressed.  I contemplated asking for more dressing, but I thought that I would try to enjoy the salad as the chef conceptualized it.  However, after finishing the salad, I still felt that it could have used more dressing.
Our next two courses were a Green Pea Soup With Black Pepper Tuna Tataki and a Tartare of Swordfish " César" with Pomme Pont Neuf, (thick cut fries) and a Gribiche Sauce.   C and I both enjoyed our soup.  It was served at just the right temperature and seasoned quite well.  I mention seasoning in particular, since my previous encounters with pea soups at other places tend to be on the sweet side. This is something that I really do not like.  Not in this case.  Chef Remi did an excellent job on this one.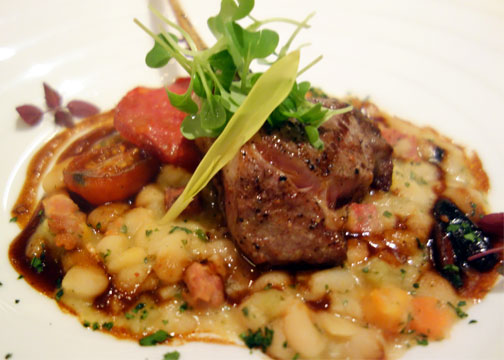 The Swordfish Tartare was served with a mayonnaise like emulsion that gave the dish a creamy texture that overall did not leave much of an impression.  I would have preferred a much simpler approach.  But that's just me.
For our meat course, we had Grilled Australian Lamb Chops with Chorizo and White Bean Stew.  For me, this was my favorite for the night.  The lamb, cooked perfectly to my specified medium rare, had a slight hint of gaminess that only  the choicest of cuts exhibit.  It was tender, juicy, okay; I'll say it, just right to the bite.  I was very happy to have the White Bean Stew as a side.  It was a welcome change from the usual choices that other places offer.  I absolutely enjoy eating Fabada when I get the chance to, and this stew reminded me of it.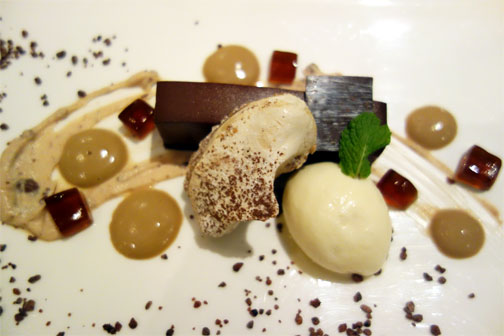 Dessert was a Baked Espresso Tart with Bailey's Mascarpone Ice Cream.  The tart was moist, not too sweet and the ice cream served as a creamy complement.  Add a beautifully presented plate and you have a winner.  I was hoping C would say that she was too full to finish her share but, this was not the case.
I have always thought that The Tivoli is one of the few places that have been consistently offering a complete dining experience with the highest of standards.  A classically beautiful setting, plus impeccable service, and a constantly evolving menu makes this one of Manila's best.
The Tivoli
Mandarin Oriental Hotel
Makati, Philippines
Tel: (+632) 750.8888
LABELS: Mandarin Oriental, Restaurants, Sanju, Tivoli