By Anonymous Paul on 13 September, 2013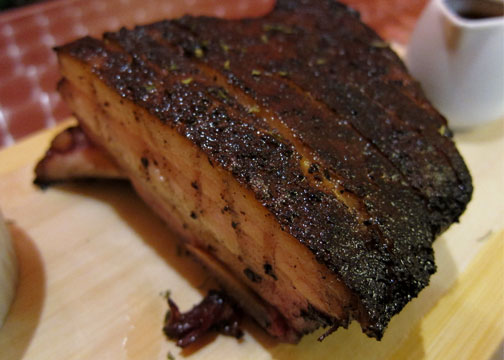 When Filipinos think of barbecue we usually picture slivers of pork or beef marinated with something sweet (like Sprite and banana ketchup), skewered on bamboo sticks then cooked relatively quickly over hot coals. Which is all good and tasty. But it's really more a grilling technique.
The method of barbecuing, or laying meat over moist heat or wood till it dehydrates, is almost as old as mankind. The modern, proper definition involves cooking meat in an enclosed humid environment with low (usually indirect) consistent heat. A technique which has peasant roots, basically a necessity back then so as to tenderize the toughest meats.
In the US, there are several ways of doing barbecues. Some use the whole hog or whole pork shoulder, cooked till the flesh can be pulled to shreds and then vinegar or sauce is mixed in. Some consistently mop slabs of meat with secret sauces while on a pit for that sticky, glazed finish. Some make use of a mix of spices, salt and brown sugar, rubbed onto the meat surface and then smoked; a "dry" variety.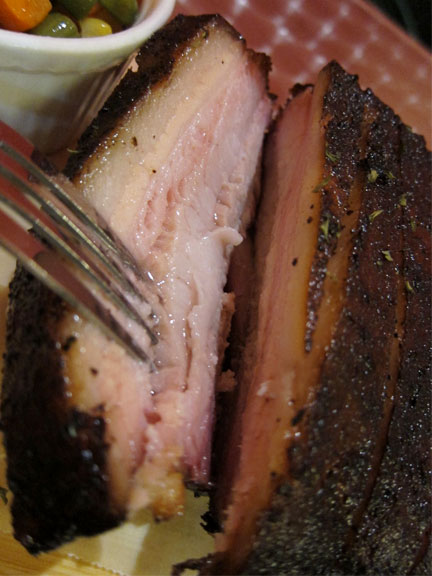 Here, I suppose the only place I've seen these low and slow methods of barbecuing happens when people take the time to at home. Case in point, the brother, when still enthused by his new Weber, used to make dry rubbed briskets and smoked them for hours. And they would disappear quite quickly once served. Most restaurants I've been to that serve "authentic" barbecues usually pressure cook the meats to quicken the softening process and then rely on grilling over charcoal to get that smoky flavor. It's not quite the same. In fact the cheat produces a totally different tasting product. In essence it's again grilling.
Now comes Big Daddy Jay's All-American BBQ and finally gives Filipinos a taste of the real deal smokehouse experience. They make use of whole slabs of  ribs, what I infer to be spare ribs, rubbed with a secret dry mix twice and let them sit overnight before it's smoked in their beautiful big red customized smoke cabinets for six hours. Much like a Texas style barbecue, I say. Though they say it's generally Southern US/Carolina style.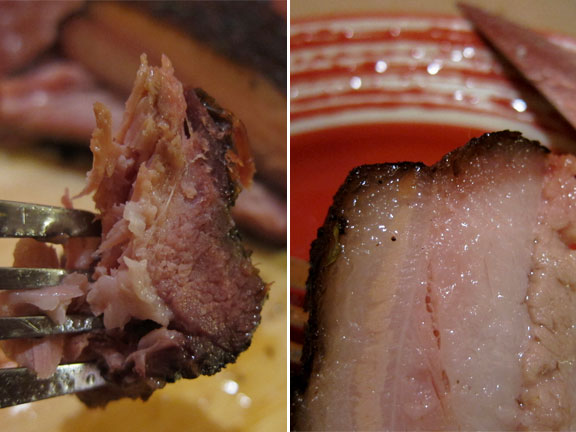 Technicalities aside, the end product is delicious. The spice rub basically seasons the meat and produces a slightly caramelized crust (or bark) that seals in juices. The flesh just pulls away from the bone. It doesn't actually disintegrate but retains a substantial bite, which I like. Every fiber is pink all the way to the center and a deeper red smoke ring around the surface is also very apparent; an indication of a proper smoke cure. Smoking partially preserves the meat but it's basically done for three things: flavor, flavor and flavor. And it's not just a shy hint of smokiness. There's a very deep, sweet aromatic kick from a specific type/s of wood that they probably won't disclose. A piquant barbecue sauce is provided on the side, but not really necessary to drizzle on this labor of love; best eaten as is. Or at least have the first bite without.
My favorite parts are the end bits, where the rub and smoke just concentrates. Quite intense. If I had to critique, I would say, over a couple of visits, the slabs we had had tad too much fat deposits in some parts and I had to trim off some large chunks. Fat, of course, is important to keep the meat moist during the long cooking process but a more even fat dispersion or marbling would be preferred.
In any case it's still a very good rib. A proper rib. And I won't even look at any of the other items on the menu upon return. Half or full slab would be the only things to consider.
BIG Daddy Jay's All-American BBQ
61B 17th Avenue,
Cubao, Quezon City
Tel. (+63.917) 300.843
Also visit their Facebook Page.
LABELS: Barbeque, Big Daddy's All-American BBQ, Cubao, Ribs, Smoke