By Anonymous Paul on 19 August, 2013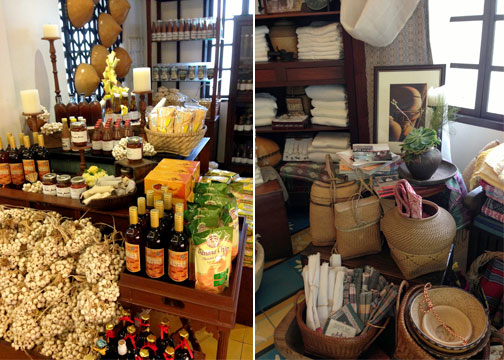 Let's get it out of the way, I like Victorino's. In general. I like it's plantation/hacienda feel, very tasteful decor composed of mismatched antiques and the mostly naturally lit interiors. A great job by the design team to keep things simple, clean and functional. A nice touch to highlight Ilocano products as well as they carry a few typically Ilocano items for sale; like the famously dark coloured sukang iloko, hand loom woven abel iloko fabric, baskets, cornicks and even frozen bagnet. The menu, while not completely Ilocano, lists many examples of the regional cuisine.
One thing I noticed is the liberal use of offal and other "lesser cuts" as pork face. But it really shouldn't put one off.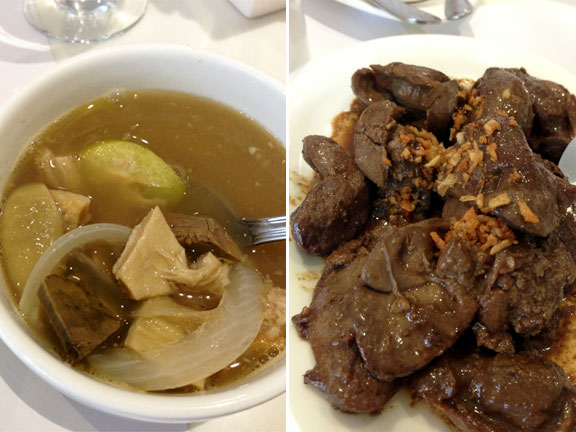 In fact a great way to start the meal is with the sinanglao, a soup similar to the papaitan in which bile is used to give a slightly bitter flavor. Sinanglao is predominantly sour with the use of kamias as an acid component, and just a hint of bitterness from the bile. And in it are strips of beef, intestines, heart, lungs, tripe, blood cubes… did I loose you there? Stay with me…it's very good. The offal is obviously prepped properly and cooked till tender. Very clean flavors and just primes one's appetite for a heavy meal.
Anther dish worth trying is the adobo nga dalem ken baticuleng (aka adobo of chicken liver and gizzards). I know a LOT of people who specifically abhor chicken liver but the way they prepare this dish is exceptional. It's flavors are similar to salpicao; with that predominant toasted garlic hit. But the liver is cooked just so that is melts in the mouth like foie and the gizzards are surprisingly fork tender. Very good.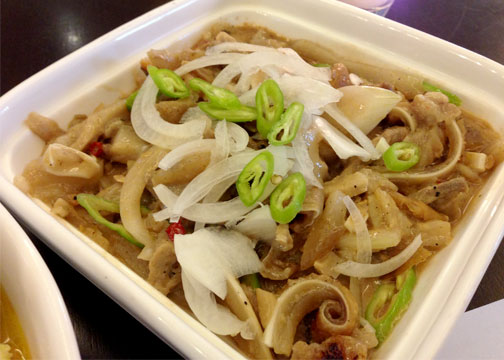 Warek-warek is the Ilocano version of sisig. Boiled pork face and ears are charred on the grill and chopped into strips and then tossed in vinegar. This dish usually makes use of pork brains to make it richer but Victorino's uses a touch of mayo to bring everything together. What results is a velvety, naturally sweet from cane vinegar, dressing that coats the gelatinous pork strips. Raw onions and chilies help to cut the richness.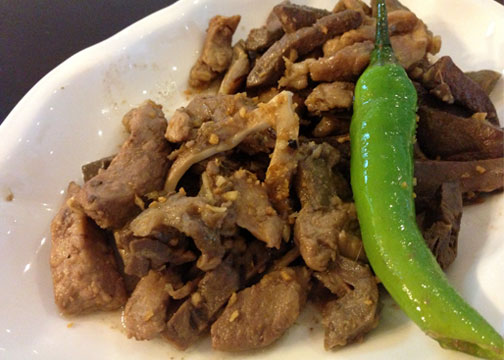 Igado is another typical Ilocano dish. A simple sauté of pork loin and liver strips in garlic. Quite a bit of liquid renders during cooking and this is then reduced, leaving the igado relatively dry. And filled with very deep, meaty flavors.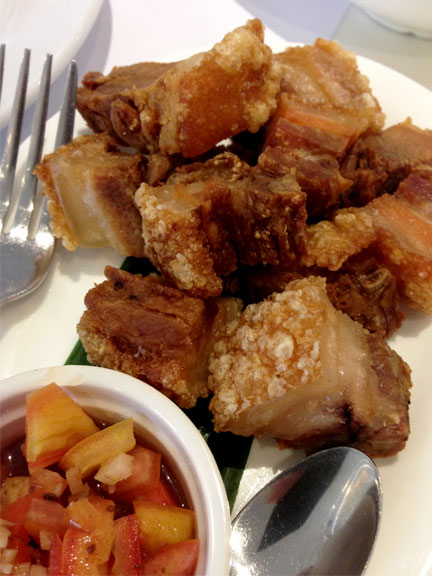 Of course there's bagnet, which is pork fried for hours till crisp. Thankfully it wasn't swimming in oil. Served with a tomato and onion relish made with bagoong balayan. A classical pairing. Though you do tend to look for vinegar with this.
But Ilocanos are also known to love their veggies as well; steamed vegetables may seem austere as is but served with bagoong balayan on the side really livens up flavors. Or they add bagoong directly to stewing vegetables to come up with pinakbet, dinengdeng and inabraw.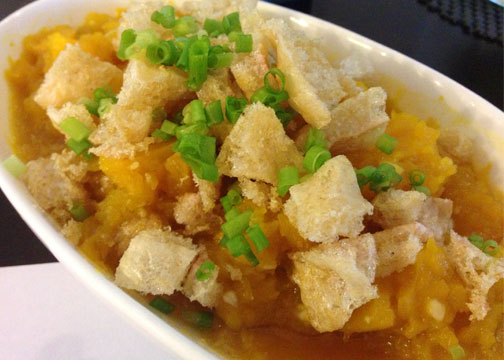 I managed to try duyduy, which was on the menu. Essentially a kalabasa mash topped with chicharon. Seems boring, yes? But the seasoned broth they use is very flavourful and well seasoned. It's then mixed in with chopped raw garlic so it has that unexpected bite. The airy chicharon just sucks up the liquids and an interplay of textures happen. Worth a try.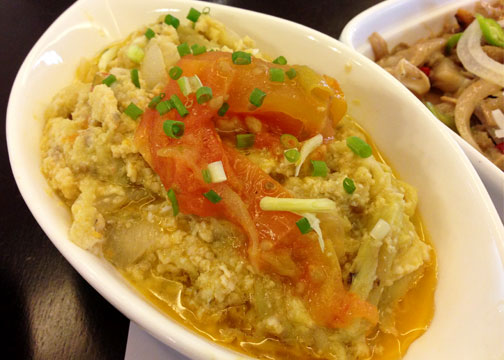 And then there's the poqui-poqui. It's name they didn't quite find racy and risqué enough that they repeated it two times. Poqui-poqui. I've grown to love this dish as it's so comforting. Essentially grilled eggplants sautéed with garlic, onions, tomatoes and eggs. Soft, smoky and luscious. Just like… (*whispering*) a poqui-poqui.
For rice, they have this specialty called kinirog, which is rice mixed with bagoong balayan, eggs and chorizo bits and then topped with pindang (salted dried fish). Good, but I would rather have this as is for, maybe, breakfast. Ilocano dishes are already generally salty and with this salty rice dish just exhausted my taste buds. I would suggest just having plain white rice with your meal.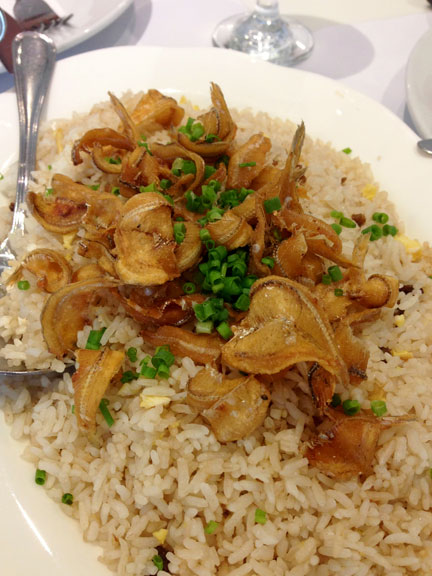 Dessert choices are pretty dismal. If we're talking about not even Ilocano per se, but Filipino in general. Just kinalti, fried candied sweet potatoes, and turon served with vanilla ice cream.
Yes, there are many cakes and pastries on display, courtesy of chef partner Heny Sison, but it honestly just feels like a huge disconnect. You eat a fairly authentic Ilocano meal and one would want to end it the Ilocano, or at least Filipino, way. Not with a New York style cheesecake. But that's just me.  (There actually is a totally different, extensive, menu which includes eggs benedict and pizza margherita, which I'm sure is not terrible, but again just feels like they're trying to do too many things).
From what I've tried thus far I can say they do Ilocano food justice. Serving rustic dishes cooked simply and cooked well. And finding this place in it's most unassuming location is all part of the experience.
Victorino's
11th Jamboree St. cor. Sct. Rallos St.
Laging Handa, Quezon City
Tel. (+63.917) 953.0661
LABELS: Anonymous Paul, Filipino Food, Ilocos, Restaurants, Salty Ilocos, Victorino's