By Kitchyart on 12 August, 2013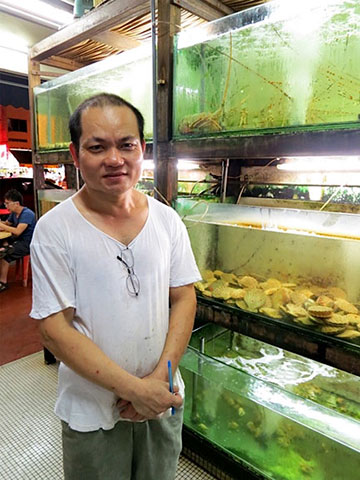 Chef Danny Lee
A few weeks ago, I went on a quick getaway with my cousin T to Singapore. We got a good deal online and we thought it would be great to visit another cousin N who is currently living there. Since we didn't have any big plans to go shopping, we decided to take things easy and explore more of the local fare of the city.
Anonymous Paul mentioned we check out Sin Huat Eating House if we had the time. I strategically scheduled our dinner on a Sunday night so we can invite more friends to eat with us, that way we can order more food to try.   We managed to put together a group of 8 for 8.30pm.
I was a little nervous for the dinner, not because Sin Huat is at the red light district…I only learned at the last minute that our meal may cost a lot more than expected. I hoped that this place lives up to its reputation for serving great fresh seafood. Our cabbie told us that Geylang is open 24/7 for 3 things: sex, cabs and food. T and I didn't really see much action in the streets but there was a strong smell from the Durian stalls in the area.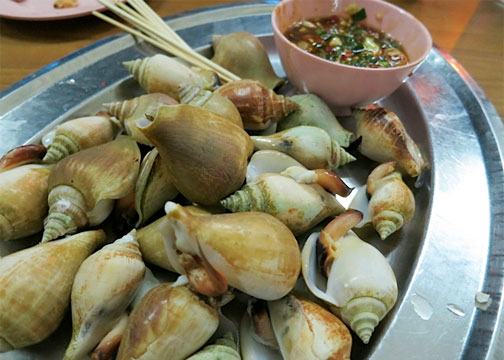 When we got to the restaurant, we eagerly waited for the staff to give us menus. They didn't speak much English but they instructed us to wait for the chef to take our orders. We got a few bottles of Tiger beer to go with the nuts served to us. It didn't take long till we were all complete and thankfully, the place was not packed. Chef Danny finally takes our orders. Given there were no menus, we went along with his fresh catch of the day.
We started off with the steamed gong gong (conch) paired with a brown sauce  that's loaded with fresh chopped garlic, chili and green onions. I made sure to order a small portion of this one, I wasn't sure if the group was open to eating sea snails but to my surprise everybody tried it. The conch was very tender, not rubbery at all and the sauce was hot, hot, HOT! This was perfect with the beer and a fantastic start to our dinner.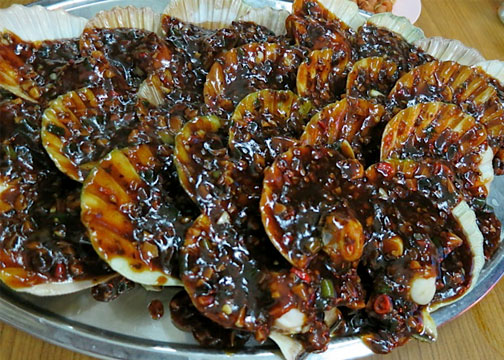 We ordered some greens, stir fry kailan (chinese broccoli) with toasted garlic. In a big dinner, people usually do away with greens but this was nicely done. Very fresh and light, perfect to prepare our taste buds for the next dish.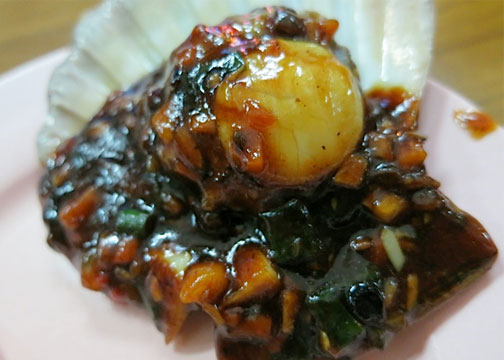 Next up, a plateful of scallops covered in black bean sauce. I think at this point we were all deep into our food, making all sorts of moaning in ecstasy. Like the conch, the scallops were very tender and although it may appear that the black bean sauce overpowers this dish, we were all too happy to lick the sauce off our fingers.
A platter of shrimp arrive with a mountain of sautéed garlic sauce and each of us were given some chili sauce for dipping. This place loves their garlic, and we love our garlic as well. Best eaten with bare hands to get all the goodness. I was tempted to lick the plate but I had to restrain myself since we were with people who've just met that night. Instead, I kept dipping the shrimp to get more garlic in every bite.  Chef Danny recommended the shrimps, he said they were good. And he was spot on.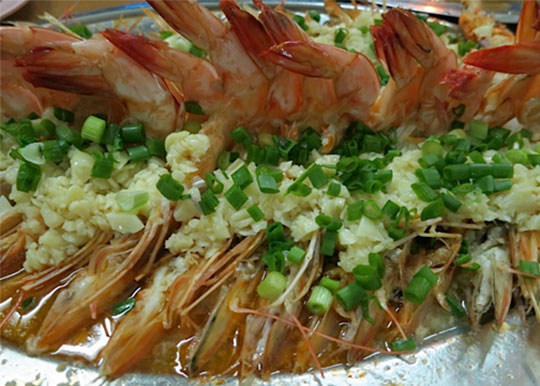 And the finale, crab bee hon.  Chef Danny's prized dish of all: a marvelous mountain of noodles that looked tossed in a 'light sauce' using crab fat and chunks of Sri Lankan crab underneath and topped with fried garlic. There's no right or wrong way to eat through this, just dig in and enjoy.
Sadly though, we didn't get to plough through this dish to the end. Even if we didn't overstuff ourselves, we all experienced a sort of sensory overload from the previous dishes. I noticed the table beside us had the same number of people yet they seemed to have only made room for the crab bee hon.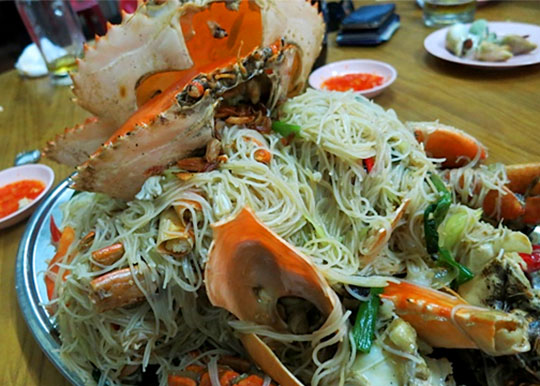 Overall, eating at Sin Huat is a remarkable experience. This place is definitely no frills: it looks old and slightly run down and there's no air-conditioning. I mentioned that there are no menus and the bill may come as a surprise; we paid around SG$560 between 8 people. People don't come here for the ambiance, but what you see swimming in their aquariums is exactly what you get on your plate… and then some.
Sin Huat Eating House
659/661 Geylang Road
Singapore
Tel. (+65) 6744.9755
Open daily 6 p.m to 12 a.m.
LABELS: Crab Bee Hoon, Scallops, Seafood, Shrimp, Sin Huat, Singapore