By Anonymous Paul on 26 August, 2013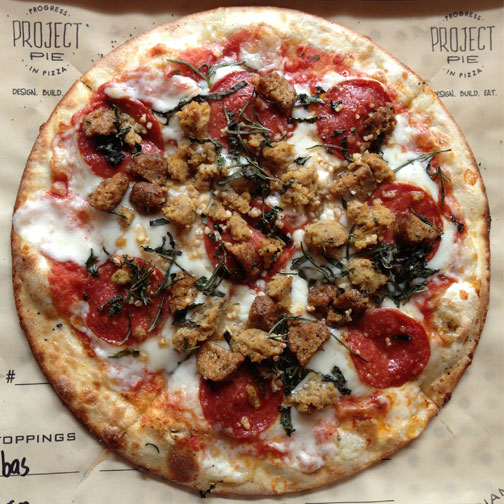 I had made the mistake of even thinking of going to Project Pie one Saturday night. It was packed to the rafters and the line leading up to the counter snaked till the entrance. It would've taken at least an hour to get an order in; and me being allergic to lines just turned around and got some Chinese food instead. No biggie.
But we were in the area just this weekend and managed to get there before lunch, which made for a much less chaotic experience. Ordering was pretty straightforward; you walk up to the counter, select if you want a red (with tomato sauce) or white (no tomato sauce) pizza, then choose your toppings. Your order is then baked in the brick oven for a couple of minutes while you pay at the register. Then your name is shouted (several times) across the huge dining hall, signalling you to sheepishly get your pie.
Pizzas come in just one, approximately 10 inch, size. Good for one person with an average appetite. There are literally thousands of permutations of toppings to choose from so it's a little pointless to go through a run-through. So we had just ordered one of the "Order by Number" choices and one "Build Your Own" to get acquainted with the general properties.
For the Order by Number we had gotten the #2, composed of pepperoni, Italian sausage, crumbled meatballs, mozzarella, red sauce and garlic. Toppings were well proportioned for this and I liked the fact that they use fresh rosemary sprigs. Just goes so well with the cured meats. Of which the meats also tasted like meat and not so sodium packed. No mysterious red oil glistening on the surface considering the mostly meat toppings. There was a general sweetness in flavor profile.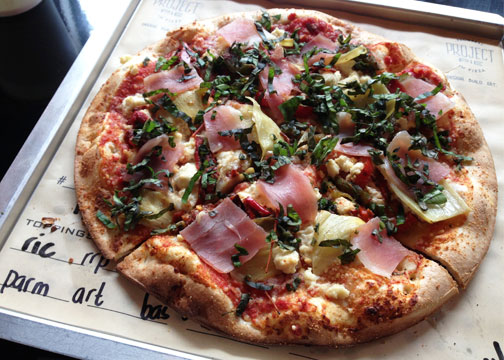 For the Build Your Own, I had selected a red pizza base with ricotta and parmesan, roasted red peppers and artichokes. And then I had specified to add prosciutto and basil after baking so the basil would still have that fresh punch and the prosciutto wouldn't turn leathery. This proved for a milder mix of flavors and it was quite the right decision to add things after the cooking process. Though I have to admit the pie needed one or two more salty components. I had assumed the cheeses and prosciutto would provide the necessary salt, but such is the case when assembling your own pizza. I think the neurotic search for the perfect combination of ingredients will keep you coming back. In fact I heard one of the servers call out "You're here again!" to a family who've been returning everyday for the past week.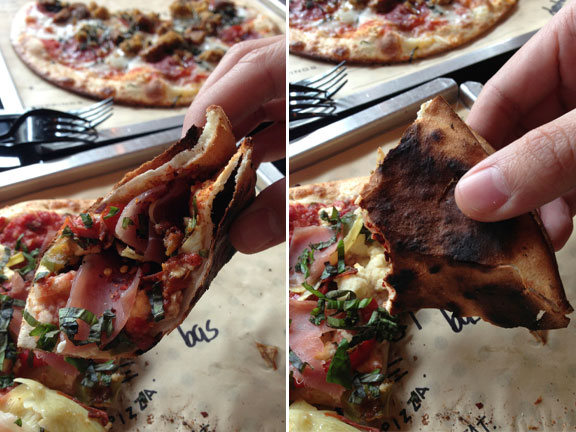 The crust tastes a little bready to me, in a standardized kind of way. And is actually flattened out by a machine for that uniformly round shape (and thickness). But brick ovens will do wonders to add tons of charred flavor. And I like that it turns out crispy and blistered on the edges.
For dessert we had decided to try the Nutella and banana pie. Essentially using the same crust, topped with slices of cavendish bananas then thrown in the oven till the base turns crisp and the bananas get soft and fragrant. What I like about this pie is that they don't bake the Nutella along with the crust but is piped and drizzled generously after. Baking Nutella makes it turn dry and chalky. But spread on something warm makes it a little gooey and runny and releases that delicious hazelnut aroma. This was delicious. But I'm a Nutella fan so don't take my word for it.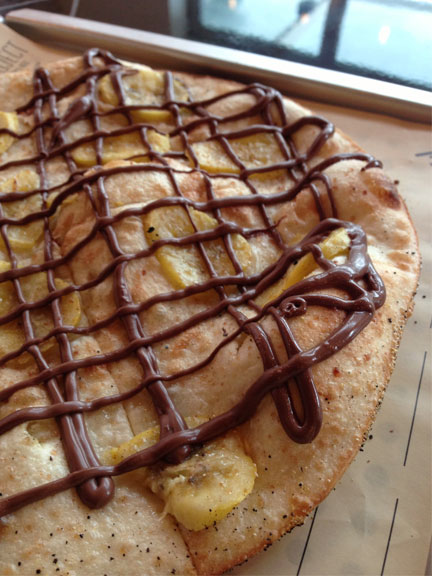 So the verdict for now is that I like how you get maximum options for the same price of P285 for all pizzas; very uncomplicated. (However, theoretically, quite painful if you have someone quite indecisive ahead of the queue). For a quick service/self-service place you get a pizza with quality toppings and fresh ingredients. Very clean tasting pies. And the staff are all refreshingly helpful and cheerful; though I haven't observed them in a more frenzied setting. I honestly do picture myself coming back. Not quite running to it, but I'll eventually return.
Project Pie
515 Shaw
1555 Laurel St. cor. Shaw Blvd.,
Brgy. Wack Wack, Mandaluyong
Tel. (+632) 650.0925
Web: www.projectpie.com
LABELS: Anonymous Paul, Nutella, Pizza, project pie, Restaurants