By sanju on 13 August, 2013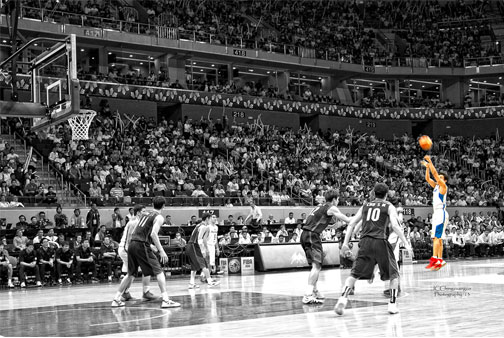 I know that this is a food blog, however, I will divert from regular programming to talk about the recent win of our Gilas National Basketball Team against Korea. I normally leave the sportswriting to my friend Rick Olivares.  Check out his excellent blog Bleachers Brew for more in depth analysis when you have the time. For now, please indulge me just this once.
Aside from my love of food, I am a basketball junkie.  I love watching college and amateur basketball so much so that C calls herself a basketball widow once the UAAP season starts.  There is just something about playing for pride that cuts my heartstrings like no other.  These past 10 days have exemplified pride, national pride in particular, like no other time that I have known.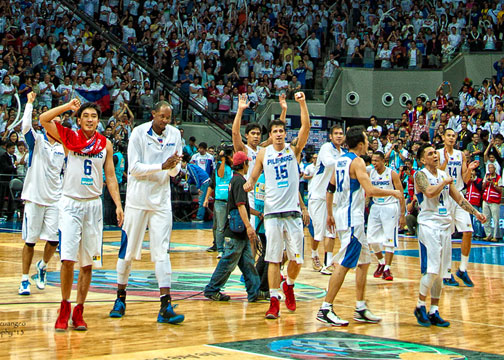 I have spent the most of part of the last two weeks at the Mall of Asia Arena, watching our overachieving team slay one country after the next (with the exception of Chinese Taipei), bucking the odds and reaching the semifinals to play a much stronger Korean National Team. The outcome of which, would be a slot in the World Basketball championships in Spain next year.   All throughout these times, the crowd has been a more than credible factor rattling opponents with screams and chants of DE-FENSE from tipoff to game's end.  We have not had the homecourt advantage since 1973 when the last Championships were held here, making these moments very special indeed.
For last Saturday's game against Korea, my daughter S and I, together with my friends IC and AA trooped once again to the jam-packed Arena to come face to face with destiny.  The place was absolutely electric and there was this feeling of hopefulness that seemed to radiate from one person to the next.  Never mind that Korea had always managed to find a way to beat the Philippines in the past years.  It was time to slay the dragon and move forward.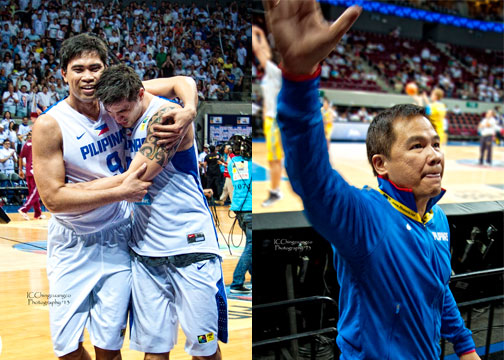 The game started well enough with the Philippines staying close until one point in the second quarter when Marcus Douthit, our 6'-10" naturalized starting center fell, hobbled by a shin injury that he sustained against Qatar earlier in the week.   Knowing full well how crucial Marcus was to our cause, I turned to AA and told him that I hope he can return soon, otherwise our cause maybe  lost.  AA didn't say a word, he just pointed to his heart.  And that was all we needed.
Marcus, never returned, but the cudgels were picked up by Jayson Castro, Jimmy Alapag, Marc Pingris, Japeth Aguilar and the rest of the team. Kudos to Marc Pingris who was a monster off the boards despite having to deal with much taller opponents and his own injuries as well.   There were thirteen lead changes and when the dust settled, it was 86-79 for the Philippines.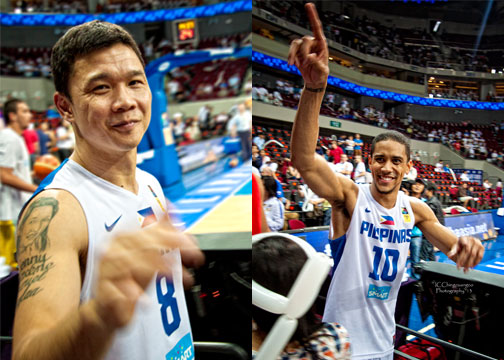 The crowd at the arena, around 20,000 strong never let up from the start.  Personally, I have never cheered so hard in my life.  During the last few minutes of the game, when the outcome was not yet secure, I could see the determination on all the faces of our players.  They just did not want to let everyone, nay the whole country down, despite the odds against them.  When the buzzer finally sounded, there was this palpable roar from the crowd, the likes of which I have never heard before.  While the players whooped it up, I turned to AA and IC and we all had tears in our eyes, so did many others in the crowd.  Good thing S had a pack of tissues handy in her handbag.  I turned to S and said to her:  "You have just witnessed history!" She nodded, visibly spent like the rest of us.  So spent were we, it actually felt like we had actually played.  The ghosts of the past have been exorcised and we are Spain bound.  Laban Pilipinas!
*Many thanks to Ian Carlo Chingcuangco for the images.
LABELS: basketball, gilas, Sanju