By sanju on 7 August, 2013
A few days ago, C and I decided to stop by Brasserie Girolle at the Fort Strip for a quick dinner.   After having read my friend Jay Labrador's post on the Happy Lab blog, I wanted to try out Chef Ian Padilla's newest restaurant for myself.
Upon entering, I noticed immediately that the restaurant was fairly large and tastefully decorated.  The menu had the usual bistro fare plus it also had a separate cocktail and "pica-pica" section as well.
I decided to start with a Salad Lyonnaise (P290) and finish with one of my perennial favorites, Steak Tartare (P620).  My salad was lightly dressed and had some crisp greens, roasted potatoes, bacon pieces and topped with a poached egg.  I asked that the egg on my salad be runny and happily, the kitchen obliged.   I must say that I enjoyed the play on textures of this salad very much.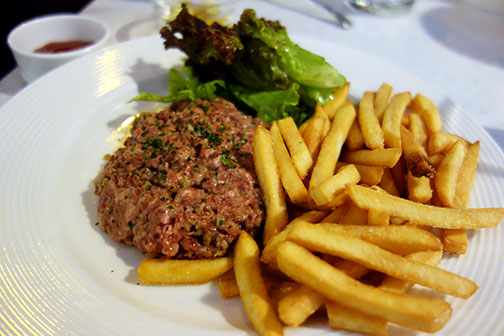 Chef Ian's version of Tartare was a revelation to me.  It was finely chopped and delicately flavored.  The use of good quality beef was in evidence, while the accompanying fries were well done with nary a trace of excess oil.  I normally like my tartare to have a coarser and thicker feel to it, but I would happily have this again in the future.
Overall, I was quite satisfied with my experience at Brasserie Girolle. Service by the obviously well trained staff was unobtrusively attentive, while both items that I ordered were very good.  Enough so, that I have decided to make a return visit soon to try other items on the menu.
Brasserie Girolle
Fort Pointe II Building
Fort Strip, Taguig.
Tel: (+632) 856.6639
LABELS: brasserie girolle, fort bonifacio, french, Sanju