By Anonymous Paul on 4 July, 2013

We headed out on another day-trip thereabouts twenty minutes out of Kyoto via the JR line. Arashiyama is an extremely popular tourist destination and has been for over a thousand years… literally. It does feel sort of touristy but not to an extent that it puts you off. The place still has an authentic charm to it. From the train stations you end up walking along a main road with plenty of restaurants and shops.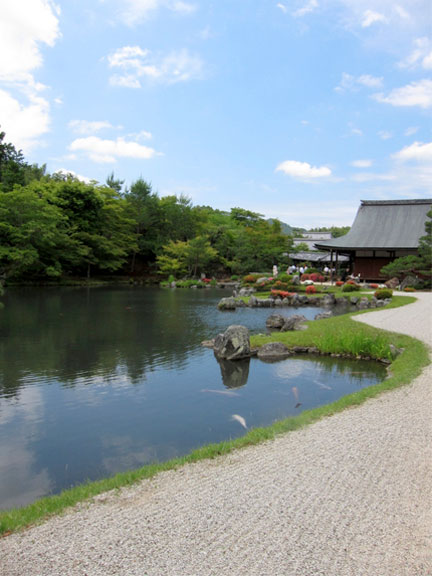 Mostly near Tenryuji, a massive ancient wooden Zen temple and UNESCO World Heritage Site. The gardens surrounding it are quite picturesque. A leisurely walk will take you behind the complex and you'll find yourself in the midst of the Sagano Bamboo Forest. Quite the peaceful experience to be dwarfed and enveloped by towering bamboo.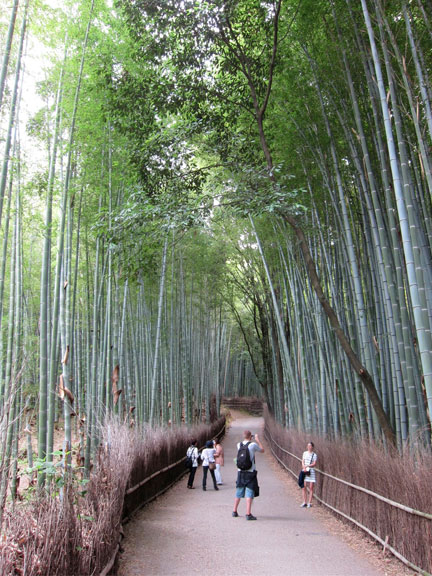 We had wanted to try out this famous unagi restaurant in the area for lunch but it slipped my mind that it was closed on Mondays. And it was a Monday. So we had just decided to walk down the road and head out towards the river for other options.
We managed to find ourselves in a place called Yoshimura, a soba specialty restaurant, by the riverbank. We were led to the upstairs dining hall where we sat on tatami mats in front of a bar with a picture window. Of which framed the breathtaking scenery; with the Oi River as the foreground and Mt. Arashiyama as background.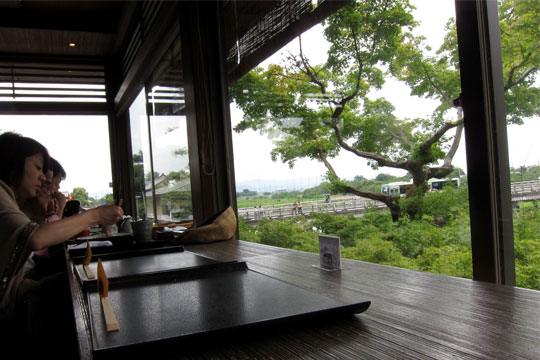 The place serves mostly tempura and soba sets. So orders were placed for a bowl of tempura soba and  the Temzaru-soba set. Now this might sound like a simple meal, and it was. But the food was excellent.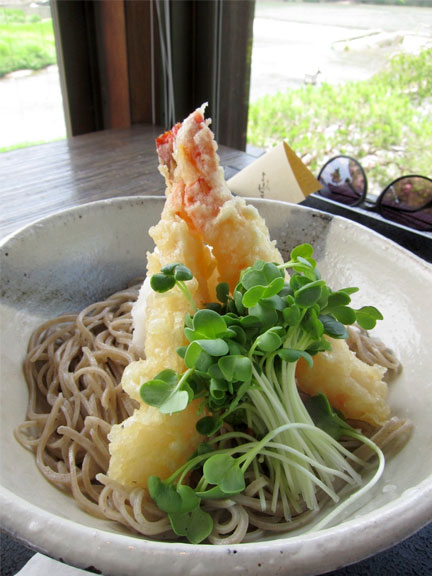 The soba, handmade from 100% buckwheat, was firm and nutty in flavor. The cold dipping sauce refreshing; using fresh wasabi gratings. The tempura was covered in an almost feathery light batter; the flavor of the ingredients underneath was still what came through. No sauce needed, just a squeeze of lime and a pinch of matcha salt.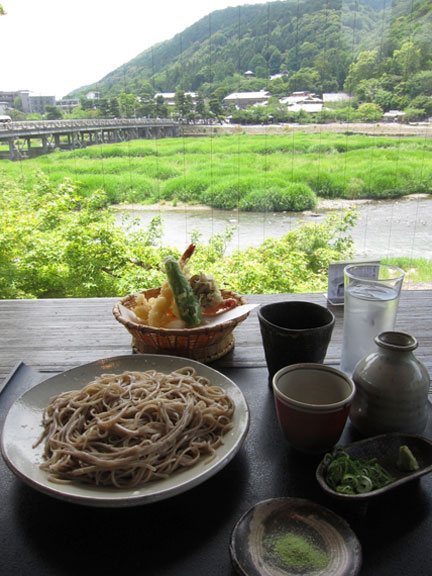 The set also includes a bowl of sticky Japanese rice topped with a chiffonade of fragrant shisho (perilla) leaves and a sprinkling of toasted sesame seeds; which you eat with these sublime pickles. All in all one of the best meals we've had this trip. Taking into account the view of course. And it was surprisingly very reasonably priced.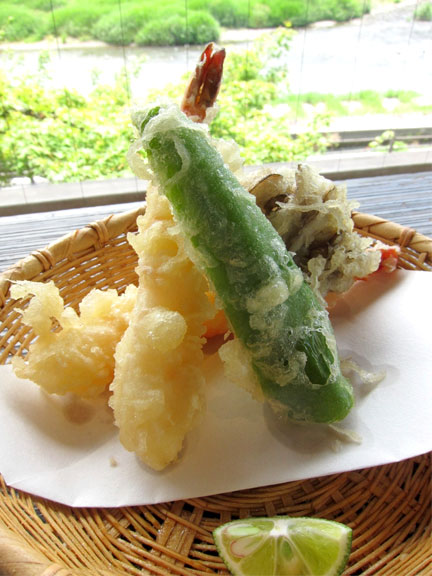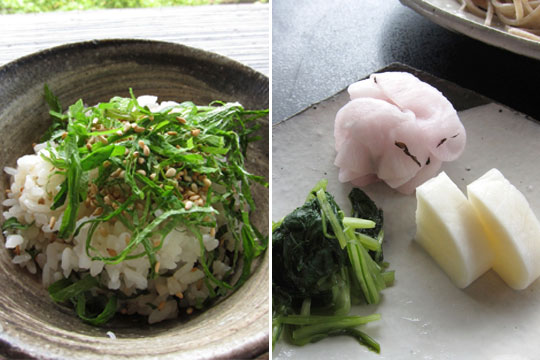 We strolled across the Togetsukyo Bridge after lunch and had some ice cream at one of the stalls. Where I got to sample one of the creamiest, smoothest matcha soft serves I've ever had. And a generous portion at that. They seemed to scrimp on the cookies and cream flavor though.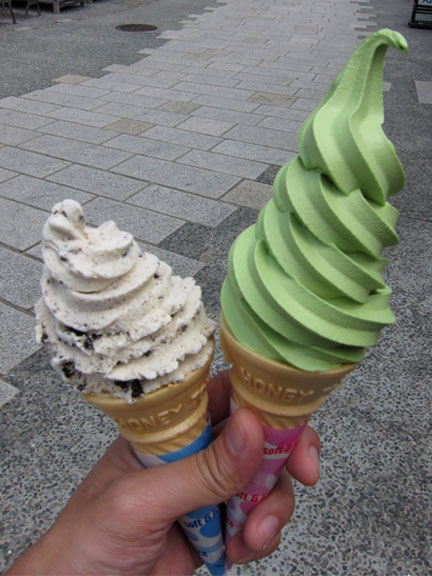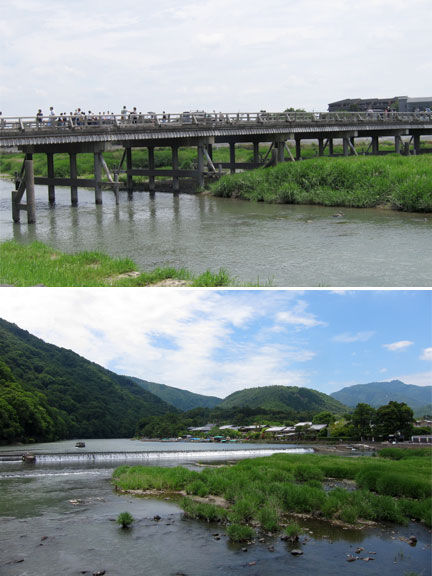 The further you go from the bridge, towards the mountain, the more serene it gets. This place is great for walking and taking nature in. Maybe ride a boat and/or fish. Or get lost in your thoughts ambling on a path a couple kilometers to a secluded shrine. This area just has so much good chi flowing that you feel your worries slip away.
Soon enough we were on the train back to Kyoto for more temple hunting… with a stop at Kinkakuji (Golden Pavillion). There always seems to be something amazing to see around every corner.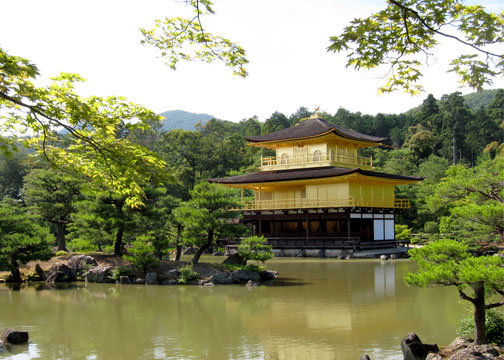 LABELS: Anonymous Paul, Arashiyama, Japan, Kyoto, Soba, tempura, Yoshimura