By Kitchyart on 15 July, 2013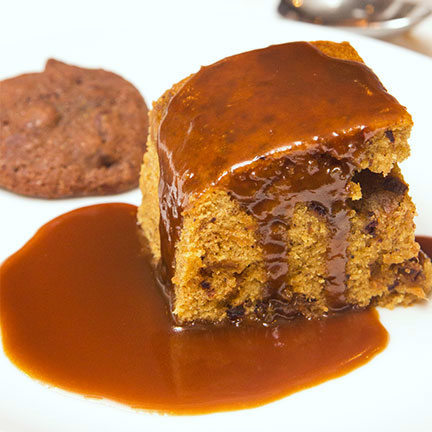 It's funny how I tell people that I like to bake when all I can make are cookies. I usually ask my mom for fool proof recipes since she was my first teacher in the kitchen. My brother and I used to assist her in preparing her cakes, but we were really just there to fight over who gets to lick the cake batter off the bowls and spatulas.
My mom's date pudding is a crowd pleaser. I am so pleased that we worked together to prepare this dessert for "The Best of the Beast" dinner and at the same time I baked something different for a change. I did some modifications though, added my special touch to the recipe, that I'd like to share with all our readers.
For this recipe, I'll group the ingredients and steps in phases.
*Preheat oven to 350F
**Line a 6″ x 10″ pan with parchment paper
Date Pudding Phase 1: Dates Mixture
1 1/2 cups chopped pitted dates
1 cup water
1 teaspoon baking soda (or bicarbonate of soda)
In a medium saucepan, boil together dates and water over high heat. Bring to a boil and stir in baking soda. Set aside as you prepare the next phase.
Date Pudding Phase 2: Pudding Batter
1/2 cup butter
3/4 cup brown sugar
2 eggs
1 cup all purpose flour
1 teaspoon baking powder
1/4 teaspoon salt
1/4 teaspoon bourbon vanilla extract
Cream together butter, sugar and vanilla extract. Add the eggs one at a time until combined. Then slowly the flour, baking powder and salt. Pour in the dates mixture into the batter and mix well. Pour pudding batter into the pan. Bake for 30-35 minutes. Best to poke around the pudding with a skewer to check if it's done. Set aside to cool before cutting the pudding.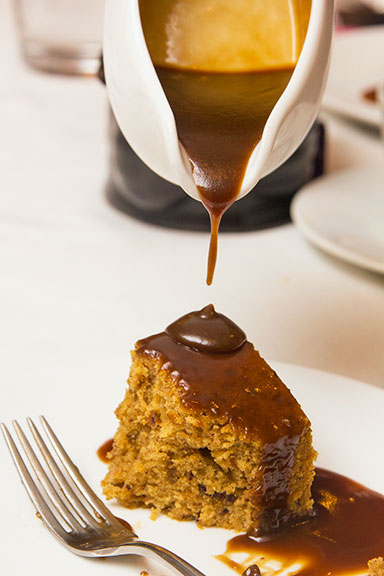 Date Pudding Phase 3: Toffee Sauce
3/4 cup butter
1 cup all purpose cream
1 1/2 cup brown sugar
1/4 teaspoon bourbon vanilla extract
In a saucepan, combine butter cream, vanilla and sugar over medium heat and stir until butter is melted. Bring to a boil and cook for 10 minutes or until thickened slightly.
Once your pudding and sauce are ready, they are good to go. Best served warm with a scoop of vanilla ice cream for an added treat.  I prefer to double or triple the sauce for the recipe since the sauce can keep and goes well with an apple pie a la mode, too.
Happy baking and eating!
*Many thanks to Eugene at Heftyfoodie.com for the pictures!
LABELS: Best of the Beast, date pudding, Kitchyart, Table Recipes, toffee sauce