By sanju on 18 July, 2013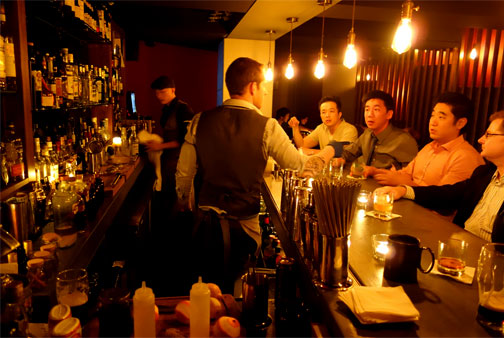 Ever since the Blind Pig opened in Manila, my interest in the whole Speakeasy culture has spiked.  I really am very impressed with how all the different mixologists try to out do each other with their inventions and their take on the classics as well.
On a recent business trip to Taipei, C and I took some time to visit one of the best Speakeasies in Taipei called Ounce.  In true speakeasy fashion, Ounce is located behind a false wall inside a local coffee shop chain.  Access is gained through a password that is given after reservations are made through email.   The bar is quite small and only probably fits about twenty at a time.  The crowd is a mixture of expats and locals that have come back home after studying abroad.  It is always very busy therefore, reservations are a must.
Once we got in, we put ourselves in the very capable hands of Irish Mixologist Lee Peare.   As always, I start out my night with an Old Fashioned (NT$400).  An Old fashioned is always a good gauge as it is quite simple to make.  If a bar cannot make a good one then there are rough seas ahead.  Well, I was not disappointed at all.   Everything tasted right and the drink had the right balance of flavors, with both the bourbon and the bitters coexisting very well.    It also helped that Lee used good bourbon as a base.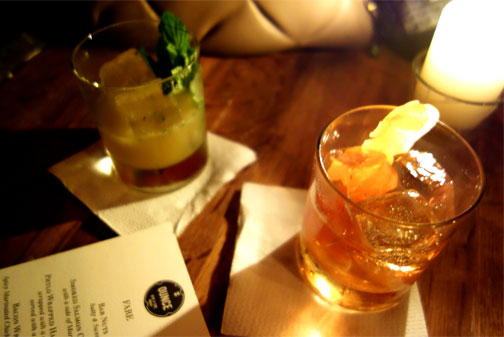 Duly impressed, we then gave Lee a free hand to serve us what he thought we would like.  The rest of the night was a blur.   All I remember was the all the drinks we had were very well made and that they were quite potent.  Lee was quite animated.  He offered us shots of special Irish rye whisky while conversing with us about a whole slew of topics.  I must say he made us feel very welcome.  We actually felt like regulars even if it was our first visit.  This is a true hallmark of a great bar.  Next time you are in Taipei, make sure that you add Ounce to your list of must visits.
Ounce Taipei
Web: OunceTaipei.com
Tel. (+886) 2.2708.6885