By Anonymous Paul on 22 July, 2013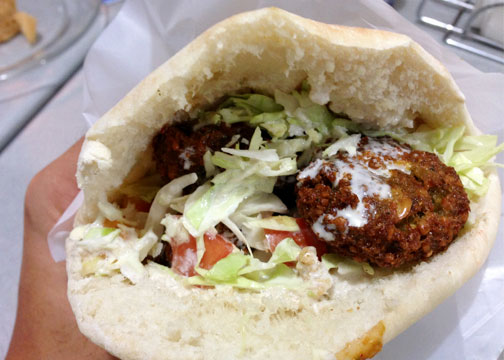 Not that the falafel is anything new in the Philippines. There are a few establishments that have this on the menu. But what probably differentiates Beni's falafel from others is that it is no frills, and fresh. (I do not even order it at this "Mediterranean cafe" anymore as they always tend to use rancid oil nowadays.) A falafel sandwich is quite large, with a generous portion of the à la minute fried patties and a tahini sauce Beni is so proud of that he shows us its provenance for good measure (Israel of course). Their pita is baked to specs by an Israeli supplier as well; more pillowy and fluffy than the regular pitas. The chilli sauce they use is also proper, in that its actually fiery hot. Which is probably why Beni's is turning out to be a local hangout of Israeli expats these days; stopping by for a quick chat with fellow countrymen, or just to get a falafel fix.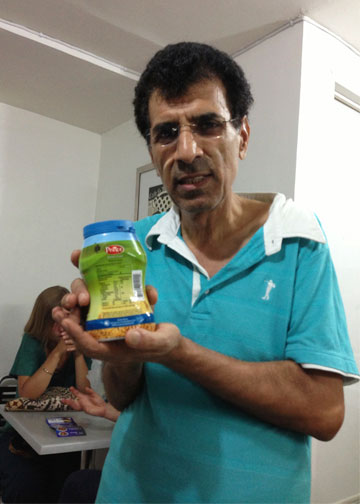 Beni, being the good host, generously offered us a taste of the jachnun, a dish of Jewish origin. Essentially a sheet dough rolled into a log and then left in a low and slow oven overnight. This gives the pastry it's characteristic caramelized colour and unique bibingka-esque texture. It's classically served for breakfast with grated tomatoes and boiled eggs.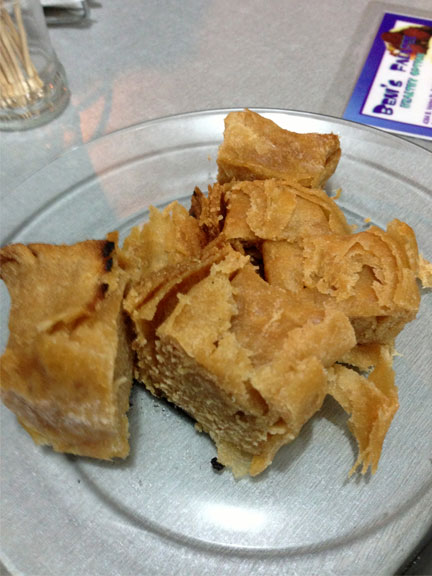 They have a limited menu of mostly traditional/vegetarian friendly items; but also includes chicken soup. Now what could be more orthodox than Jewish penicillin?
If falafel and homus is your thing, then Beni's will deliver. It's more cramped than cozy, though, so better for a quick bite before or after a night of disco disco good good!
Beni's Falafel
4634 Valdez St
Poblacion, Makati
Tel. (+63.906) 349.1300
LABELS: Anonymous Paul, Beni's falafel, Restaurants