By Anonymous Paul on 26 July, 2013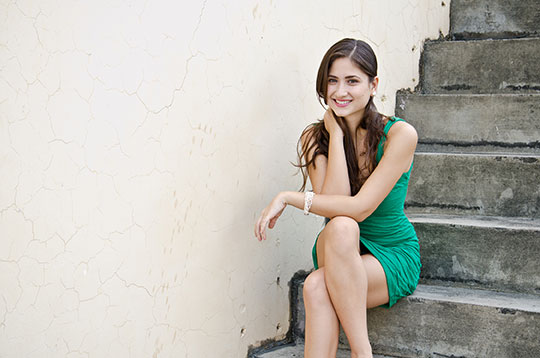 Alexandra Rocha is best known for Pinkerton Ice Cream, one of the local pioneers of small batch, premium ice cream producers.  She also writes a weekly column called Adventures of a Foodie for national broadsheet Malaya. Now her passion for food spills over to prime time with a new TV show. And we're thrilled to have Xandra On the Table to talk more about this.
How did this show come to be and what in particular about Filipino food and eating did you want to highlight for the series?
The show concept came from the executive producer and director of "Something To Chew On".   They approached Solar and pitched their idea. When they were brainstorming possible hosts for the show, Solar mentioned my name and told them to get in touch with me. Monet Silerio, the executive producer, got in touch with me and called me in for a meeting interview.  We seemed to click right away – same ideas on how we wanted the show to be like.  I did an impromptu audition video after our meeting and, a few weeks later, they told me I got the job. It's amazing how things fall into place sometimes!
What I want to highlight about Filipino food and eating are the experiences that come from it. There are so many types of Filipino food, which vary in each province! It's delicious, exciting and sometimes odd and scary! But overall, what I love about how Filipinos eat is that it is very much part of our culture. We love to feed people! Its how we like to welcome people or show love and affection, "Kain na!" is a sort of welcome greeting. Its wonderful! I love it.
Being a travelogue of sorts, what's your favorite location and meal so far and why?
This is a tough one. Each place has its own charm and I have had delicious meals in each province. But I must say, there are 2 experiences which really stood out to me. The first was when we were shooting the very first episode in Vigan. We went to the home of Mang Lando, where he and his wife make bibingka the traditional way using a pugon oven. He was so welcoming, and invited us into his humble home, which he shared with his children and grandkids. The second was in Marinduque. This time in the home of Aling Ambrosia. She is this lovely old lady who managed to put all of her 10 children to school by making a business of selling crispy pata.  This crispy pata by the way, is hands down, the most amazing crispy pata I have ever had! She uses baby pigs, so each pata is small, incredibly juicy, tasty, with golden, crisp, crackling skin. The camera crew and I sat around her dining table and ate a meal fit for a king! The best part is, I did not get a crazy cholesterol high after eating it! I swear Aling Ambrosia has magical powers and must have put some sort of gayuma into the marinade of the crispy pata because I have not stopped dreaming about it, and no other crispy pata has come close to it. To me Mang Lando and Aling Ambrosia are exceptional examples of Philippine hospitality. Willing to share whatever they can offer, no matter how much or how little they have. They had such warm smiles on their faces, and seemed so content with their simple lives, which they have dedicated to supporting and loving their families. Its beautiful experiences like that which I love! It puts things into perspective for me.
Any fascinating indigenous or exotic food discovery/rediscovery?
Oh my! I have eaten some strange things on the show! Some things I won't forget are sandworms in Capiz… and some inappropriate bull parts in Cagayan de Oro, the stew is appropriately named "remember me".  There are so many exotic things to eat in the Philippines. I might not necessarily like them, or may not want to eat them ever again, but having the opportunity to taste them is an adventure on its own. Plus it makes for great conversation.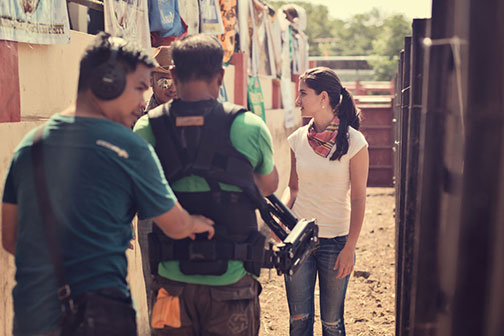 Was food a big part of your life or family growing up?
YES! Food has always been a huge part of my life and family.  Some of our happiest moments are when we are congregated around the dinner table. We love to eat! My dad always used to tell me to taste everything at least once and to never be rude about unusual strange food that might not look or sound too appealing.
Do you follow any other food shows and publications, and why these?
I love Anthony Bourdain's shows and publications! Mainly because of how adventurous and how he is not pretentious at all.  He is so game and willing to rough it up. Delicious food is not just found in Michelin star rated restaurants, but also in street stalls, and hole in the wall joints – seems to be the same opinion Anthony Bourdain has about food.  I also love Julia Child, Ina Garten, and Jamie Oliver! They aren't afraid of butter and cream! And I like how they cook with so much gusto and love, preparing dishes that are homey and rustic.
Any current food obsessions?
Hmm, I can't think of a specific dish or dessert I'm obsessed with at the moment, but I am ALWAYS food obsessed.  I'm really matakaw! Honestly it depends on my mood. I tend to crave / enjoy Japanese food, or South American food the most though. I love how simple and clean Japanese food can be, but then again I love how sloppy and hearty South American food is. Beans, bananas, rice, meat, avocado, salad, usually all on one plate. I love it!
Suppose I were a foreign guest or a balik-bayan, where would you take me for breakfast, lunch, merianda, dinner and drinks and what would we order?
This is tough. There is so much I would want you to taste! Kare kare, sisig, sinigang, etc etc etc…. I would want you to really experience Philippine culture, no fancy schmancy restaurants. If I had a private helicopter to be able to get around, this is what our food day would be like:
Breakfast – We would head to Dumaguete for budbod Tanjay and budbod kabog with hot tsocolate and fresh mangoes at the local market.
Lunch – Cebu! For what else but, Cebu lechon!
Merienda – I would take you to Batac in Ilocos for empanadas – with lots of longaniza (yes, more pork) and I'd make sure the egg is malasado.
Dinner – We would go to Bicol for all things spicy and cooked with gata! Pinangat na daing is a must!
Drinks – If you wanted to be somewhere more private and relaxed, then I would take you to Pagudpod.  There is a lovely resort called Kapuluan there where they serve refreshing frozen lambanog margaritas – we could try surfing then head in for those delicious margaritas.
If you wanted to party – then I guess it would have to be Boracay.  We would go bar hopping – buckets of ice-cold San Miguel Pale Pilsen, and endless Tanduay rum and coke. Then of course, chori burgers before calling it a night.
Your culinary guilty pleasure ?
Spam, and McDonalds chicken nuggets!
Any food that you really cannot seem to enjoy or would not eat again?
I still don't like bopis… and whole chicken liver. Which is weird since I like it in pate form.
Something to Chew On premieres this Saturday, July 27, 7:30pm on the Solar News Channel.
LABELS: Anonymous Paul, Interview, On The Table, Something to Chew On, TV, Xandra Rocha