By sanju on 24 June, 2013
I normally try not to go to a restaurant when it just opens since I want to avoid being caught in the throes of its birthing pains.  A recent horrible experience at a "newish" Makati restaurant seemed to cement this notion.  However, having dinner at newly opened Stockton Place was a happy antithesis.
C, my daughter N and I recently met up with our Restaurant Andre dining companion L and her family for dinner.  L suggested that we try Stockton Place.  Being very curious and in the mood to try something new, I agreed.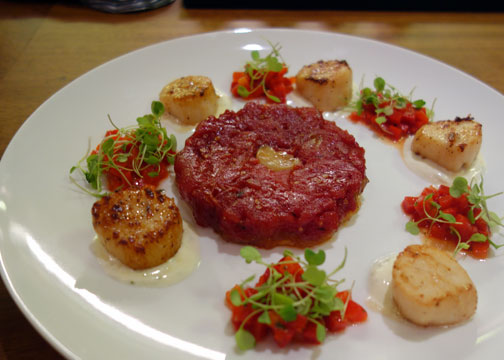 Walking into this place, with its clean and well-lit interiors, gave me the impression of a classy neighborhood restaurant that exudes hominess.  I would not think that it would be out of place in any other cosmopolitan city.  A full bar compliments a menu that is quite tight. There are a couple of soups and salads and pastas, a few mains and desserts.  At the helm is young Chef Celine De Los Angeles, who worked at the Manila Peninsula and at the Goose Station before venturing out on her own.
Since there were seven of us that night, we tried most everything on the menu.  Everything tasted as it should.  Portions were quite substantial and plating was clean and creative.  Standouts for me were the Foie Gras Salad, Pan Roasted Steak Salad, The Scallops that C had as her main and my Poached (!) Chicken.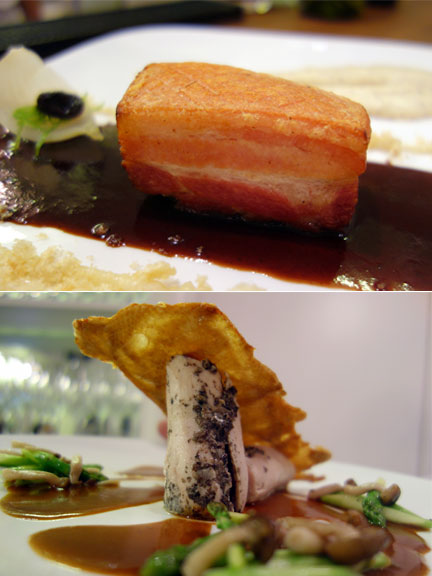 Let me explain the exclamation point.  I never order anything poached (unless it's an egg) if I can help it.  Just hearing the word, gives me visions of sickbeds and hospital rooms.  But this time, I decided to throw caution to the wind and order Chef Celine's version.  I was not disappointed.  It was moist; full of flavor and the accompanying crispy chicken skin added much needed texture.  Although, I made the mistake of making N try a piece of the skin, resulting in the whole piece being commandeered.  Such are a Dad's travails.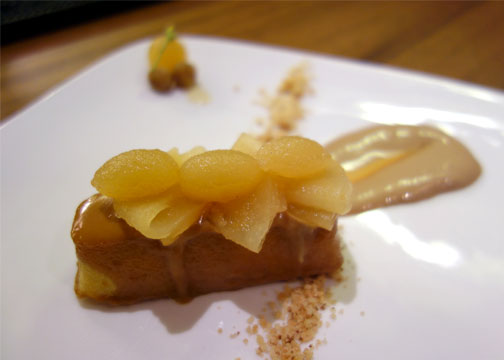 For dessert, we shared an order of Toffee Pudding Cake and a Chocolate Peanut Caramel Tart.   Everyone liked the tart but we were a little disappointed after trying the Cake.  I particularly felt that it was a bit lacking in substance.  Nothing a little tweak here and there cannot fix though.
It is quite rare to find a newly opened restaurant that does not feel, well, newly opened.  From the efficient and cheerful wait staff, to the execution of the dishes, everything felt like it came out of a place that has been running well for some time.  It is now up to Chef Celine to push herself to continue to have an innovative, consistent and well-run restaurant.  I for one cannot wait to see what the future has in store.
Stockton Place
227 Salcedo Street
Legaspi Village
Makati
Tel: (+63.917)8561419
Presently open only for dinner.
Lunch service coming soon.
LABELS: Makati, Restaurants, Sanju, Stockton Place