By Anonymous Paul on 26 June, 2013
Kyoto is beautiful; it's people friendly and refined in manner. There's a relaxed, college town feel to the whole place and the urban planning is such that structures go up only to a certain height (not higher than the Imperial Palace). It's littered with temples, shrines and castles. A few integrated even in the city center and shopping areas. I love how when getting out of the subway station an Edo period castle stretching several city blocks suddenly emerges. Or how you notice a wooden pagoda a few stories high from a distance while walking in a narrow alley. Kyoto was actually shortlisted towards the end of World War II as a target for the atomic bomb. But the then US Secretary of War withdrew it from the list as they officially concluded that Kyoto was culturally and historically important. The deeper truth was that he honeymooned there in the 1920's and was aware of it's priceless cultural assets.  In essence, it's splendor managed to soften even the hardest hearts.
And given our short one day to see the sights around Kyoto, we were amazed. Of course with a few eats here and there.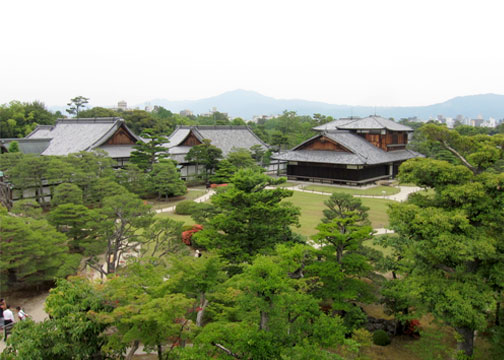 Honmaru Palace in the Nijo Castle grounds. One of my favorite spots.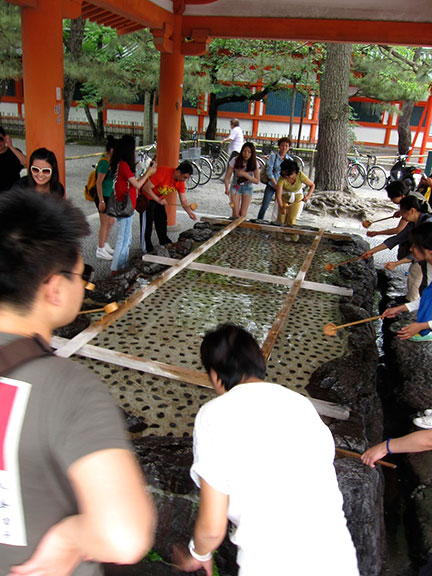 Purification before entering Heian Jingu, a huge Shinto shrine. Washing hands and drinking. Kyoto is quite famous for its clean water. More on that later.
Inside the Heian Shrine grounds. Also famous for its gardens.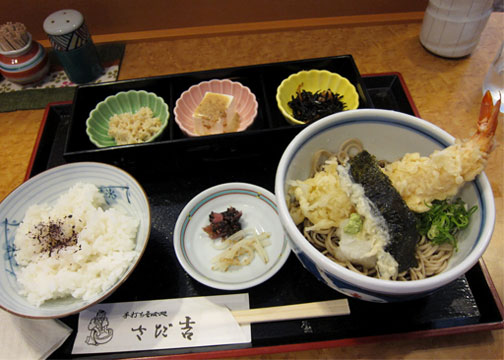 Had a quick lunch somewhere in the Gion area and had a tempura and soba set. It was good but admittedly it wasn't anything mind blowing.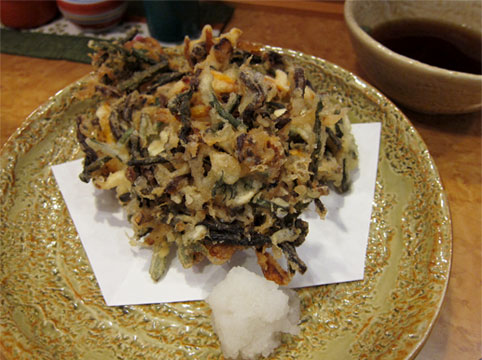 But what was interesting was this Sansai Kakiage I had; sansai being wild edible vegetables. Nice and crisp; fried to perfection.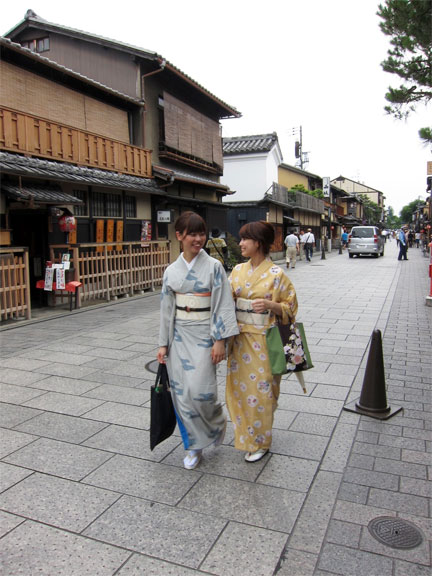 Walking along Hanami-Koji Street in the Gion area. Lined with preserved traditional wood buildings that function as  (pricey) restaurants and teahouses. There's a great difference between night and day when the establishments open. But towards early evening you'll possibly sight a geisha or two; like deer being hunted by photographers. Inset are not geisha but local tourists dressed up in kimonos. Which is quite a common sight in town.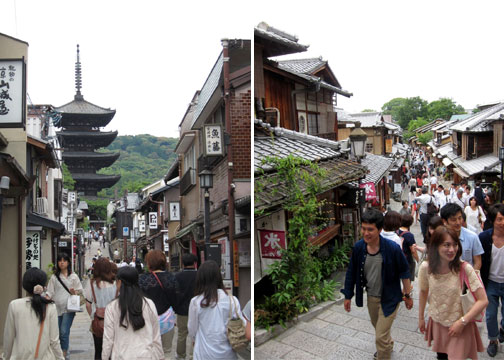 One of the most scenic paths on foot in the Higashiyama area, leading up to Kiyomizudera; a huge temple built in 778. On left is the Yasaka Pagoda emerging from a narrow street. On right is the line of shops leading up to…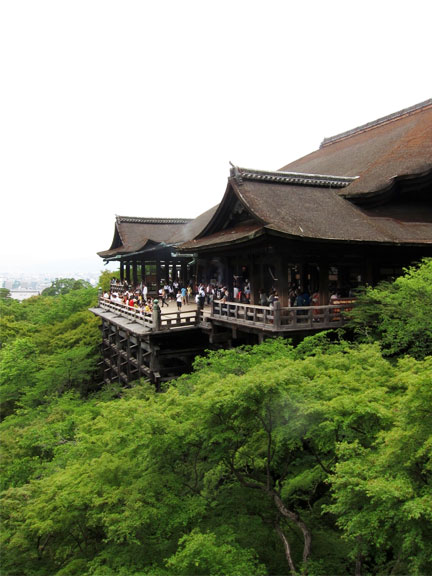 …Kiyomizudera. Of which is actually a large complex overlooking Kyoto. But this Main Hall made completely of nail-less wood is quite the incredible attraction. It seemingly floats above maple and cherry trees and would love to see this in spring when the cherries blossom and during fall when the leaves turn all red and orange.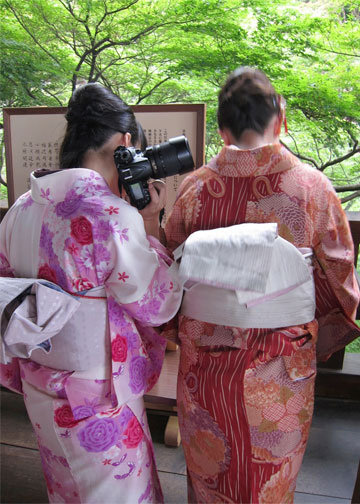 More kimono clad tourists.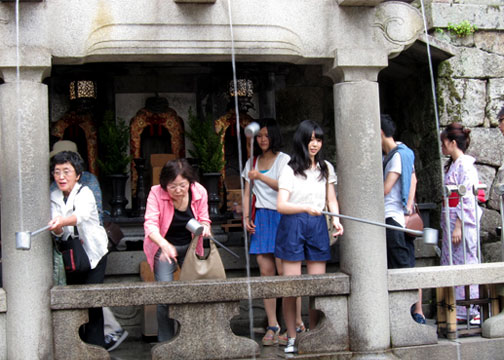 At the base of the complex lies the Otowa Falls. Kiyomizudera literally means "pure water temple" and this is where one can get it. Water from the falls is channeled into three streams and visitors use dippers to drink from a specific stream; with one said to bring luck in love, one longevity and another academic success. I can only guess what the elder woman and young lady are wishing for.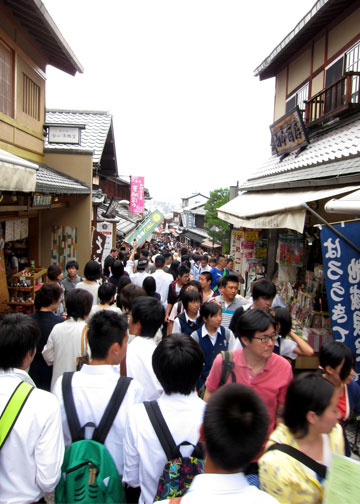 It gets quite packed with tourists and students late in the afternoon. The walk going down was tight!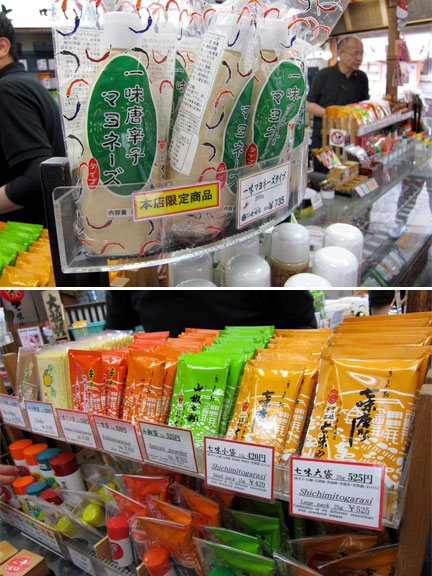 But for chili heads make sure to drop by Sichimiya, a shop specializing in sichimi togarashi and has been doing business since the 17th century, on the way down. It's a corner shop with black rakuten (curtains) and red chilies printed on them. "Seven spice", sansho, yuzu chili powder mixes, chili mayo, dispensers… all found here.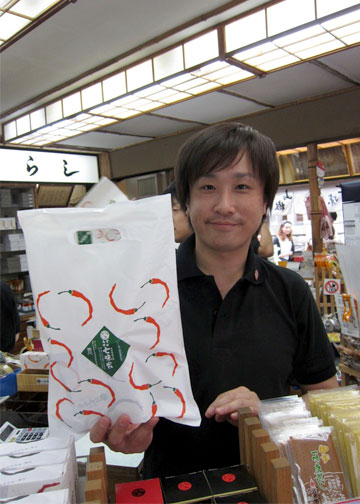 We had met with some relatives based in Kyoto in the evening and appreciated a home cooked experience. Included in the  spread were these bean curd pockets filled with vegetables and vinegared rice called inarizushi. A very typical Kyoto dish.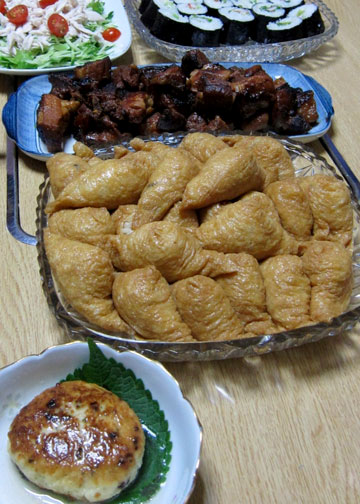 We covered quite a distance entirely on foot for one day; as those who walk are rewarded by the sights of Kyoto. Worn out and beat, the hearty meal at the end of the day was just what we needed. Afterwards we slept like logs. Mental note: next time rent bicycles!
LABELS: Anonymous Paul, Japan, Kyoto