By Kitchyart on 7 June, 2013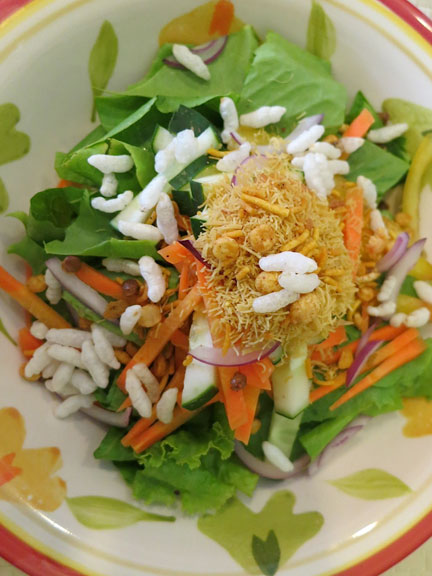 We are currently swimming in a sea of new restaurant openings all over town and this is a pretty exciting time to try new things. For my beastly appetite, my friend MT and I opted for a place that serves vegetarian/vegan dishes. It's great to see that there's a growing interest in preparing healthier meals for those that seek them.
Edgy Veggy has been around for a couple of years now, offering prepared vegetarian and vegan meals for delivery. I placed an inquiry before, but I wasn't ready to take on a 3 day diet.  So it was pretty exciting to learn that they had opened a cafe/deli in Kapitolyo just early this year.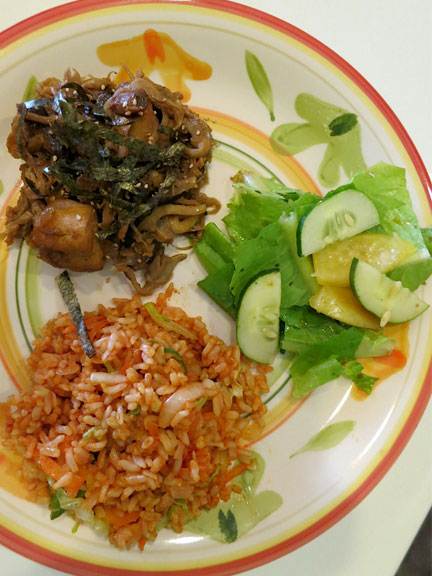 We started off with the Bhel Puri salad to share. It's nice to have this Indian snack (sev) tossed into a salad; gives some crunch and aroma from the spices. The citrus Asian dressing that accompanied the salad makes this a light and refreshing combo, I may recreate this combination at home.
This isn't really my first time to try Edgy Veggy since I chanced upon them at the World Eats in Podium last February. I had the Korean tofu and mushroom brown kimchi rice bibimbap, which I liked and so I recommended that MT order this. It's mildly spicy and quite filling, although the portions looked smaller compared to the World Eats event; but it could also be an optical illusion since it's plated. Forgot to tell MT to get an egg to complete the bibimbap experience.
For my main event, I ordered the Falafel wrap which looked small that we thought we might've needed to order more food. I'm happy to report that I felt full, I was very happy with the fluffy falafel, creamy hummus (I wish I got the appetizer) and flavorful rice. The dish came with 2 sauces but I failed to ask what was in it, both looked creamy and one of them with some heat.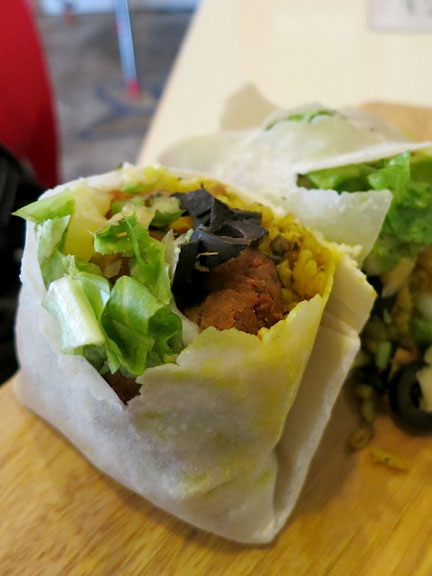 On our last few bites, I noticed the condiments on the table. One, a bottle of chili oil perhaps for the wholewheat Panizzas they offer on the menu and the other a mixture of herbs. We sprinkle some on our food and it seemed like a new revelation to our tastebuds. Our server told us it's a mixture of powdered dried mushrooms with salt and herbs. It's an amazing new discovery and we were happy to learn that it was for sale too.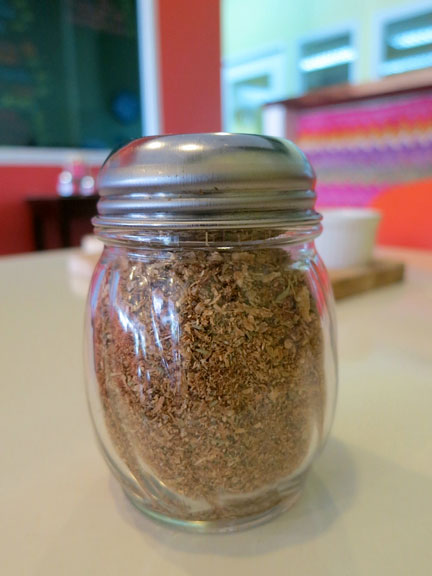 We felt satisfied with our lunch that day that we didn't feel the need to eat again after a healthy meal. I've done it a couple of times after an all vegetarian meal and I felt like a traitor of vegetables. We did grab some milk tea on the way home, but only to quench ourselves on that  hot day.  I'll make a mental note to go back to Edgy Veggy and grab a bottle (or two) of that mushroom herb spice mix and conquer the vegan desserts.
Edgy Veggy Vegetarian Food
3 Brixton Street (behind Pioneer Center)
Kapitolyo, Pasig
Phone (+63.917) 847.4831
LABELS: Edgy Veggy, Kitchyart, Restaurants, vegetarian