By sanju on 14 May, 2013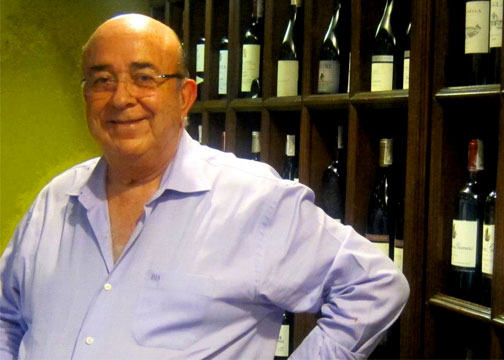 Juan Carlos de Terry has and will always be an inspiration.  His cooking has created and elevated awareness for Spanish food and wine ever since he set foot in the country a few years ago. His regular menu at his various branches gives one a taste of Spanish favorites; while his much-awaited yearly food festivals have been an excellent source of what the various regions of Spain have to offer.  A true renaissance man, Juan Carlos de Terry, is not only a great chef, he also holds a doctorate in Oenology and is also an accomplished pianist.  Let us look into what makes him tick:
Who in your life has influenced your cooking the most?
I was born with the passion for cooking. At the age of four I always prepared my breakfast omelettes. However, I think I was influenced by my mother's sense of cooking and cooking philosophy.
Which book has had the biggest impact?
La Cocina Completa, by María Mestayer de Echagüe, Marquesa de Parabere, Espasa-Calpe. Issued in Bilbao, Spain in 1932
What was your first job in the food/service business?
I started in wine production in the late 60's. As owner of a food company I created a line of preserved food under my own brand FRUTERRY in Mexico. Recipes were developed in several countries. This happened in the 90's.
What is the inspiration for the menu of Terry's?
The challenge of creating, searching and looking for new ways in the use of traditional ingredients in full harmony and perfect balance.
What is your favorite item on the menu of Terry's?
I have three: Nº 1 is the elegant oyster soup followed by the angel's nest pasta and our chocolate marquise
Besides your own place, what's your favorite restaurant in Manila?
The cuisine of Mark Aubrey (Champetre)
Which Restaurant meal (foreign or local) do you remember the most?
El Celler de Can Roca, Girona, Spain
What junk food do you love?
Street sausages in Germany.
Is there a food you just can't seem to enjoy?
Any ceviche using cilantro (coriander)
Just between us, what are your future plans?
New food creations. And, I am opening another branch of Terry's Selection at McKinley Hill very soon.
Many Thanks to Cyrene De la Rosa for the photo.
LABELS: Juan Carlos de Terry, Sanju, Spanish, Terry's Selection