By Anonymous Paul on 31 May, 2013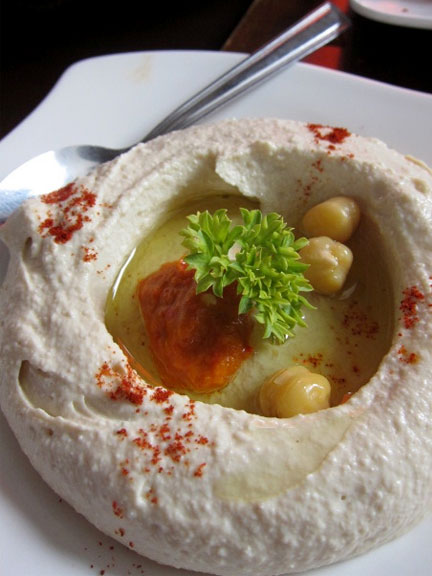 The only news I ever got or read about Kasbah was of the performers on stage for certain nights or of their Sunday brunches. Don't get me wrong, I think Noli Aurillo's a Filipino musical gem and you must see him do cray cray things on his guitar; but him and "Moroccan" brunch don't really build cred to the food they serve. And for the past year that Kasbah has been in Manila I just brushed it off as just another party bar along the Fort Strip.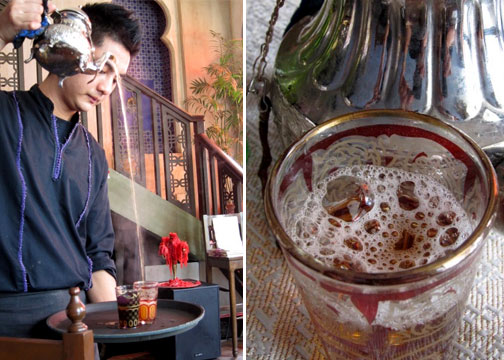 But a couple of months back we found ourselves in Kasbah for drinks. The DJ was just killing it with some cool funk/soul music and our group just loved the vibe of the place. We had ordered several dips to go with our beers and cocktails and was quite surprised that all of them were delicious. Particularly the hummus harissa; which is hummus…with harissa. You get a lot of watered down versions of this dip in the city but theirs is just of a beautiful consistency. Smooth, nutty (using actual tahini) and creamy. With that signature tang of Moroccan dishes. The harissa, a spiced chilli paste, was unabashedly hot. Which I liked.
So I've been back a few times since and have tried several more traditional leaning dishes. And happy to say I've had very good experiences.
A great way to start the meal is with their mint tea. Served the proper way by pouring from a height to create  froth; which releases that refreshing peppermint aroma as you sip. It's meant to be really sweet; and the black tea strong.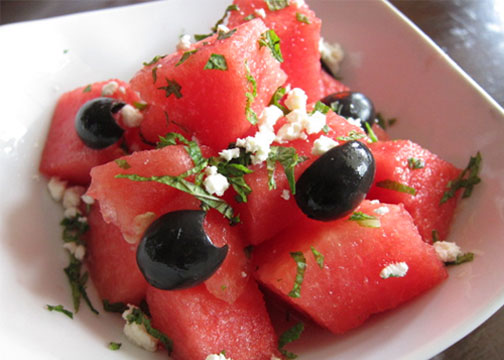 I've ordered the watermelon, feta and olive salad a few times and it's been a recent favorite. An unusual combination of fruit and savoury items but works.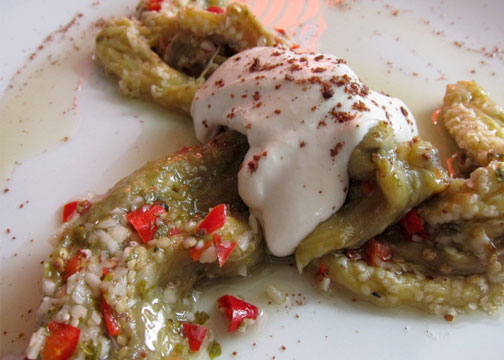 The grilled eggplant with tahini's pretty straight forward. (Moutabal or baba ghanoush? I still don't know the difference.) Again with the tahini having that tangy component that cuts through the smokiness of the eggplant.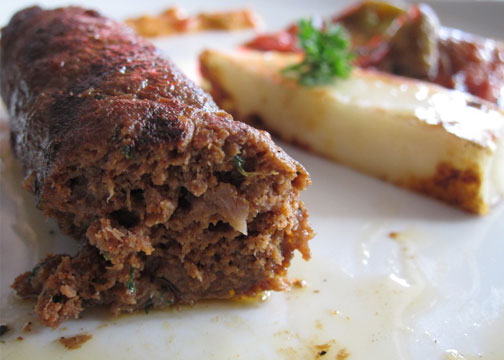 Kasbah also serves their version of merguez, in the form of a skinless marinated meat sausage. Quite juicy, pleasantly balanced and expertly seasoned. A more refined version of the spicier, partially dried merguez with casings. Paired perfectly with the grilled halloumi and really notable grilled sweet peppers. Of course the additional dab of harissa didn't hurt.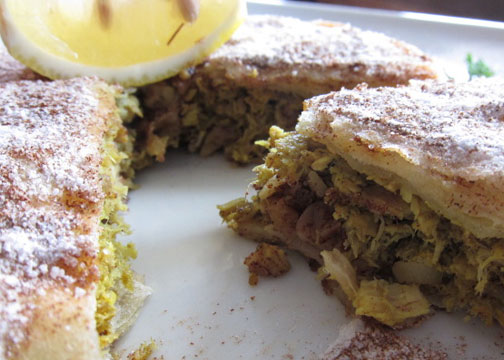 I've always wanted to try bastila, a pie made with sheet dough and filled with pigeon, nuts and spices. Here they have a version using chicken (called chicken pastilla). A little work needed to cut through the though-ish sides but inside you see generous amounts shredded chicken; aromatic from a subtle blend of spices. A sweet-savory dish as it's dusted with a lot of sugar and cinnamon on top. And while I have to say it's good, I really think the blend of spices would work even better with the more substantial qualities of pigeon. I hope they offer this even if just on a per order basis.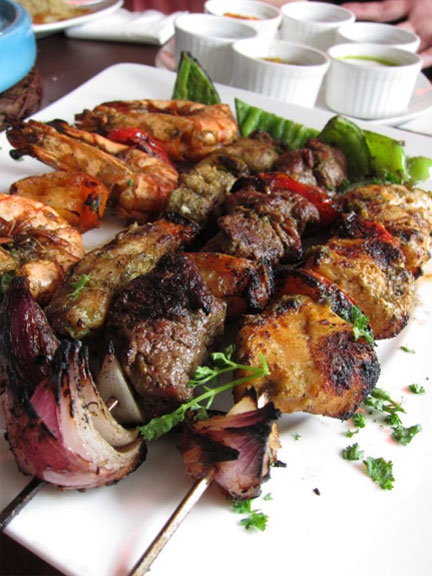 The grilled mixed platter is quite nice with the beef really standing out. It takes deft hands to attain such tenderness and succulence on the fire. A myriad of dipping sauces, yoghurt and chutneys is served along with it. Though I think the kebabs were flavorful enough to eat on its own.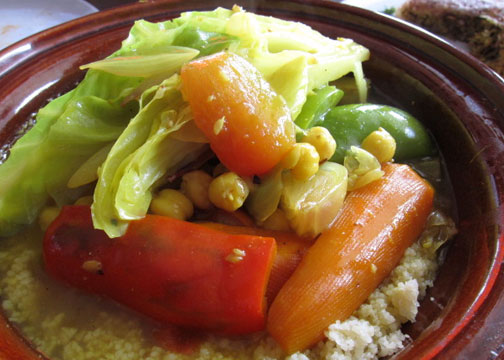 I really like their seven vegetable couscous. Such care and highlight of vegetables is sort of the rare here in the Philippines. I'm far from being vegan but this is so hearty you'd never miss eating meat. At least for one meal. There actually is couscous buried under that pile of stewed vegetables. While they usually pour more vegetable broth in, I prefer it with less as I like my couscous on the fluffier side.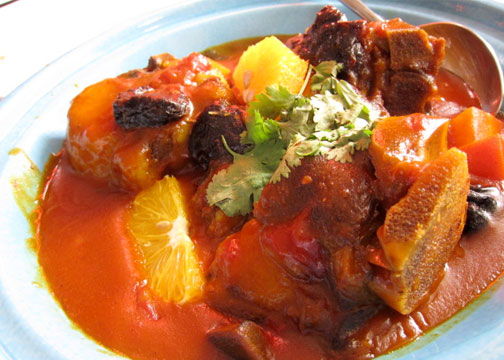 What I want to sample more of in the future is their tangines. I've only tried the Berber lamb tagine thus far. An intense colored stew of lamb; with a thick sauce flavored with prunes and oranges. However the combination of gaminess, sticky sweetness and collagen rich gravy of the dish I found too cloying. I don't think it was a matter of preparation but of personal taste, though. If there's anything I've noticed as a whole is that they serve refined versions of traditional dishes and not localized in a way that sugar's added to everything. The stew drew most of it's sweetness from the fruits.
While the word Kasbah connotes something more hardened as a fort or citadel, I find the place to be more of an oasis. It's relaxing, subdued interiors offer retreat from the oppressive concrete jungle outside. But what's also refreshing is the great care to keep most things authentic and unpretentious. And though we would have limited basis for comparison for specifically Moroccan dishes (save for some items over at Ziggurat maybe) I would say Kasbah would be worth the visit for those looking for a uniquely appetizing flavor profile.
Kasbah Restaurant and Bar
The Fort Strip
7th Ave cor Katipunan Circle
Fort Bonifacio, Taguig
Tel (+632) 553.4499
LABELS: Anonymous Paul, fort bonifacio, Kasbah, moroccan