By Anonymous Paul on 20 May, 2013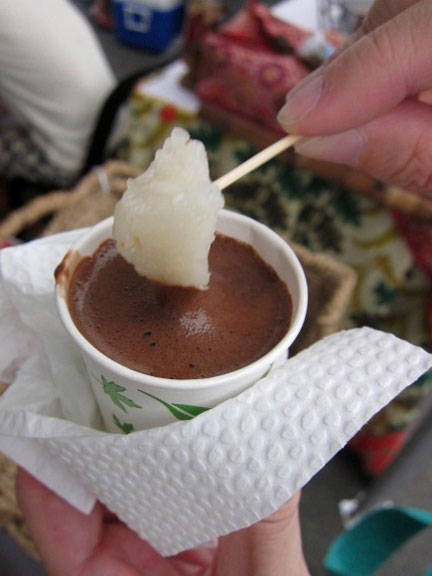 Haven't been to the Legazpi Sunday market in a while but had time to visit a couple weeks back. There were quite interesting items such as huge orbs of Himalayan pink rock salt and flaxseed crackers. Recycled wood furniture and beeswax balms. There were the regulars offering pugon roasted crispy pata and liempo. As well as those selling other pies and a stall featuring all types of curries. Quite international if you think about it.
I tried and got reacquainted with some of the items but what stood out was the Budbud Gourmet Suman stall. I know this has been around for several years in the Salcedo and Legazpi markets but was quite surprised by the number of variants they have now.
I think they're most known for the Budbud Kabog; a cake roll made with millet. A little more firm than the usual suman with a nuttier flavor.
However, I prefer their regular budbud (or suman in Tagalog) using glutinous rice. I really don't know how they get to make that incredibly chewy, smooth texture.  And it's just mildly sweetened; almost neutral in flavor. Would've paired perfectly with those huge, sugary Thai mangoes they were selling in the adjacent booth. But enthusiastic owner Carl Van Hoven was kind enough to offer us a cup of his insanely good hot chocolate to try with the suman. And it was delicious; thick, frothy and creamy like a melted milk chocolate bar. Never mind that is was probably 40°C out and I was sweating like anything.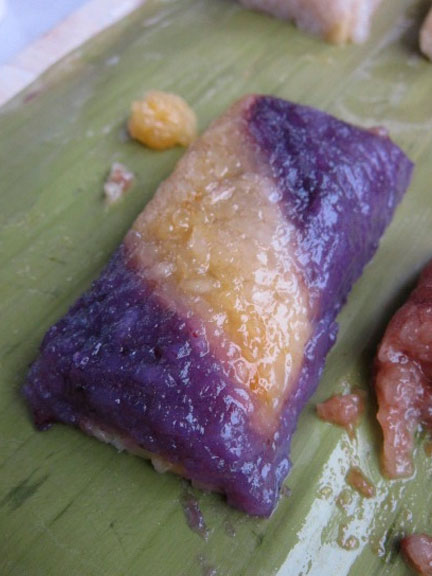 But of all the many innovative flavors at Budbud (and there are a few: mangga, tsokolate, saging, buko pandan, luya, biko etc…) I find I like the langka and ube langka variants the best.
The langka (jackfruit) sort of mellows down in terms of muskiness in the cooking process and turns into this sweet, almost caramel-like syrup. Melds beautifully with the sticky rice. Very aromatic.
And the ube-langka just incorporates another complex layer with that earthy addition of purple yam.
We had bought a couple dozen in various flavors and was advised to put them in the freezer as they'd (surprisingly) keep there for months. So now we have a modest stockpile of these rice cakes and just nuke them in the microwave for a minute or two if we want a sticky rice hit.
Budbud Gourmet Suman Facebook Page
LABELS: Anonymous Paul, budbud, Chocolate, filipino, Legazpi Market, suman, Yummy Weekend