By sanju on 19 April, 2013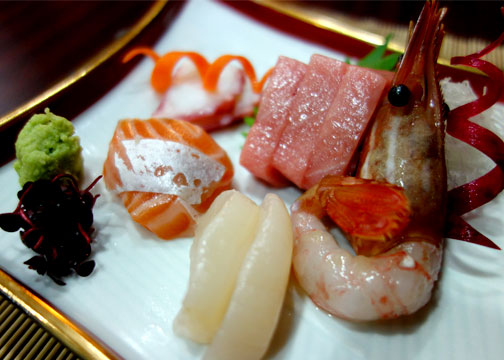 I was quite saddened some months ago to hear that one of my favorite Japanese restaurants Sushi Kappo Kobiki-Cho had shut down.   The owners of the place had decided to transform it from a sushi bar to a slightly more affordable venue that features a broader spectrum, now called Rikuseki An. (A Place of Comfort)
Aside from an A la Carte Menu, Rikuseki An has affordable lunch sets from P390 to P850 and dinner sets from P950.  They also have a couple of Omakase (Chef's Choice) Kaiseki Dinner sets ranging from P2000 – P5000.  During a recent visit, my friend J and I decided to go middle of the road and have the Hino Omakase Kaiseki Dinner Set. (P3500)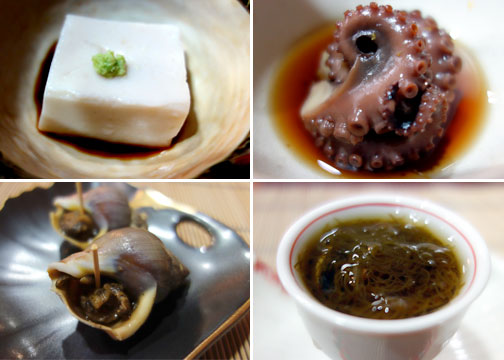 We started with some little plates that included some Fried Ika (squid) Shao Mai, a bowl of Cold Silken Tofu topped with freshly grated Wasabi, Braised Iidako (Octopus) and a delicate bowl of Mozoku (Japanese Seaweed) soaked in Vinegar and served chilled. Standouts were the tender octopus and the seaweed.   Special mention must be given to the vinegar that was used with the Mozoku.  It showed perfect balance between tartness and nuance, much like the characteristics of a fine wine.
We then had some Tsubugai (Japanese Whelk) served in its shell and a Sashimi course that included Toro, Scallop and Botan Ebi (Japanese Prawn).  Both dishes exuded freshness and quality that only carefully selected, high-grade seafood can give you.
Our next two dishes, Butano Kakuni (Braised Hakinton Pork), and Grilled Managatsuo (Silver Pomfret/Butterfish) with Saikyo Shiro Miso was part of the old Kobiki-cho Kaiseki Menu.  As always both dishes were excellent.  The pork was as fall-off-the-bone tender and flavorful as I remember, while the fish was a model of subtlety as it should be.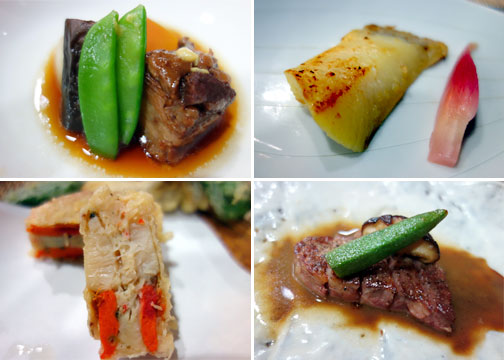 For our fried course, we had Hotate to Kani No Hasame Shinjyu Age (Deep Fried Scallops Wrapped with King Crab).  It sounds impressive I know; unfortunately, it was underwhelming at best, as none of the flavors shone.  This was probably my least favorite.
A medium rare portion of Osaka A4 Saga Beef was our beef course.  The beef was buttery, marbled and did not need the accompanying  fresh wasabi and mustard.  As always though, the "umay' factor for dishes like this is quite high because of its richness.
A bowl of Una Don (Grilled Unagi over Steamed Rice) served with Miso Soup was the last of our mains. I was quite full at this point and I only had a couple of bites of the Unagi.  From what I tasted though, it was another winner.  I just wish I had enough space in my tank to do it enough justice.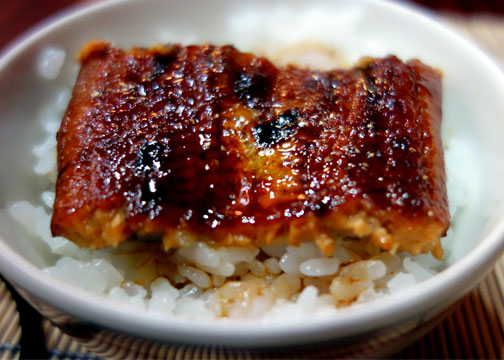 For dessert, we had a (1) Japanese Strawberry and a scoop of Matcha Ice Cream. As with most Kaiseki meals dessert is normally quite simple.  I feel that Matcha is the Speculoos of Japanese desserts as it has been done ad infinitum.  Thus, having only the strawberry suited me just fine, given my state of satiety.
Having reinvented itself, Rikuseki An is now more accessible to diners, given the more affordable pricing and choices.  Standards of quality of the food and service have remained top notch and the place gives off a peaceful, oasis-in-the-middle-of-the-city vibe.  I will definitely be back.
Rikuseki An
Gf GC Corporate Plaza
150 Legaspi Street,
Legaspi Village, Makati
Tel: (+632) 752.1280
Closed on Sundays
LABELS: Japanese, Japanese Food, restau, Sanju, Sashimi, Sushi