By Anonymous Paul on 15 April, 2013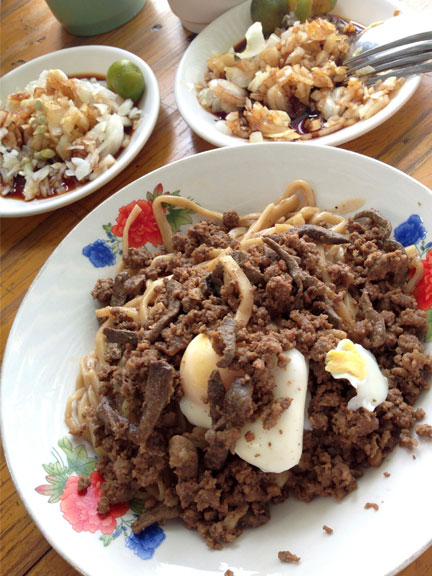 Pansit Batil Patung. Sounds so exotic. To me at least. But it's a popular dish up in Tuguegarao and I have only recently understood why.
It's primarily made of miki noodles cooked in this richly flavoured brown stock, piled with ground carabeef (carabao meat), chopped liver and crowned with a sunny side up. Here at Bruno's, the freshness of the eggy noodles is evident; has that nice supple texture along with that slight alkalinity. Something special happens with the dish in that the starches from the miki, the broth and the fat from the beef sort of emulsify into this velvety gravy. It is heavy.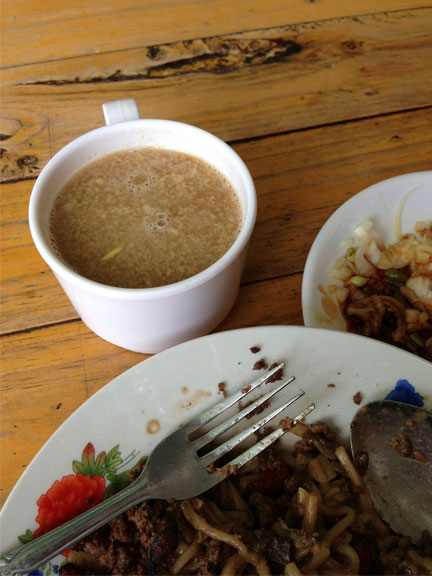 Which is why it's traditionally served with a plate (really, a whole plate) of chopped onions that you mix with calamansi, spiced vinegar and soy sauce to make a refreshing relish. And you have a spoon of this with every bite of that pansit. It is essential. And never in my life did I imagine to eat so much raw onions before; but it really just works. In fact I had to refill my saucer of onions at some point. An egg-drop, brown soup is also served on the side.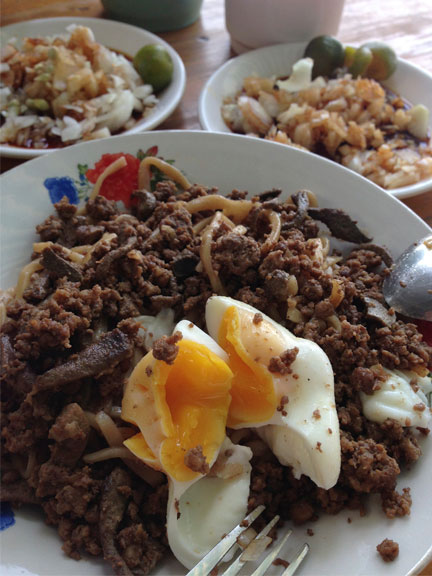 sort of runny egg
But you don't have to go all the way up to Tuguegarao to have this dish as one blessed soul opened a carinderia style joint in Quezon City serving pansit batil patung alone. "Regular", "special" and "super" is noted on their menu but only refers to quantity of serving. Every option would have the same noodle, broth, beef and egg components. I had first opted for the extra chorizo topping just to shake things up a bit. I had the more Spanish style chorizo in mind though; they actually use a Chinese style lap cheong. Sliced thin and fried to a crisp. It made for those nice sweet bites in between the really thick noodles. But I didn't order this extra on the next visit. If I had a trivial quibble, over a few times I had wished for the egg toppings to be a bit more runny. Can you just imagine the sauce that would make?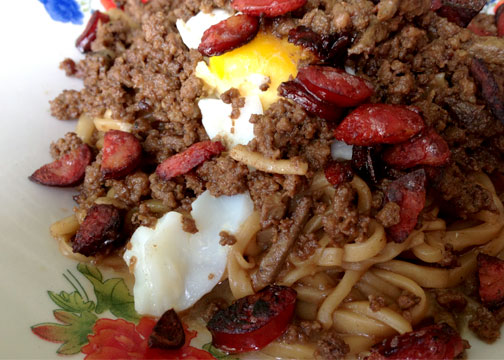 with chorizo topping
I have not eaten too many pansit batil patung in my life to opine if this is "the best" there is out there. I have yet to try versions with vegetables and crushed chicharon on top. But judging on these plates per se, I can say it's delicious. Quite unusual and  unexpected. But welcome nonetheless and happy to see more regional type food popping up all over Manila.
Bruno's Pansit Batil Patung
37 T. Gener St cor K1 St
Kamuning, Quezon City
Tel. (+63915) 378 7562
Open 7am to 7pm, closed Wednesdays
LABELS: Anonymous Paul, Filipino Food, Noodles, pansit, pansit batil patung, Restaurants