By Anonymous Paul on 4 March, 2013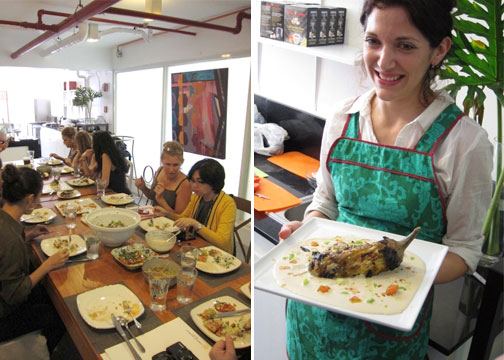 Quite fortunate to have been invited to a cooking demo, courtesy of the Embassy of Israel; recently held at Le Galerie by Atelier 317 (a private-dining-space-slash-intimate-function room-slash-art-space atop Atelier 317). Conducting the demo was Master Chef Israel judge Michal Ansky and Iron Chef Israel judge Ruthie Rousso. Both chefs quite the culinary heavyweights back in their hometowns. But what I couldn't quite reconcile with these titles were their physical weights. Both tall and lean and looking more like runway models; despite them saying they eat for a living. They moved gracefully around the kitchen like gazelles and assembled a dish each effortlessly; what they considered comfort food. And paired quite well with each other. Surprisingly both dishes were so simple to make and didn't need a lot of prep and cooking time. Yet the tastes just blew us all away. Simple, fresh, delicious. These skinny ladies can cook. And lucky enough I took some notes so will share the recipes and some annotations I made during the demo. First recipe is a roasted eggplant served over tahini; and the second recipe the chicken shawarma salad.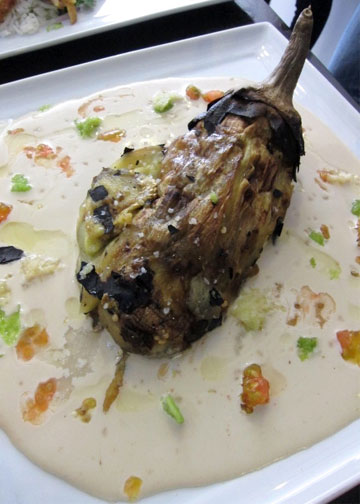 Ruthie's Roasted Eggplant with Tahini
Ingredients:
A large eggplant (about 3 to 4 inches in diameter) or 3 to 4 pieces of the local long eggplants
One cup tahini (available in Santi's and Assad)
2 tomatoes
Green chill pepper or finger chilli
2 cloves garlic
Olive oil
Sea salt or rock salt
Preparation:
Literally throw the eggplant/s into the flames of a stovetop burner. Better to have a wire rack for easier manoeuvrability (and less cleanup). Grill till charred and black all over. You'll know it's done when it's steaming. Place in a strainer to drain the liquids out and allow to cool. You can peel some of the skin off but you can actually leave some for that smoky flavor.
Prepare the tahini by mixing in a glass of ice cold water and about a teaspoon of salt. Whisk together to loosen it. I was quite unaware of this technique in preparing tahini and Ruthie says its essential to mix in water to lighten it; make it a bit emulsified and creamy. This also allows the sesame flavor to come out more.
Pour the tahini over a tray or serving platter.
Place the grilled eggplant on top of the pool of tahini. And then grate the chill, garlic and tomatoes over and around the plate. Drizzle olive oil and sprinkle with salt.
Easy as pie. Beautiful textures in this dish; from the meaty and succulent eggplant meat to the smooth tahini. Truly comforting.
The next dish by Michal involves a bit more cooking but is pretty much still very manageable.
Michal's Chicken Shawarma Salad
Ingredients:
3 to 4 chicken thighs (either skin on or off)
1 to 2 cups cooked white rice (at room temperature)
about 2 lemons
1 large red onion sliced into thin rings (a cheap Japanese mandolin at Daiso/saizen will do wonders)
A bunch of cilantro
Green chill pepper or finger chilli, minced or sliced
Marinade:
Michal used a spice mix called shawarma powder but I think a Mediterranean spice mix or za'atar would work well also.
If none of these are unavailable, fret not: just mix 1 teaspoon each of turmeric, paprika, cumin, a couple tablespoons olive oil and salt and pepper to taste and massage all over the chicken. Let sit for at least half an hour.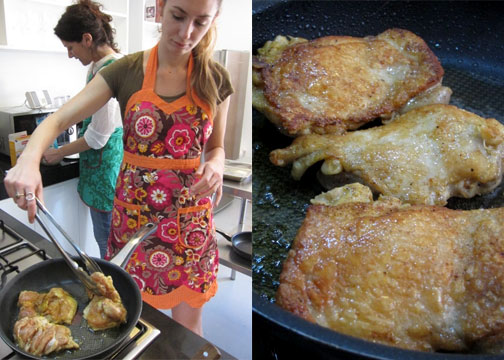 Preparation:
Squeeze juice of 2 lemons in a bowl. Soak the red onions in the lemon juice for a few minutes (to take away the harshness). Then add torn cilantro leaves, chilies and rice. Add salt and mix. Adjust the amount of rice and/or lemon juice to taste  (i.e. if you want less tart or more tart)
Place the chicken thighs skin side down in a frying pan over medium high heat. Leave for about 4 to 5 minutes then turn to brown the other side. There is enough oil in the marinade so no need to add more to the pan.
Cut the chicken into strips then pile on top of the rice mixture. Done.
You'll get moist, fragrant chicken balanced out by the unbelievably fresh, bright flavors from the lemon infused rice. And quite nice to drizzle some of the tahini from the eggplant dish on top.
Le Galerie by Atelier 317
Palm Rock Building
6060 Palma cor Osias St.,
Poblacion, Makati
For more information about rates, programs and exhibits at Le Galerie by Atelier 317 visit their Facebook page or website. Or call 09178308393.
LABELS: Eggplant, israeli, kosher, Michal Ansky, Ruthie Rousso, Shawarma salad, tahini