By Anonymous Paul on 12 March, 2013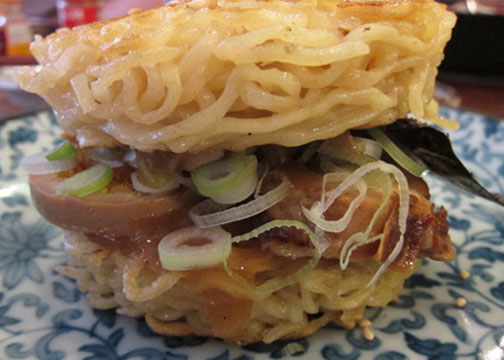 Go-en may have seemed to have gotten on two bandwagons by merging a couple of current food trends; that being the ramen and the burger to create…the ramen burger. Essentially its a deconstructed and reconstructed shoyu ramen. Inside two pan fried noodle buns are slices of tender pork chasu, scallions and a thickened shoyu broth. It actually doesn't taste half bad. Maybe order it once for the novelty of eating a ramen with your hands. But they do have a few other things on the menu worth ordering.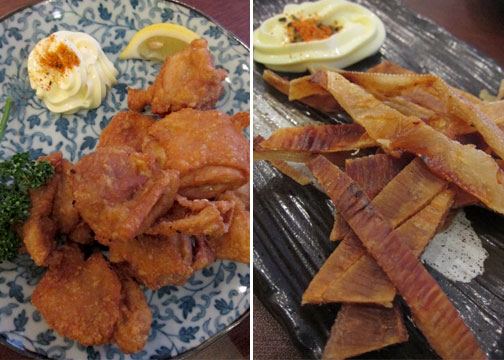 Go-en is essentially a ramen shop that also serves some tasty side dishes as gyoza, chahan and karaage; which are quite traditional pairings with a bowl of noodles. And a few non noodle dishes as curry rice meals and okonomiyaki.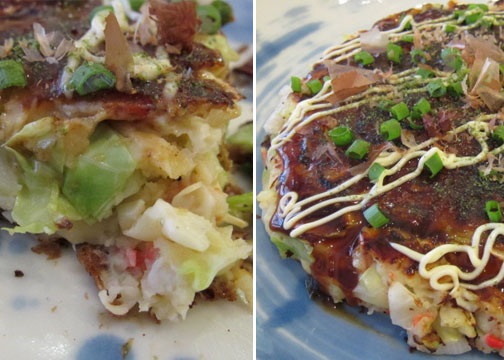 But they sort of go another route with their ramens in that while the norm is to boil stocks longer to create deeper, bigger broths; Go-en seems to offer lighter versions and succeeds.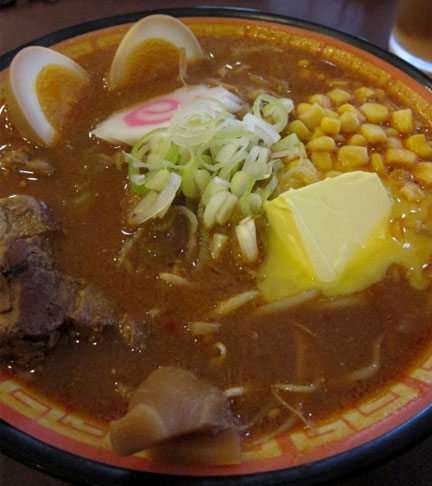 Probably their heaviest variant (in relative terms) is the karamiso ramen. Thickened by miso and slightly spicy; topped with corn, boiled egg, fishcakes, an anise-y flavored chasiu and a knob of butter. The broth is complex and hearty. I'm not a miso ramen fan in general though but this was quite ok.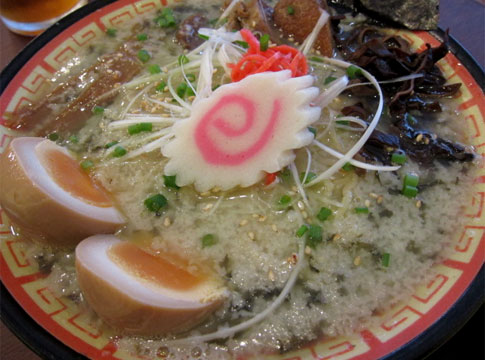 Their version of Tonkotsushio was also surprisingly light; not so much of that liquid lipgloss effect commonly expected from a collagen rich tonkostu broth. But it had a nice, balanced flavor. There was an evident porcine taste but there was also that nice hit of pickled greens and ginger in there that cut the richness.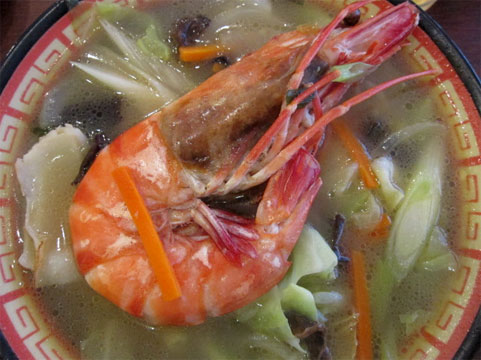 The Go-en ramen, their signature bowl, is even lighter. It's made with a seafood based broth. Briny and full-flavored; nicely done and quite clean tasting. Lots of vegetables and topped with an intimidatingly large boiled prawn. Which is quite difficult to eat with a spoon and chopsticks (I tried) so I had the staff peel it for me. I suppose it would be better if they maybe cut a slit at the back to make things easier. I'm nitpicking, though. I was just lazy to use my hands. It's a good bowl, nonetheless.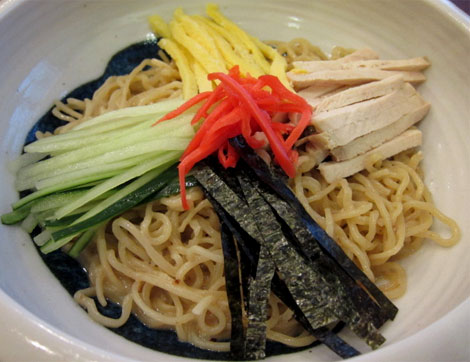 And their lightest, and my favorite bowl, is the hiyashi ramen. Served cold and sans soup. It's topped with shreds of chicken, tamago, cucumbers and nori. You toss these with the noodles in a sesame seed dressing and it's just perfect for the hot weather. Cool and creamy; adding a few drops of vinegar also adds a bright lift. The best part is the deliciously chewy noodles; they're a bit on the thin side so they tend to get soft quickly in hot broth even if you order it firm. But cooked just through and chilled allows it to retain that great texture.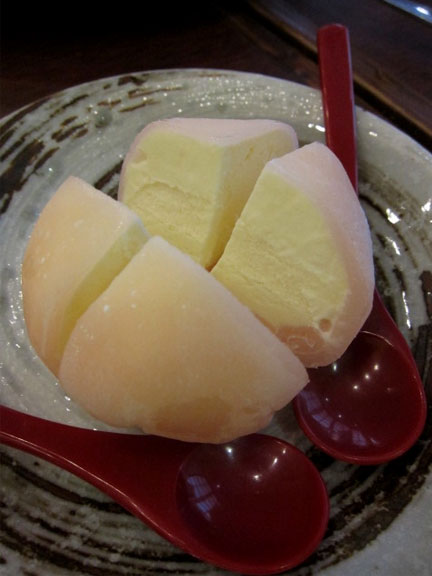 Orders just take some time to arrive, but service is quite efficient. It's a likeable effort from an independent establishment; not a franchise in a mall, and far away from the Little Toyko area. But the flavours are definitely Japanese; not Japanese-y. I wouldn't say it's a local mecca for ramen but if you're in the area, it's worth the visit.
Go-en (The Japanese Ramen Shoppe Plus)
Unit B1 Jardin de Zenaida
34 Sgt. Esguerra Ave.
Brgy. South TriangleQuezon City
Tel. (632).441.4636
Web: www.goenramen.com
LABELS: Anonymous Paul, Go-en, Ramen, ramen burger