By Anonymous Paul on 25 March, 2013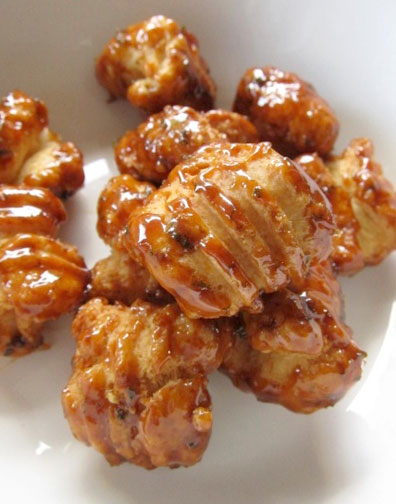 Holy Week is usually the time when people go home to their respective provinces and spend time with families. And while reflection and prayer are the central activities (or at least should be; in a Catholic's perspective) there definitely is a lot of eating in between.
My family has relatives based in Bulacan that we visit once in a while and I'm really quite surprised as to why its cuisine has not been noticed as much as it's neighbor, Pampanga; Bulaquenos are quite passionate about their cooking as well. There are days when I long for lugaw (savoury rice porridge) paired with deep fried okoy (vegetable fritters) and lumpia (vegetable spring rolls), as well as sinampalukang manok (using native chickens) and the empanada de kaliskis (so named because of their very flaky crusts).
But they're quite known for their sweet tooths as well. It is the epicenter of pastillas de leche making. And ampao (rice puffs coated in caramel), inipit (sponge cake with a dulce de leche like filling) and puto (rice cakes) are also quite popular. Though are usually eaten as snacks.
And I seem to have quite a liking for these sweetish snacks. Curiously I dug up an old newspaper clipping I saved with a recipe for Gorgorya (aka gurgurya or golloria). In its most basic description a caramel/sugar coated fried biscuit. Much like bunuelos or pilipit. But its traditionally shaped like seashells; interestingly quite similar to how a proper gnocchi looks like.
The recipe is from Milagros Enriquez; who is an anthropologist, author and dubbed as the mother of Philippine native cuisine. Of course also hailing from Bulacan. (So I hope she doesn't mind the very slight optional modifications I made.)
Gorgorya
Ingredients:
2 cups flour
½ cup margarine (I used butter here as I try to stay away from hydrogenated oils)
5 tsp milk
1 egg beaten
2 tsp baking powder
½ c sugar (I had some palm sugar so I used that but I assume she meant white sugar)
Kalumata leaves (local plant with basil like leaves and anise flavor), or if none available, grated zest of one lime (dayap)
Oil for pan frying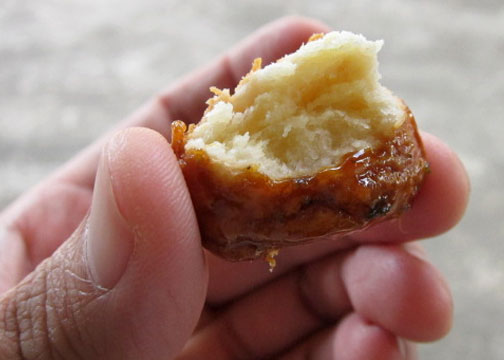 Directions:
It's just like making pie dough. Cut the butter or margarine in the flour and baking powder till you get fine crumbs. Mix in the egg and milk. Knead and roll till it forms a ball. You don't want it too sticky so adjust your ingredients as such. Divide the ball and roll into tubes under an inch in diameter. Cut into segments, press into tines of a fork and roll off. It should have a ridged surface. Deep fry till golden brown and set aside to drain.
In a pan over medium heat mix the sugar and water to make a syrup and caramelize. (If using palm sugar, just gently melt over low heat). Mix in the dayap rind (or torn kalumata leaves). Then toss the biscuits in the mixture. Cool and then serve.
A thin, caramel crust will form around the airy, buttery biscuit. And that hint of citrus just gives it that lift to cut the oil and the sweetness. Which will also make you eat more than you intend to. Great with coffee or tea. Gorgorya can actually be found in gift shops and stopovers in the Pampanga/Bulacan area. But of course, fresh will always be best.
For a video on how to make this click here.
LABELS: Biscuit, Bulacan, caramel, Filipino Food, Gorgorya, Table Recipes