By sanju on 18 March, 2013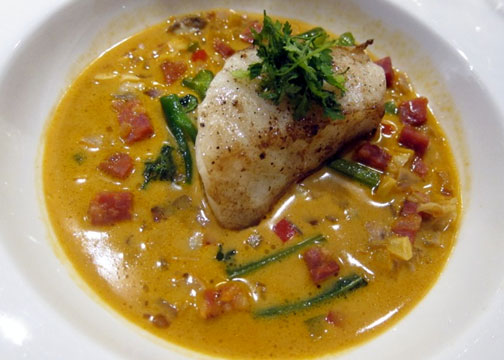 "I don't believe in recipes.  I believe balance is the key to making a difference."  This statement in a nutshell encapsulates the food philosophy of New York bred Chef Que Vinh Dang who owns and operates TBLS(cooking abbreviation for Tablespoon); a private kitchen located in a nondescript building along Hollywood Road in Hong Kong.  Opened in late 2009, TBLS has garnered rave reviews for its innovative themed tasting menu that changes monthly.
Chef Dang always conceptualizes his predetermined themes months in advance.  Through experimentation, his proposed dishes are put through a stringent evaluation process that he himself sets.  Only when he is satisfied with the results, will he make it part of the final menu.   One can only imagine the amount of work that is involved in an operation such as this one where a high standard is a constant aim.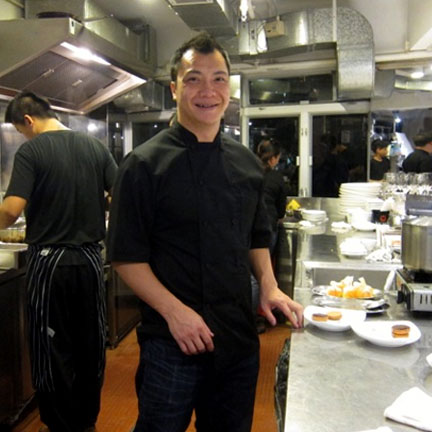 TBLS's latest theme is homage to all things pork.  Most of time, Chef Dang always starts with a Soup and Sandwich course after an Amuse Bouche. It is a probable play on his American upbringing. This time it is no different.  A Serrano Ham, Leek and Potato Soup and a sandwich that has Mangalitsa Pork Shoulder slices, topped with some Fig Chutney is featured.  It is fascinating to note that the Mangalitsa is one of the few pigs that has a wooly almost sheep-like coat and is known for its intense fatty flavor.
An almost perfect Bacon and Egg Risotto with Apple wood smoked Bacon, Poached Taiyouran Egg and Parmesan Flakes followed.  The delightfully al dente risotto had a salty flavor that was cut well by intense orange yolk of the egg.  The Taiyouran egg comes from Japanese free-range chickens that are fed Stevia leaves.  This accounts for its slight sweetish tinge and deep orange hue.  A visit to TBLS, if only for this Risotto is definitely warranted.
For the fish course, Chef Dang whipped up a Chilean Sea Bass with Chorizo, Clam Broth, Bell Peppers and Rapini.  The curry like color of the broth initially denotes intensity, but after a taste, is replaced by subtlety that is redolent of the sea.  An additional flavor profile was achieved by the addition of the Chorizo, while the peppers and the Rapini took care of the textural aspect.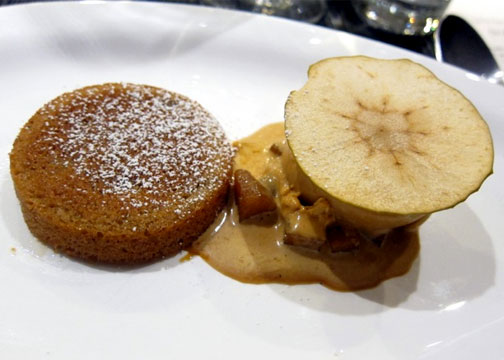 The Iberico Collar and Shank with Kabocha Squash Puree, Mustard Braised Cabbage and Pork Crackling best exemplifies Chef Dang's philosophy of balance.  The intermixture of tastes, colors, aromas and textures all synergized into a coherent whole.  A perfect Plat Principal it would have been except for the pork collar, which was quite dry.
A Financier is so named as it is said that this esteemed teacake was first introduced in a patisserie located by the Paris Stock Exchange.  TBLS's excellent dessert offering, Apple Financier comes with a scoop of Salted Caramel Ice Cream and a Ginger Butterscotch Sauce.  Delicate, with hints of apples that denotes visions of an afternoon walk through a quaint French neighborhood.  Have it on its own or with its accoutrements, it works any which way.
As dinner service comes to a close, a still energetic Chef Dang continues to chat with a few remaining guests.  The topic:  Food of course.  One then realizes that his food mirrors his inexhaustible devotion to his craft and his love for all things food related.  This could be the secret ingredient to his success.
TBLS Private Kitchen
7F, 31 Hollywood Road
Cenral, Hong Kong
Tel (+852) 254.3433
Open only for dinner.
Reservations essential.
Tasting menu at HK$680+
This article was printed in the March 2013 issue of Town And Country Philippines.
LABELS: Hong Kong, private dining, Sanju, TBLS