By Anonymous Paul on 26 February, 2013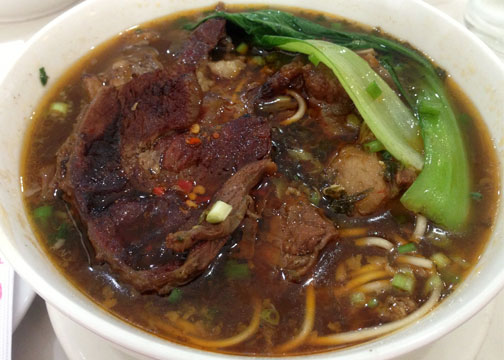 There was a time when Taiwanese style beef noodles seemed to be the dish du jour. And it was Suzhou's and Mien San's versions I liked best, and still do today. Maybe including Khanzu's in the present list as well. But I haven't been to Mien San in a while. I really would like to go much more often but there are times when I'm driving on Gilmore and there is just absolutely no parking in front of it. It has since expanded and doubled it's seating capacity yet the three or four parking slots in front of it remain as is. (With the establishments beside it zealously guarding their own parking allocations.) It's not quite a problem if you have a driver or commute. But if you double park for even thirty seconds rest assured you'll have a container truck blasting his air horn behind you. It's a very busy street. In which most of the time I just say it's too much trouble for a bowl of noodles. And I just hope to have better luck next time. But one day I did have such luck.
I had some business to take care of in the area and actually found one parking slot just before noon. I thought about asking Kitchyart to join me as she lived nearby but I had to eat and run as well. So I ordered for one. I got the spicy beef and tendon noodles (which is already really filling) with an onion pancake (which not a lot of places serve) on the side.
I've had this soup many times over the years and I have to say it not only tasted good on this visit but maybe even better than what I remember. It could be they use a perpetual style stock which intensifies the broth over time. But that's just my theory. It is unabashedly beefy. There's almost a smoky quality to it. Bold and deep, perfumed with sweet spices and has that peppery bite that gets you at the back of the throat at the end. Portions of tendon and brisket morsels were just right and the fresh noodles more on the soft side. Hearty and filling.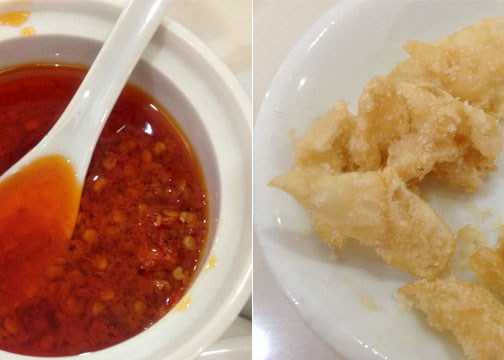 Which is why I just managed a couple pieces of the onion pancake. I've made this at home and the ingredients are simple enough but it takes a bit of time and a lot of elbow grease. From resting to kneading and rolling out paper thin sheets of dough. To layering the scallions and frying them. I've never quite had the time to make it again. So I'd rather just pay 108 bucks at Mien San for the cheap instant gratification. The pancakes seemed a bit heftier this time. But still flaky. Could've used a tad more spring onion flavor. But I still enjoyed it. Of course with a dab of their fiery Taiwanese style chilli sauce. Then again, you can also stock up and buy the onion pancakes and their other dumplings frozen and cook it at home.
With so many places coming and going; many "concepts" launching then floundering, it is really just comforting to come back to grounded places like Mien San that still consistently serves good, inexpensive, food. All day, everyday.
Mien San Noodle House
40 & 42 Granada St.,
Villa Ortigas II
Quezon City
Tel. (632) 721.5794
Open everyday from 10am to 11pm

LABELS: Anonymous Paul, Mien San, Noodles, Onion pancake, Restaurants, Taiwan beef noodles