By Anonymous Paul on 18 February, 2013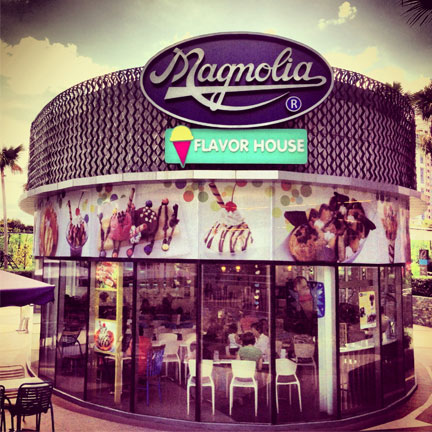 The children's birthday parties I remember going to didn't quite require having carousels in professionally decorated hotel ballrooms. Kids went to each other's houses to play, hit a clay pot with a stick or jump and grab gold (chocolate) coins off a pabitin. Red hotdogs on skewers with marshmallows were de rigueur. And if you were a really good kid you'd have a party at the Magnolia Ice Cream House (aka Magnolia House; or at least get an ice cream cake from there). I didn't quite go there that often; maybe the occasional birthday or report card day. But the emotional impact of the place is still quite evident. Magnolia was quite a strong dairy brand then; to this day if chocolate milk doesn't come out of a glass bottle instinct would dictate not to drink it (but seconds later gulp it down anyway).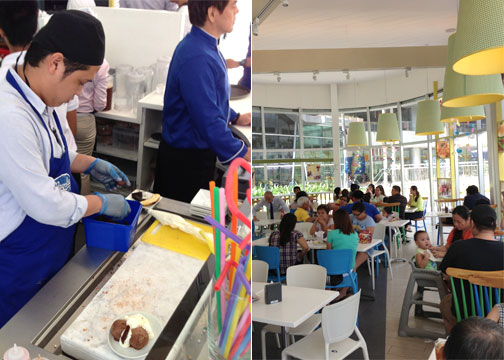 Magnolia House has opened, and closed, rebranded, and opened again several times within the past decades; falling victim to mergers, takeovers and redevelopments. And it's Nth reincarnation, 80's pop makeover and all, is located just a stone's throw away from it's original location; within the newly developed Robinsons Magnolia compound.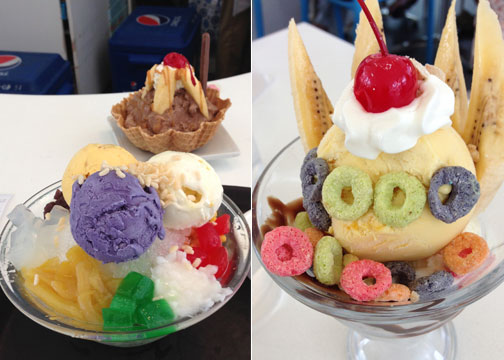 It's basically an ice cream parlor that serves selected mains on the side. The ice cream flavors are limited to several Magnolia classics: vanilla, chocolate, strawberry, ube, mango, caramel etc… Of which they use to assemble sundaes, parfaits and milkshakes. They still serve halo-halos, banana splits and peach melbas but what I remember to always order before was the Daredevil. Essentially a sundae topped with two ice cream cones jutting out like horns. I don't even remember the flavors involved but apparently it's an ordered layer of chocolate at the bottom, strawberry in the middle and ube on top. Sprinkled with nuts and marshmallows. The bottom layers mix together quite ok, but when the ube comes in, things start to get muddled. Though I still finished it. Which leaves me to the conclusion that a kid will just basically find ice cream with horns cool. But I'm not complaining.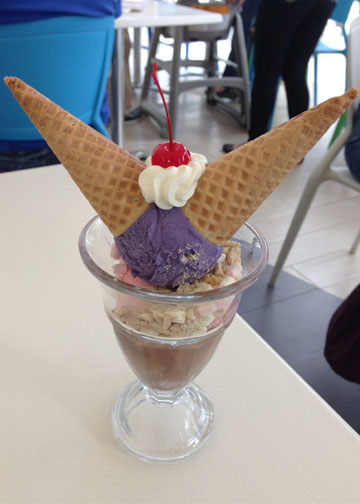 In fact its nice to see people bring their families in again today to start their own traditions and memories. And tell their kids "I used to go here when I was young." Well, not exactly here per se, but a place once called the Magnolia House.
Magnolia Flavor House
Ground Level, Robinsons Magnolia
Aurora Blvd. corner Doña M. Hemady St.,
New Manila, Quezon City
LABELS: Anonymous Paul, ice cream, magnolia flavor house, sundae