By sanju on 29 January, 2013
I cannot see her tonight.
I have to give her up
So I will eat fugu.
(Yosa Buson 1716-1783)
I recently got a call from friends TB and RL inviting me to join them for a Fugu (Japanese Blowfish) dinner at Kitsho, the Japanese restaurant located within of the Traders Hotel along Roxas Boulevard. Executive Chef Masahiro Mizumoto is the only one who is officially licensed to prepare this "dangerous" dish in the country. He has been living in Manila for around five years. He worked in a restaurant in Little Tokyo before moving to Kitsho.
According to Chef Mizumoto, to acquire a license in Japan, one has to first apprentice for five years under a licensed chef. Then he has to take a stringent examination that consists of multiple parts. Only when the exam is hurdled will he be certified to practice his craft of preparing and, more importantly, ridding the fish of Tetrodotoxin; a poison that causes death by asphyxiation within minutes. It is also important to note that there is no known antidote or cure. On the flipside, eating Fugu prepared by a certified chef, especially one who has more than twenty years experience like Chef Mizumoto, reduces the risk to almost nil – Or so I am told.
Soldiering on, our dinner consisted of four Fugu courses (P3800++), using a 1.2KG freshly flown fish from Japan. Plus, an appetizer and dessert. We started with a piece of Buri or Large Hamachi bathed in a Twin Soya Broth with some Boiled Radish. This was an apt precursor, laden with sweetish notes and texture contrasts. Suddenly, my taste buds are awakened and I begin to get excited as I instinctively realize that I was about to eat a great meal. And I was right. This meal did not disappoint.
A whole platter of thinly sliced Fugu Sashimi was served to start our adventure. It came with some sliced skin, spring onions and homemade Ponzu Sauce as accompaniments. Chef Mizumoto showed us the proper way of eating this particular type of sashimi. Take a couple pieces of spring onions, wrap a piece of Fugu around it, dip into the Ponzu sauce and, of course enjoy. This was exactly what we did amidst the background chatter of TB's last will and testament jokes. My first taste was not exactly how I expected it. The Fugu tasted a little like Tai (Sea Bream) but it had a consistency that I have never experienced before: It was a cross between fish and Squid. Interesting, to say the least. After a few tentative bites and no incidents of asphyxiation, we began to enjoy ourselves even more. I could not get enough, as the strange consistency grew on me. Special mention must be made about the Ponzu sauce. I have had Ponzu countless times. I however, cannot remember having one that was as well balanced as the one I had at Kitsho. Enough for me to contemplate drinking it like a soup. It was served with some spicy radish and chopped spring onions that are added to taste.
Our next two courses were a Kara age Fry and a large serving of Fugu Chirinabe or Hotpot. The Kara age was crisp and un-oily with the texture of the Fugu leaning more towards fish and less squid. The Chirinabe used a sake broth, Kombu, Japanese Mushrooms, Japanese Leeks and bits including, the mouth, cheeks and end cuts of the Fugu. Served on little bowls, we were able to experience fugu paired with different vegetables, one at a time. I found that the broth masked the flavor of the fish somewhat, although I still enjoyed chewing through the collagen filled cheekbones.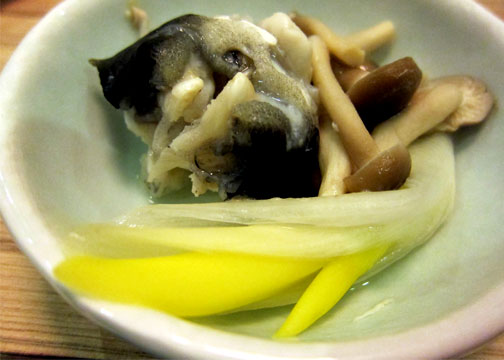 For our last course, we had congee that used the Chirinabe as a base with Eggs, Fugu Bits, Leeks and of course Rice. This congee was different from what I have had in the past. Initially when I heard that we were being served Congee, I was not too keen since I have always associated congee to being sick. However, to my surprise, the congee ended up being my second favorite course of the night after the sashimi, because of its risotto-like consistency and its intensity. If you ever have the Fugu tasting dinner at Kitsho, make sure that the congee is included in the set.
After our dessert of an elegant Red Bean Cake and Amao Japanese Strawberries imported from Hakata, I looked at my friend's faces of contentment and I asked them whether they would come back again for the same meal. The answer was a resounding yes. Admittedly, we all had low expectations coming in and we were at Kitsho more for curiosity than anything else. But, Chef Mizumoto prepared a very memorable meal for us, making us all believers.
Kitsho Restaurant
Traders Hotel Manila
3001 Roxas Boulevard
Pasay, City
Philippines
Tel +632 7084888

*Fugu Meal only available during the winter months (December-March). Advanced reservations required.
LABELS: blowfish, Fugu, Japanese, Kitsho, Sanju, Trader's Hotel Manila, try this