By Kitchyart on 3 January, 2013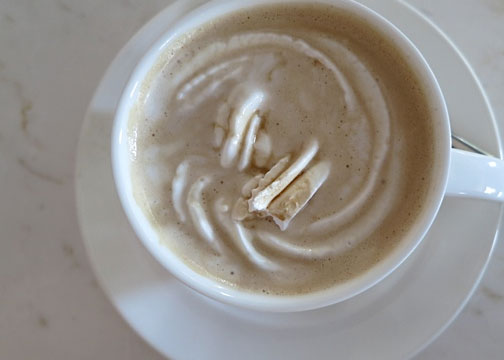 I love long holidays, especially right after the Christmas madness because it's nice to drive around minus the traffic. My dad and I decided to check out the Diamond Hotel and have some coffee at Kohikan. Some of you may remember the Kohikan outlet in Greenhills but sadly, it didn't last too long despite its popularity. It's usually a treat for me to go to there.
The hotel renovated recently and I was a bit crushed to find out that the Kohikan outlet is no longer in existence; except for a limited menu of drinks. Most of their iced blended drinks are gone but what they had left are iced coffees. I was happy to see they had coffee jelly on the menu; only to be told that it was not available that day. I hardly drink coffee these days because it revs me up so much that I feel like doing 10,000 cartwheels all over the place. My dad got a cup of the Sumibi blend and I ordered the hot Chai Latte; a brewed cup of coffee with chai essence and whipped cream.
The staff prepares our Hand Drip coffee. They were kind enough to allow me to extend myself over the counter and watch them do it.
My dad enjoyed his cup of coffee although I found mine to be a little too sweet. I learned that the chai they use is a syrup and my guess is that they might have added a little more than usual. I didn't want to dampen my spirits so I ordered their Truffle Fries as a snack.
The staff was friendly but slightly distracted. A team of an airline crew arrived and occupied some tables and then another table had a newlywed couple arguing with the hotel manager about a mixup on their wedding day. Maybe they were stressed out or holi-dazed.
Diamond Hotel
Roxas Boulevard corner J. Quintos Street
Manila
Tel. (+632) 528.3000
LABELS: Chai Latte, Kitchyart, Let's jolt In, Truffle Fries