By sanju on 22 January, 2013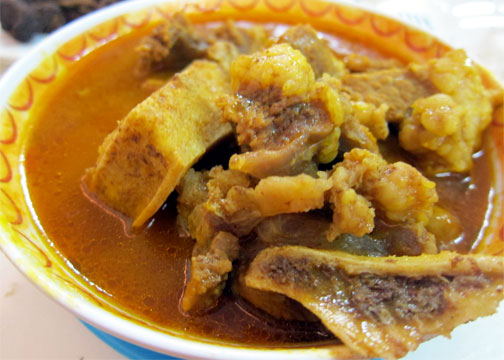 "I was happy in the haze of a drunken hour…" (The Smiths)
I spent a part of the recent holiday season with C's family in Davao, as we are wont to do.  Aside from the normal family activities, some of us were able to sneak in a night out to check out the nightlife and to have a few (too many) drinks.  I have to admit though, that this year, I was more interested in the post night out meal that has become almost like a tradition.  Normally, I leave the choice of where to go up to the natives, and we end up in either a 24-hour Dim Sum or Tapsilog place.   This time, I would have none of that.  I decided that we were going to eat at Bulca Chong and try their famous broth with Carabao meat.
I first tried this particular broth a few months ago during a food event.  Chef Gene Gonzales served up his version and I was totally bowled over.   It was gingery, with hints of lemongrass and other herbs.  I remember that the meat was very tender, boldly flavored without being overly gamey.  I was so taken by it that I asked Chef Gene what his inspiration was.  A few weeks later, I was at the origin.  My companions, save for one, were all Carabao meat virgins and I felt quite strongly, that they were just coming along to humor the weird-one-who-eats-everything-who-will-not-stop-bellyaching-if-he-did-not-get-to-eat-at-Bulca Chong.  Well, they were probably right.
We were very surprised to notice that despite the late hour, the restaurant was very busy, filled with people from all walks, who were of the same mindset (last stop before heading home).  Our group of six could not get a table in the air-conditioned area.  We had to settle for one outdoors. A quick glance at the menu and we decided to on a few bowls of Bulca Chong Soup (P80) A platter of Fried Crispy Bulca Chong (P90) and some Chicken Wings (P80).
The broth tasted similar to Gene's but a lot bolder, bordering on the pedestrian.   Strong hints of ginger, lemon grass, pepper and game abound.  Unfortunately, the meat that evening was tough.  The server mentioned that due to the high volume of diners that day, the kitchen was forced to reduce the simmer time of the broth so as not to run out.  Nevertheless, I still enjoyed myself.  It is quite hard not to, especially when I realized that having this broth gives credence to "food for the soul" references made by some.
My companions on the other hand were tentative at first, but began to enjoy themselves as well.  Virgins no longer, they were taken by the Fried Bulca Chong. This platter of surprisingly tender meat was a hit with its piquant and slightly gamey flavor.  There were a few other things on the menu that can be sampled during future visits like the Sizzling Bulca Chong and their Bulalo.  Great food and amazing value for money.  What's not to like.
BULCA CHONG
General Luna Street
Davao City, Philippines  (Open 24 hrs)
LABELS: Bulca Chong, Carabao Meat, Davao, Dining 24/7, Sanju