By Kitchyart on 25 January, 2013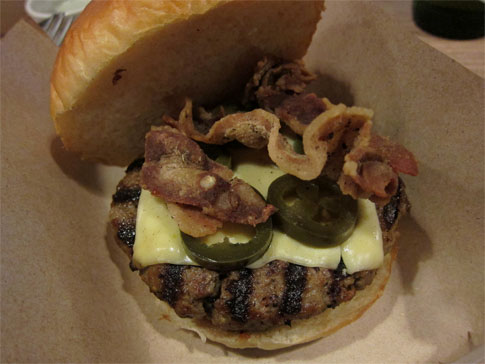 When my good friend M told me that her hubby G opened a burger joint, it was natural to get all excited for a friend's new business venture; especially one that involved eating.  On my first visit, I tried the Backyard Cheeseburger and enjoyed the nicely charred flavor from the grill. I even stole half of my friend's burger and finished it in record time. There was another time I went with high school friends and we ordered several types of burgers so we could try a little bit of everything.  Our bellies had a good time.  I even took home some leftover burgers and reheated them for lunch the next day. They still tasted great.
To keep the bias in check, I recently invited AP, Sanju and their wives since we had been craving for burgers. We met up for dinner and here's what we consumed:
We started off with some thick cut fries, onion rings, and cheesy fries. The fries were nicely cooked, not too salty.  It fared pretty well too with the melted cheese and mushrooms.  The onion rings were fun to snack on and thought it would go well inside a burger for that added crunch.
AP ordered the Heart Attack burger (beef patty, crispy pork belly and cheese)
Sanju ordered the Backyard Cheeseburger (beef patty, tomato, onion, lettuce, cheese)
D ordered the Hot Hombre (beef patty, jalapeño, tomato salsa and cheese sauce) with the jalapeños on the side.
The 2 guys initially found the burgers a little under seasoned.  D, C and I took a bite from their burgers but we thought it kept true to its beefiness.
C ordered the Bo Peep's Lamburger (lamb patty, tomato, lettuce, blue cheese) but replaced the blue cheese with an aioli topping. The patty was cooked well, just as juicy as the beef. I'd order this next time with some caramelized onions or the onion rings.
I got the Brekkie (smoked bacon patty, sunny side up egg, hash brown). I took apart the burger and mashed up the hash brown.  I loved the smoky flavor from the bacon with the runny yolk from the egg but the patty was a little messy to eat as it tended to fall apart.
The soft and chewy fresh-baked bread stood out in all our burgers.  No matter how juicy or messy things became, the hoagie buns stayed intact after each bite.
For dessert, we got the Triple Chocolate Cake which they also make themselves. And it was very moist and had just the right amount of chocolate. C said it reminded her of a German chocolate cake from somewhere, just like it reminds me of birthday chocolate cake. They accept advance orders for whole cakes.
Overall, if you're looking for an honest to goodness burger, Backyard Burgers is a great option in the Quezon City area.  Plus, their burgers start from P115 to no more than P280. If you ever find yourself in this part of the concrete jungle, their burgers won't disappoint.
Backyard Burgers
52 Sgt. Esguerra St. (across ABS CBN)
Quezon City, Philippines
Tel. (632) 384.4140
LABELS: Backyard Burger, bacon, burger, fries, Kitchyart, Quezon City